New Hyper-Reality Star Wars™ Experience from ILMxLAB and The VOID coming to Westfield London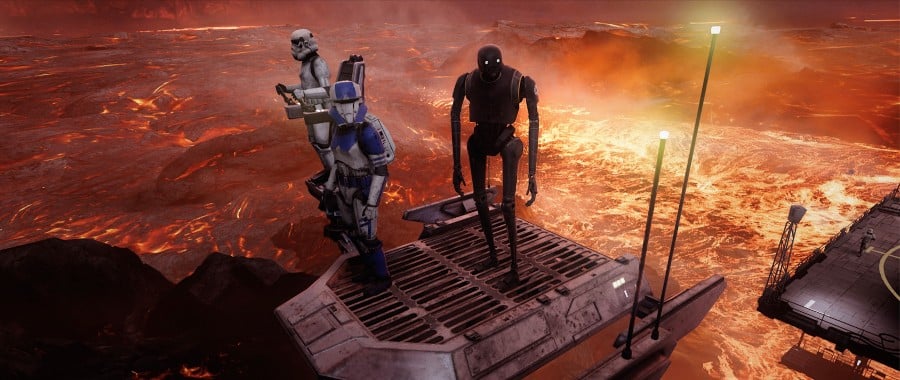 Lucasfilm, ILMxLAB and The VOID today announced that the first-of-its-kind hyper-reality experience, Star Wars™: Secrets of the Empire, is coming to London this December. Read on for the full press release.
This ground-breaking immersive experience will open to the public at The Atrium, Westfield London (Shepherd's Bush) from 16th December for 12 weeks, giving Star Wars fans the opportunity to step beyond reality and into a galaxy far, far away. Tickets are available now at www.thevoid.com/london for £32.50 per person.
Star Wars: Secrets of the Empire will transport guests deep into the beloved Star Wars™ universe allowing them to walk freely and untethered in real-time hyper-reality that combines interactive sets, real-time effects and innovative technology.
Under the orders of the budding rebellion, teams of four will travel to the molten planet of Mustafar. Their mission is to recover Imperial intelligence vital to the Rebellion's survival. Alongside the pragmatic droid K-2S0, teams must navigate through an enemy facility walking into danger at every turn. Disguised as stormtroopers, with blasters in hands, they'll solve puzzles, and fight giant lava monsters in an effort to fulfill their team's orders.
Cliff Plumer, chief executive officer at The VOID said:
"Hyper-reality experiences allow us all to fully immerse ourselves within worlds that were beyond our reach until now.  The power of The VOID will allow guests to step into Star Wars: Secrets of the Empire and not only see this spectacular world, but also hear, feel, touch and even smell as they realize they are a part of this incredible story".
Anna Hill, Chief Marketing Officer, Disney UK & Ireland, said:
"Star Wars: Secrets of the Empire will bring much-loved characters and stories, and the sheer exhilaration of Star Wars to life for UK audiences in a spectacular and immersive way, and we can't wait to have people experience it at Westfield London".
Myf Ryan, Chief Marketing Officer, Westfield UK & Europe said:
"We are delighted to host Star Wars: Secrets of the Empire, in collaboration with The VOID and Disney at Westfield London this Christmas. We know our shoppers crave premium multi-sensory experiences, and this magical journey will transport visitors to experience the Star Wars galaxy in a truly unique and realistic way."
Tickets are on sale now at www.thevoid.com/london