Ron Howard Confirms the Planet Corellia in the Han Solo Movie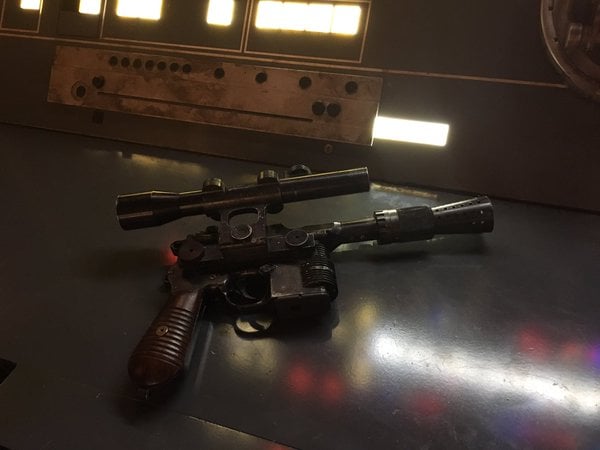 After hinting that the planet Kessel will be included in the still untitled Han Solo movie a few weeks ago, now director Ron Howard directly confirmed on Twitter that Han Solo's home planet of Corellia will also be featured in the movie.
Of course this comes as no surprise to anyone since Kessel, Corellia and Tatooine are the three planets with which we've always connected the character of Han Solo, based on what we know about him. Still, Howard's latest tweet gives us a good idea at a specific location on Corellia where the action will take place.
Those #Corellian nights get a little chilly. Screenwriter @JonKasdan and I try to keep warm #UntitledHanSoloMovie pic.twitter.com/3FnUnY8dxo

— Ron Howard (@RealRonHoward) October 6, 2017
Fans on Twitter quicky spotted the similarities with one of the concept arts for the cancelled Star Wars 1313 game:
1313 concept art! … 😎 That's why this photo is extra cool! @theforcenet pic.twitter.com/qYE09099iU

— MIXTER (@mixta110) October 6, 2017
It looks like this is some kind of junkyard. A few weeks ago Howard did several other tweets with a similar location:
Rough corner of the Galaxy. pic.twitter.com/A6UmPI60kV

— Ron Howard (@RealRonHoward) August 18, 2017
This junkyard feel matches with the set photos from the filming at Fuerteventura that we posted here. But anything is possible since the photos from the Kessel mines had a similar vibe.
Still, keep in mind that in the new canon Corellia is described to have a temperate climate with the primary terrain being forests, jungles and urban.
And here's everything we know about Corellia in the new canon according to Wookieepedia:
Corellia was a planet located in the galaxy's Core Worlds known for its ace pilots and large starships. Vessels such as the Millennium Falcon and Imperial starships were built on Corellia. At some point in the Imperial reign, an organization known as the Corellian Resistance operated on the planet, fighting against the Galactic Empire. One of their members, Miru Nadrinakar, attempted to warn them of an upcoming crackdown.

It was the homeworld of Han Solo, Wedge Antilles, Crix Madine, BoShek, the Besalisk Gadren, the bounty hunter Dengar, and the Jedi younglings Kalifa and Petro.
Also Howard shared a new photo with some action taking place aboard the Millennium Falcon:
Director's monitor. Turns out Smuggling has its stressful moments in the #Galaxy pic.twitter.com/yFmbo8OdR1

— Ron Howard (@RealRonHoward) October 5, 2017
And in case you were wondering what means of transportaion the director is using at Pinewood Studios here's your answer:
Taking a break but yes still wearing my booties so as not to scuff floor of #MillenniumFalcon when I go back to work pic.twitter.com/3KQEBXfiEd

— Ron Howard (@RealRonHoward) October 4, 2017