UPDATE: Han Solo: Wrap Party, Existence of a Teaser, and More Set Photos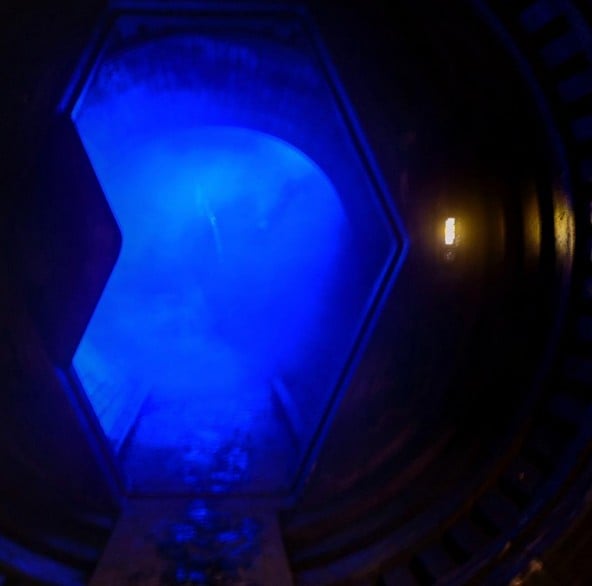 In the midst of the tidal wave that is The Last Jedi, the untitled Han Solo movie has flown under the radar since its worry-inducing drama broke in June after the firing of directors Phil Lord and Chris Miller. We haven't learned a lot since Ron Howard took over, aside from his beautiful use of social media to tease us with thought provoking photos and brief videos now and then. Well now in addition to the cryptic tweeting by the director, there are rumors of a wrap party, as well as word that a teaser trailer may already have been produced, and that we are not far away from the release of the title. Let's check it out…PUNCH IT!
IT'S A WRAP! (BUT NOT REALLY)
According to Mashable, there may have already been a wrap party for the Han Solo film. It would appear that although shooting isn't technically finished, a wrap party has taken place, perhaps due to the fact that many of the film's actors need to move on to other commitments. It is entirely possible they had an early wrap party so they can all celebrate the film together, although there is still some shooting to be done.
From Mashable:
On Saturday, Mashable has learned from sources close to the production, the untitled Han Solo production had a wrap party — with Ron Howard and Lucasfilm president Kathleen Kennedy in attendance. On Facebook, one attendee — stunt actor Luke Scott — described the party as "slightly premature" (now the post has been removed) and indicated that he still had one "last week" of work. 
Four days ago Ron Howard confirmed that shooting is "almost finished" with months of post-production ahead of him. There has been a lot of speculation recently that Ron Howard has re-shot more of the movie than we initially expected, calling several actors back to shoot more scenes and as we know, having to cut Michael K. Williams from the movie completely due his schedule not permitting him to return to set.
Recently Howard tweeted:
Almost finished shooting but months of post production work ahead. Tremendous team so lots to look forward to creatively https://t.co/yLurHhcmpv

— Ron Howard (@RealRonHoward) October 8, 2017
Spending more time in the editing rooms each day now after we wrap shooting #UntitledHanSoloMovie scenes pic.twitter.com/3pV95LWVXr

— Ron Howard (@RealRonHoward) October 8, 2017
Ron Howard has a reputation of being a bit of a workaholic. He does not cut corners, and he seems to really love the process of making and completing a film. We can even go back to an interview he did with comingsoon.net in 2015, when asked point blank if he was a "workaholic":
My wife would probably say that I am, but you know what? It's a way of life for me.
If this movie needs to be in the can in time for a late May release, Ron Howard is the person you want at the helm.
MARKETING MATERIAL, THE NAME, AND THE EXISTENCE OF A TEASER?
I addition to this talk of a preemptive wrap party, we have now seen on Twitter via Cinelinx Editor-in-Chief Jordan Maison, that some marketing material is ready, which makes perfect sense if the movie is still scheduled to come out in seven months. His tweet also indicates that a teaser cut already exists.
Heard that some #HanSolo marketing stuff is done & a trailer cut is floating around. No idea when we'll see it, but…one exists. #StarWars

— Jordan Maison (@JordanMaison) October 10, 2017
Are we finally getting the name soon?
I haven't heard anything about a name other than it should be revealed "soon".

— Jordan Maison (@JordanMaison) October 10, 2017
Maison suggests November is possible for a teaser release, but of course pairing it with The Last Jedi is an obvious place to look as well.
I've heard nothing specific (frustratingly), but November is possible, with being attached to TLJ being the next main choice.

— Jordan Maison (@JordanMaison) October 11, 2017
A while back we had asked one of our sources about the film's name, and they were adamant that no film ever puts the movie's real name on crew apparel while filming. In our attempts to learn more about the film's official title, we can safely say that it will not be "Solo".
WHAT WILL THIS MOVIE LOOK LIKE?
Howard still takes time to share cryptic images, as the director shared an interesting new photo and video from the set Sunday:
Is the true secret that Ron Howard is actually shooting a Blade Runner prequel? These images look more out of a noir-dystopian inspired look of 1940s and 1950s sci-fi, 2001: A Space Odyssey, or even George Lucas's own THX-1138. What is this ink blot test clip all about below? Is Rorschach from The Watchmen crossing over into Star Wars? I am kidding of course, but these clips and photos are certainly thought provoking at the very least.
The Han Solo film is still scheduled for release on May 25th, 2018. Do you think we'll see a teaser before The Last Jedi hits theaters? Perhaps it will be attached to The Last Jedi! The drama that once engulfed this project has long since faded, and after hearing the constant positive statements raining down from the cast about what Ron Howard has done, the film looks like it has turned the corner with a more optimistic feeling.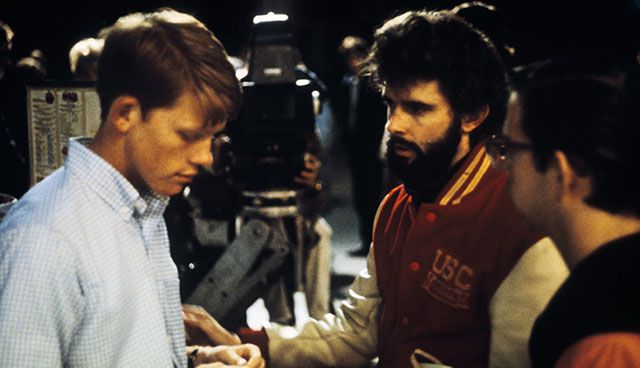 As we've said before, in the forty-plus years of Star Wars, Ron Howard is the first Oscar-winning director to direct a Star Wars film. He has known George Lucas for 45 years, is aware of what this franchise means to the fans, and ultimately George's legacy. We have complete faith that Ron Howard has created something great with the Han Solo film, and if these rumblings are true, it sounds like we are about to find out a lot more about it real soon, so strap yourselves in!
UPDATED: Well as you can see above, we can obviously no longer say the title won't be "SOLO". But we stand by our words that the film's title was not "SOLO" at the time. Studios do not use actual final titles for crew apparel (mainly due to leaks which were evident in old apparel shots earlier this year). It is possible after the director shake-up, cut characters, recasting, and reshoots they also made a new title decision. We stand by what we were told, that when this apparel was leaked to the public, the official title of the film during production at that time was not "SOLO".
You can find me on Twitter wishing I was at that Han Solo wrap party @JohnnyHoey, and as always we'll cover this on the Resistance Broadcast @RBatSWNN!
"For my ally is Ron Howard, and a powerful ally he is."
John Hoey is the Lead Editor and Senior Writer for Star Wars News Net and the host of The Resistance Broadcast podcast
"For my ally is the Force, and a powerful ally it is."