John Boyega Talks About Finn's Adventures and Carrie Fisher in The Last Jedi
John Boyega has recently discussed what Finn is up to in The Last Jedi as well as Carrie Fisher's farewell to Star Wars. As the countdown to the movie nears four months, the reality of seeing Fisher's final performance in a Star Wars film is certainly sinking in, but so is the excitement that this film, while dark at times, will not be void of fun and adventure!
FINN'S ADVENTURES
While a lot of the focus and speculation for The Last Jedi continues to revolve around Snoke, Rey, Luke, and Kylo Ren, Finn's status and role has remained a bit hazy until now. Speaking with IGN, Boyega talks about what Finn gets himself into this time, returning to his old stomping grounds, going undercover within The First Order. When asked how Finn must feel returning to the evil organization that molded him into a soldier from infancy, Boyega made a pretty interesting analogy:
"Well, it's like imagine you work at McDonald's. You push your manager into a chute compactor and then a year later you decide to go back dressed as one of the colleagues. It's not the best situation," said Boyega. "There's a lot of chasing, there's a mission that needs to be completed but that isn't necessarily something that doesn't come without a fight and it's something that he's gonna have to face for himself."
Now I don't envision Phasma and Hux placing orders for fries in this movie, so Finn's situation will be a bit more dire. It is interesting that he said go back "a year later". This could mean that while the movie does start where The Force Awakens left off, it could potentially flash forward, but our guess is it was just a time frame of reference for his analogy. We know that Finn will be joined by Kelly Marie Tran's Rose, a Resistance Tech, in his journey.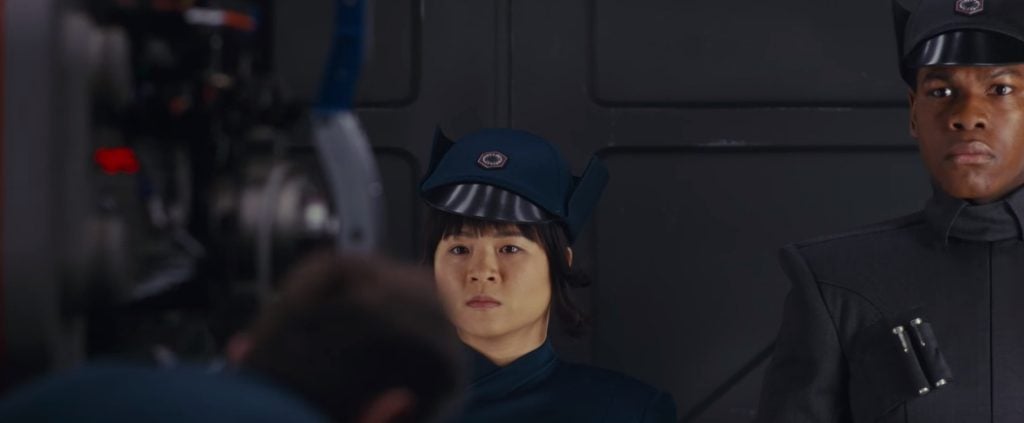 Rose is not a warrior, but it sounds like she will find herself reaching a potential that has gone unnoticed until now. Director Rian Johnson did say several time that Rose has the biggest part out of all of the new characters, so she will have a big impact in the film. As we saw in the behind the scenes sizzle reel at D23, Rose will be joining Finn going undercover in the First Order. Based on other images we've seen it looks like these two will be together for most, if not all, of the movie. Boyega continues:
"But it was fun for me. I always wanted to go undercover. Star Wars undercover is different because you wear a hat and all of a sudden no one recognizes you. … I'd be thinking to myself walking in one of those scenes, isn't anyone gonna go, 'Wait, isn't that Finn?' Do you know what I mean? But such is the magic of Star Wars. It's fun. It's fun to do. It's cool."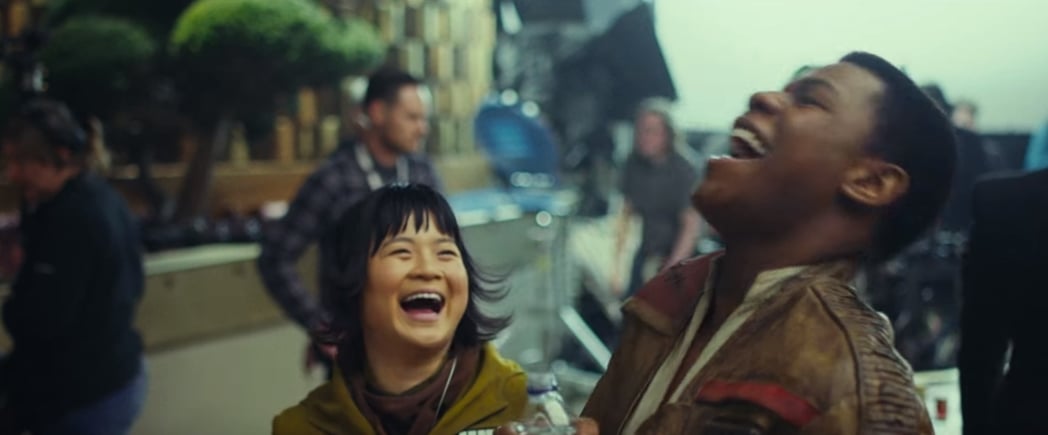 The Last Jedi will have it's share of darkness, but this plot device sounds like it will be of some level of importance, while providing us with a sense of levity and fun at the same time.
FISHER'S FAREWELL
In an interview with "Popcorn with Peter Travers", Boyega assures us that Fisher's final stamp on the franchise is going to be "amazing". He revealed that Finn and Leia have many scenes together, and he shed light on the vibe between the two actors during filming and Fisher's final mark on the franchise:
"We really enjoyed each other's company," Boyega told Travers of working with Fisher. "I was in Nigeria when we found out [about her death]. It was a strange, strange feeling. I felt like everyone in the cast went silent for a bit after that … [But] this movie, it sends her off in an amazing, amazing way."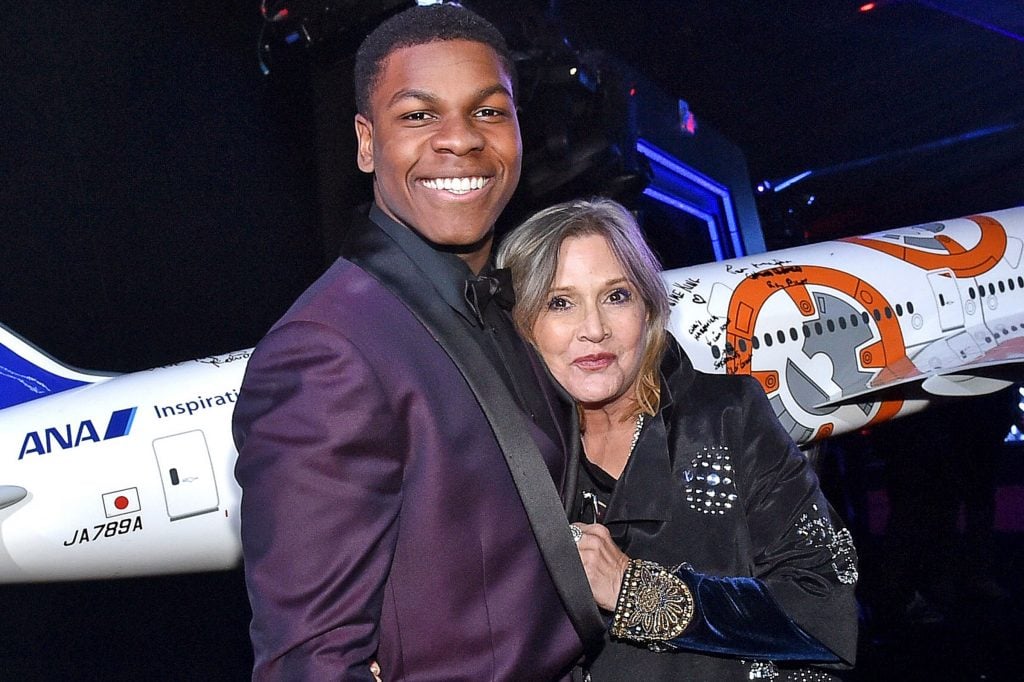 While this is farewell for Carrie Fisher, this still does not confirm that Leia is officially gone from the franchise. Kathleen Kennedy has yet to go as far as to make any confirmation of that sort, so until then we can't guarantee they won't recast her. We do know that they will not be bringing her back as a CGI iteration, confirmed by Kennedy.
We also recently heard that Billie Lourd, while speaking with Town and Country, thanks to screenrant, revealed a moment she had with her mother on the set of The Force Awakens. Fisher was astonished at how comfortable her daughter was in a setting that should be anything but comfortable, especially with it being her first film.
"The thing is, I was bizarrely comfortable on set. My mother would pull me aside and be like, 'It's weird that you're so comfortable here. This is the most uncomfortable environment in the world. If you're comfortable here, you should do this."
We know that Lourd's Lieutenant Connix will have a bigger role in The Last Jedi, and she certainly received her mother's blessing after showcasing how the moment and atmosphere never got too big for her to handle, so we look forward to seeing her more in the saga!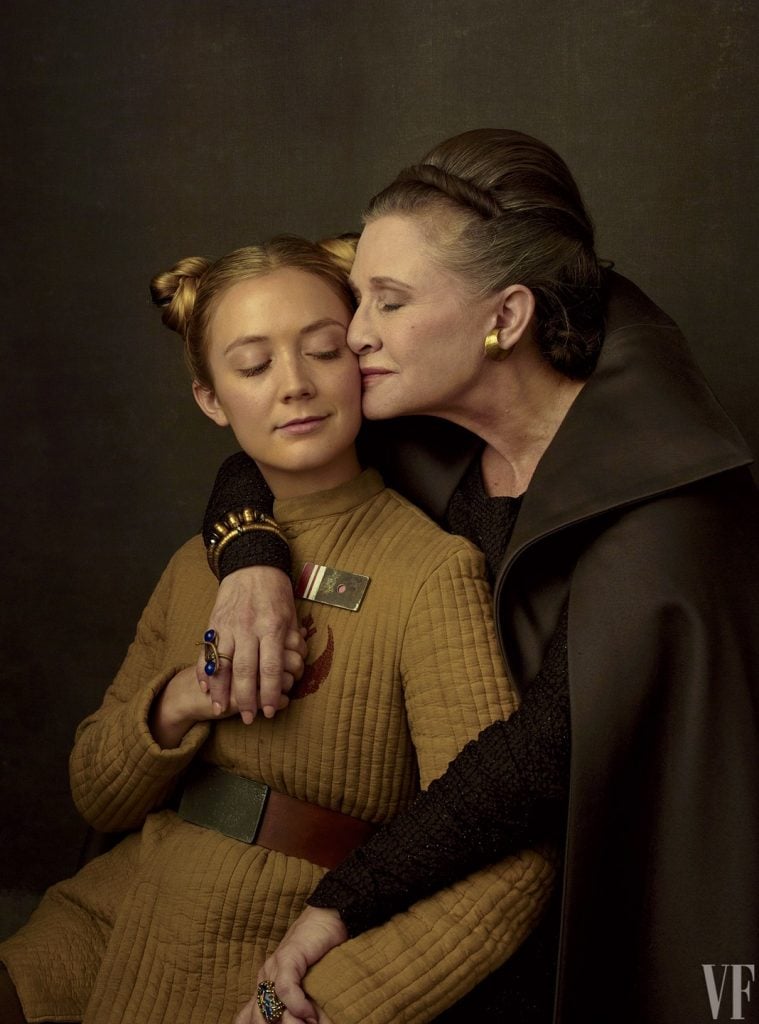 The dark tones of the film's promotion have taken center stage but we are consistently being reminded by Rian Johnson, now John Boyega, and the rest of the cast and crew that it will still be full of fun and adventure!
The darkest tone of all of course is that the closer we get to December 15th, the closer we get to saying goodbye to Carrie Fisher in Star Wars. There is nothing that can prepare us for that, but what we can assure ourselves with is that our Princess, our General, is going out on top, and that she was never lost on what Star Wars is all about in the end:
"It's about family, and that's what's so powerful about it."
Sound off in the comments below and be sure to head to the Cantina to discuss all of this! You can find me undercover on Twitter @JohnnyHoey and on our site's podcast account @RBatSWNN to talk about all of these stories!
"For my all is the Force, and a powerful ally it is."
John Hoey is the Lead Editor and Senior Writer for Star Wars News Net and the host of The Resistance Broadcast podcast
"For my ally is the Force, and a powerful ally it is."