EW on Finn and Rose's Relationship and The Last Jedi's Similarities to The Empire Strikes Back!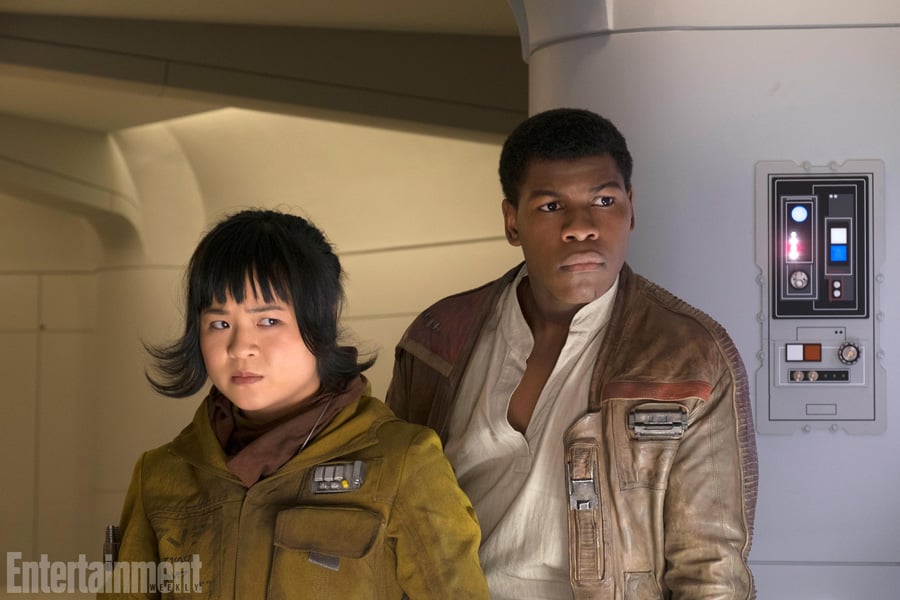 Anthony Breznican at Entertainment Weekly, again, gives us a sneak peek into more details of The Last Jedi. This time, we get a closer look at the relationship between Finn and Rose and a little bit about what all the characters will be doing throughout the movie.
It is revealed that Finn is still struggling with the temptation to walk away from anything that has to do with the war, including the Resistance.
It got really real for him," John Boyega tells EW. "And he just wants to get away and not be involved. His intention in the first place was to go to the Outer Rim. He was always brought back [in The Force Awakens,], but this is his chance to get away and perhaps find Rey and go off together. He's trying to do that at first.
The newcomer to the film, Rose Tico, played by Kelly Marie Tran, is discussed as being a "nobody". Boyega mentions that she is only involved because the First Order destroyed her home. All our main heroes from The Force Awakens are fairly well known in the galaxy now for their help in the destruction of Starkiller Base. Rose, a Resistance mechanic, is not important to the grand scheme of things: at least not yet. Her sister Paige, played by Veronica Ngo, is a pilot with Poe Dameron and is more well known than Rose.
Tran told EW, "Poe Dameron is super cool. Finn's super cool. Even though [Rose] is good at what she does, she's not known," Tran says. "She's not cool. She's this nobody, this background player, which is what makes her interesting. She's not the best. She's not royalty. She's someone who is just like everyone else."
Rose looks up to these heroes and gives Finn, in particular, something to live up to and something to fight for.
Director Rian Johnson gives us some insight into whether The Last Jedi will mirror plot elements of The Empire Strikes Back as did The Force Awakens to A New Hope.
I just tried to kind of ignore that aspect of it and have the story take the shape that it needed to," Johnson says. "But look, Rey is off in a remote location with a Jedi master, and the Resistance is in a tough spot, and we're intercutting those stories. By its very nature, there are some structural parallels. But these are new characters, they're dealing with new things, and that ultimately is what defines the movie. So I think that's going to be unique.
Johnson also discusses that the films are similar in that some of our heroes venture to a luxurious city. This time, it's not Cloud City but it's Canto Bight, what Johnson describes as "Vegas with Aliens".
It seems like the relationship that Rose and Finn will have will be very critical to the decisions that Finn makes throughout the movie. I'm also surprised to see the similarities to The Empire Strikes Back, yet it sounds like Johnson is confident that the movie is unique enough to not seem like a rehash of the 1980 film.
Here's Breznican's video on Finn and Rose:
Do you think that all the sequel trilogy movies will parallel the originals in some way? What is your thoughts on Finn and Rose's relationship thus far? Let us know in the comments and in the Cantina what you think!