Update! Watch Disney's Game Presentation Live At D23. New Battlefront II Video Released!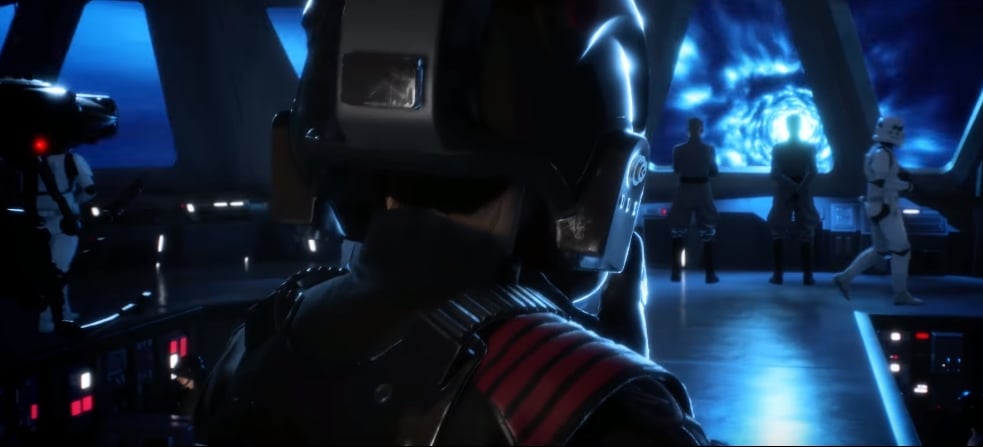 Disney's D23 gaming presentation has arrived. Check this space for the livestream and updates on Star Wars-related games.
Watch live video from jacksepticeye on www.twitch.tv
For the sake of brevity, we'll only cover Star Wars-related material.
In introducing all of the games, the presenter noted that he's incredibly excited to let us have a first look at Star Wars Battlefront II, along with closer looks at Spider-Man, Kingdom Hearts III, and two new projects based on Marvel and Star Wars.
Two hosts with an online presence (JackSepticEye and Strawburry17) took over. Both agree that they should start with Star Wars.
Battlefront II's panel features a Lucasfilm Story Group representative and Iden Versio actress Janina Gavankar. A theme for Versio was played.
Gavankar described the creative process as being collaborative in nature.
A new behind-the-scenes featurette discussing the story made its premiere.
New details on the other members of Inferno Squadron are revealed.
Vardos is a peaceful, orderly Imperial planet and is Iden's homeworld and is a crucial reason why she is the way she is.
John Boyega makes a surprise appearance. Footage of Boyega beta testing the game was shown.
A convention-exclusive poster of the Inferno Squad uniform was unveiled as a surprise to the panel guests and the attendees.
A Disney representative has revealed that the new project will be an Augmented Reality system that allows people to experience the world of Star Wars within their own homes.
A brief teaser showing an AR Lightsaber game was revealed.
Update!
And check out this new video from the game:
Grant has been a fan of Star Wars for as long as he can remember, having seen every movie on the big screen. When he's not hard at work with his college studies, he keeps himself busy by reporting on all kinds of Star Wars news for SWNN and general movie news on the sister site, Movie News Net. He served as a frequent commentator on SWNN's The Resistance Broadcast.