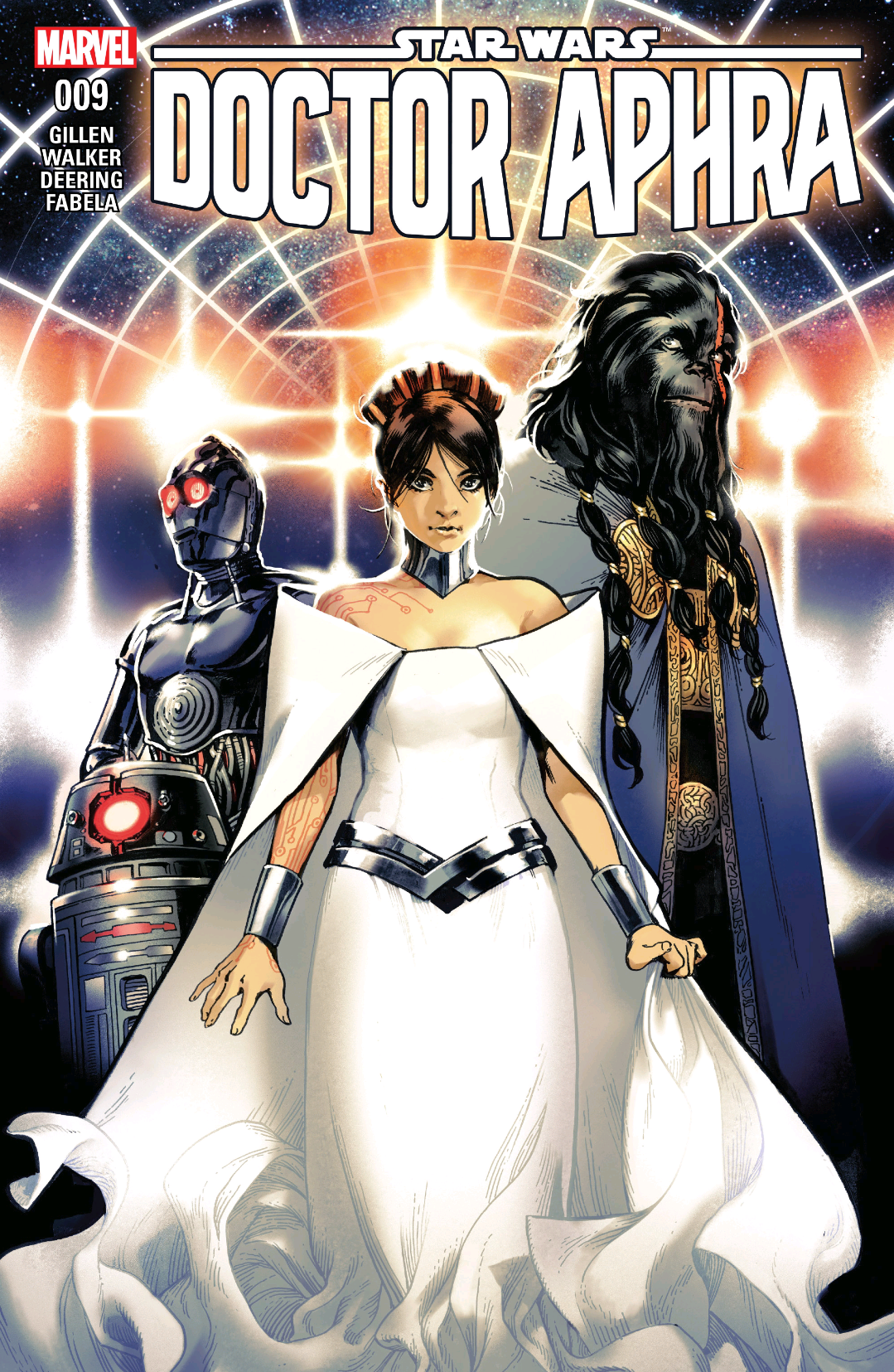 After a few issue run on a crossover with the titular Star Wars series, archaeologist Doctor Chelli Aphra is back to doing what she does best: get rich or die trying. Kev Walker is back to illustrate the latest issue of Killen's Darth Vader spinoff series in Star Wars: Doctor Aphra #9. Spoilers ahead…
While I admire the effort, I was left a little unsatisfied and also a little disappointed with the recent "Screaming Citadel" crossover between Doctor Aphra and Star Wars. I enjoyed the dynamic of the Aphra and Luke team-up, but outside of that, that storyline left a lot to be desired when all was said and done.
Nevertheless, Aphra is once again back in her element, as she, her Wookiee partner, and her murderous droids set up an auction to sell off their latest prize – the now reactivated crystal of Rur – an artificial intelligence of a long-dead Jedi that can control technological constructs to exact his revenge against, well, anyone who gets in his way.
Aphra has been working toward this moment for several issues, and now it is time to reap the rewards of her hard work and dedication in a brand new story arc. This one is titled "Doctor Aphra and the Enormous Profit" in true Indiana Jones fashion, a franchise that has been an obvious source of inspiration for the character since her first appearance in Darth Vader #3.
Prestigious artifacts such as the crystal Aphra intends to strike pay dirt with are worthy of a little pomp and circumstance, and Aphra certainly puts on a show for her guests in this issue. As suggested by the cover, Aphra puts a little glam into her event (although the cover is a little misleading as her outfit of choice is quite different from the Amidala-inspired dress on the cover) and sets up a scenario where she can show off the militaristic capabilities and historical benefits of the crystal to her potential buyers.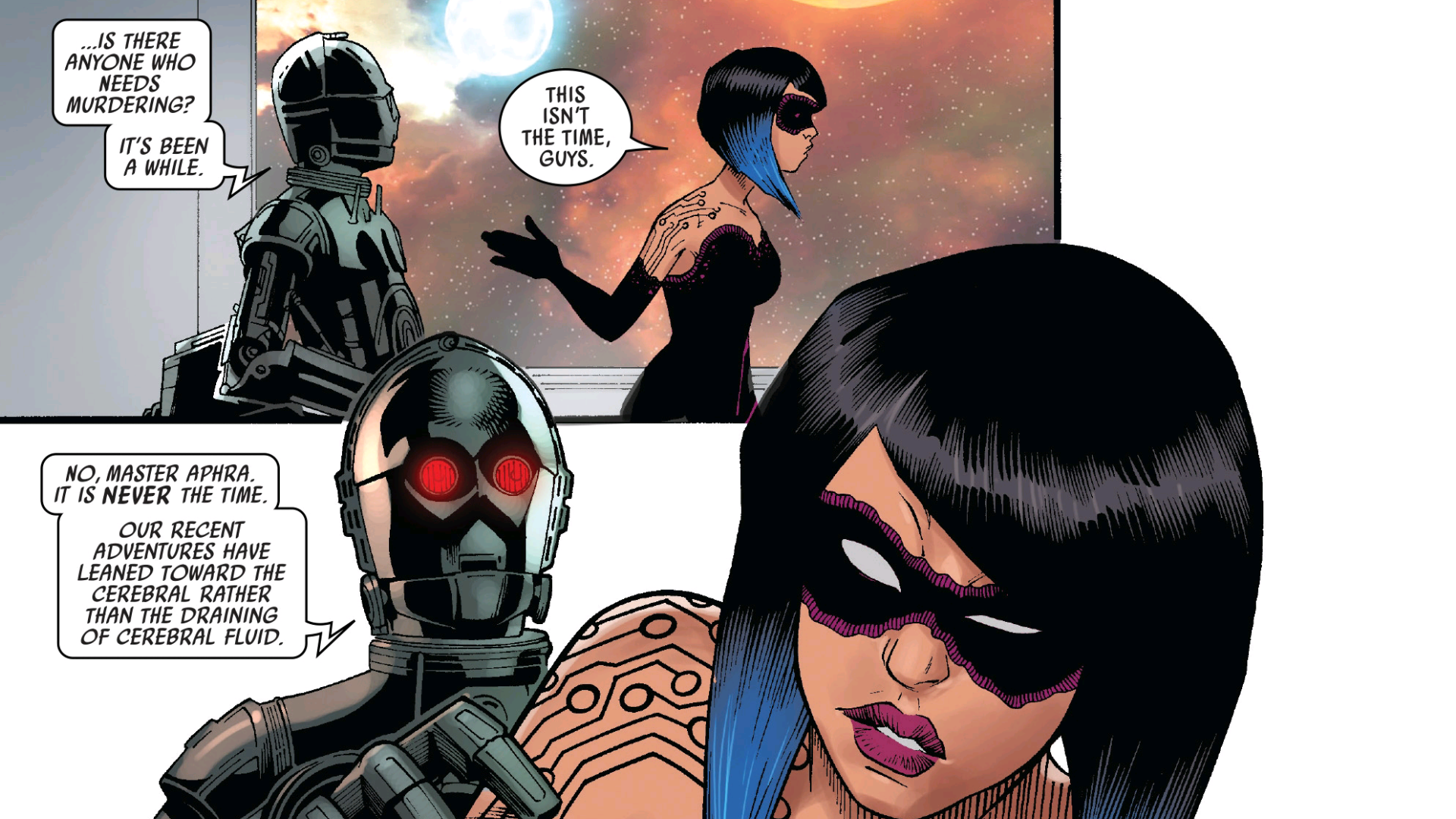 All is going well, until the murder-bots get a little antsy (understandable considering how long it's been since they've gotten the chance to murder anybody). Aphra promises to let them have their way after the event, but explicitly instructs them to hold off until further orders are given.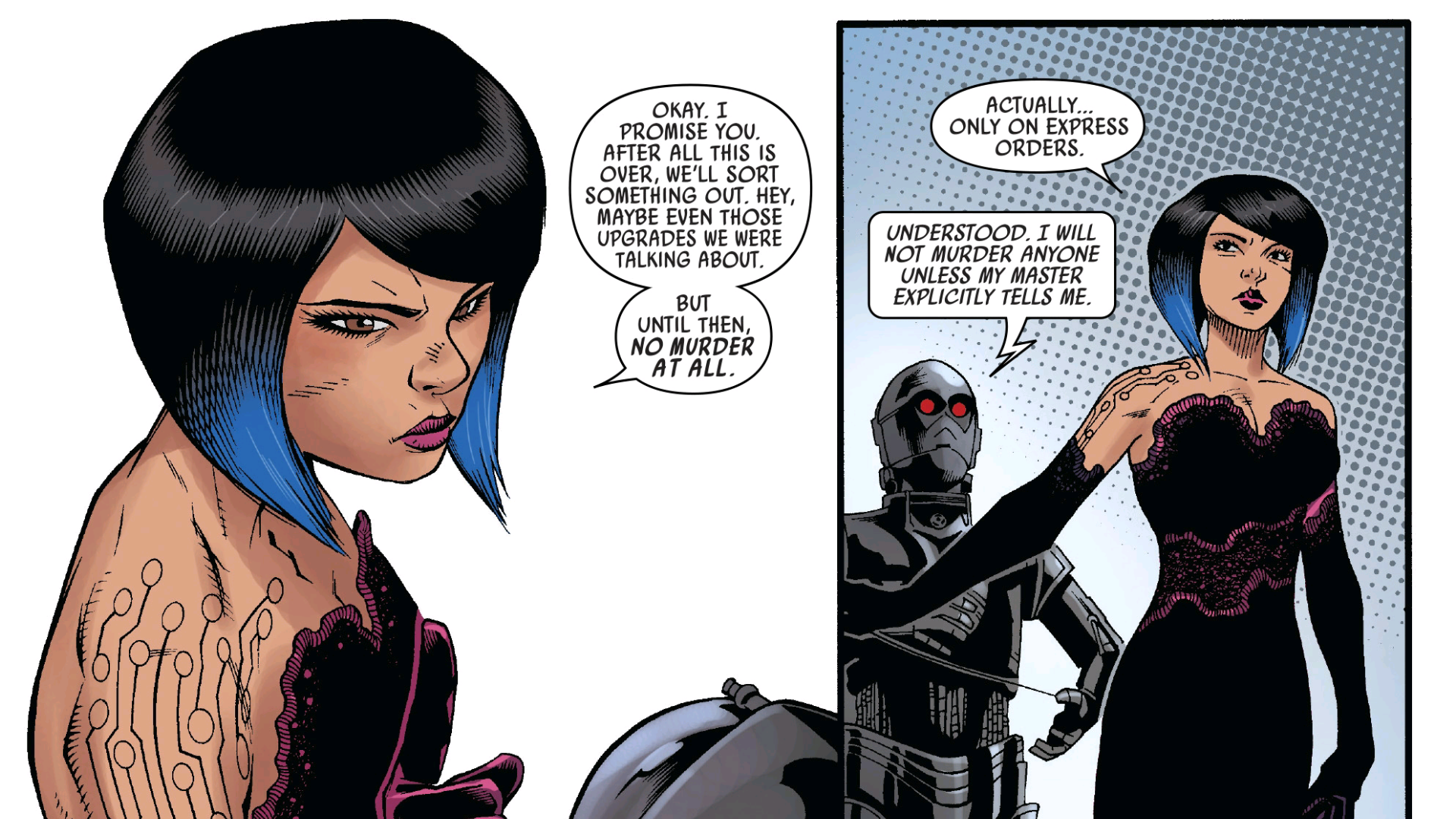 Just as Aphra is about to begin meeting individually with her guests to discuss how much each is willing to pay for the crystal, the droids go off and do something rather rash. Believing that Aphra actually intends to deactivate them after she sells the crystal, Triple Zero's self-preservation programming gives him the loophole he needs. And what does any child do after their mama tells them "no"? Well, they run to daddy, of course.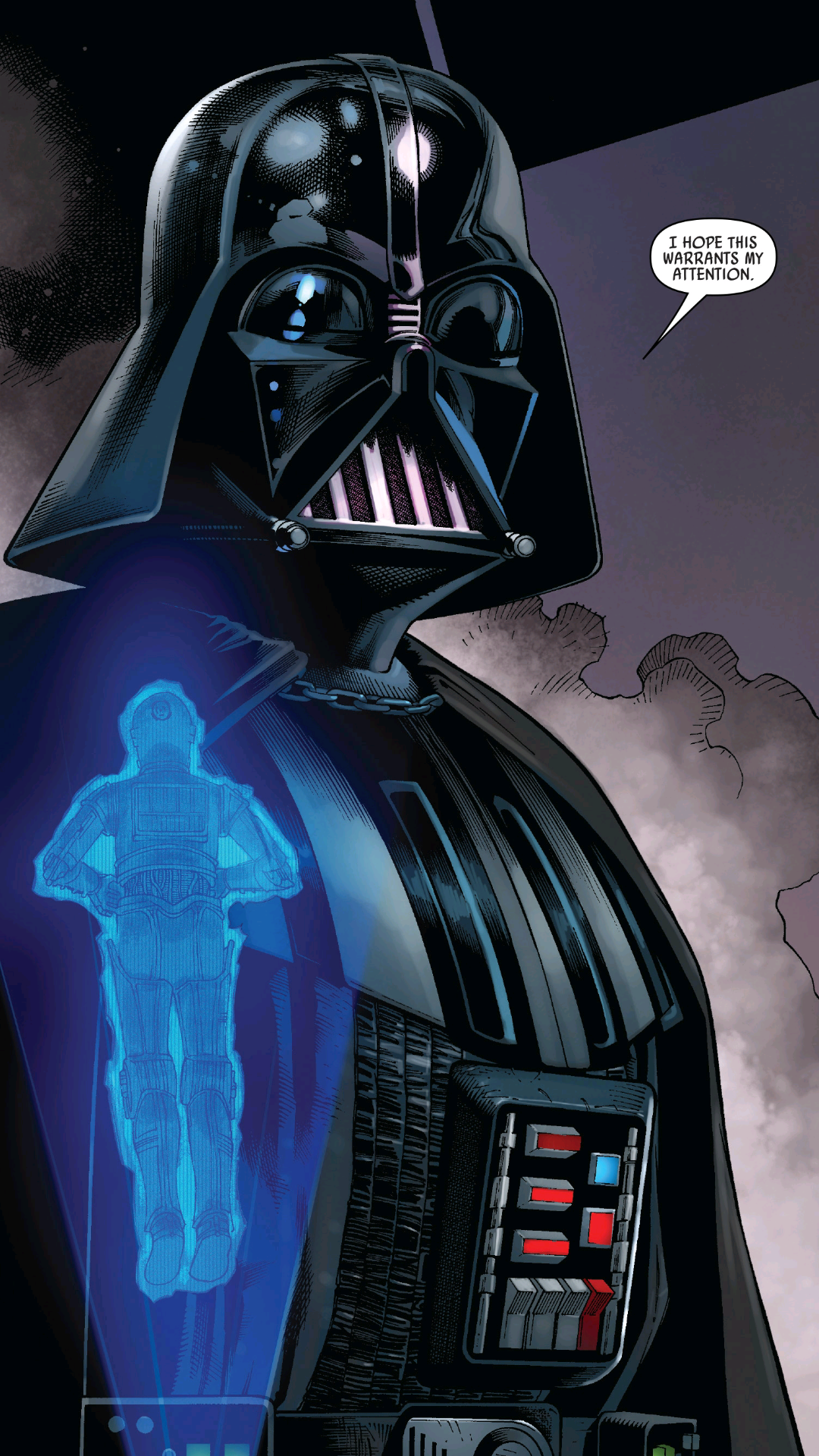 The final panel of this issue shows the droids contacting their former co-master, Darth Vader, spelling doom for what is sure to otherwise be an outstanding payday for the doctor and her Wookiee counterpart. Aphra and Vader haven't seen each other since she faked her death and escaped his grasp in the final issue of Killen's Darth Vader series, but it looks like her period of laying low under the Sith Lord's gaze is about to come to an abrupt end.
I liked this issue quite a bit – mainly because Aphra as a character works best in situations like this – doing her own thing apart from the main characters of the saga. Kev Walker's return is also exciting for me personally, as his expressive and frantic art style contribute well to the tone of this particular series. Nothing groundbreaking happens in this issue, but it sets up the new arc nicely and lets its readers know that Aphra is back to doing what her fans love watching her do – lie, steal, and cheat people out of a lot of money (just to name a few).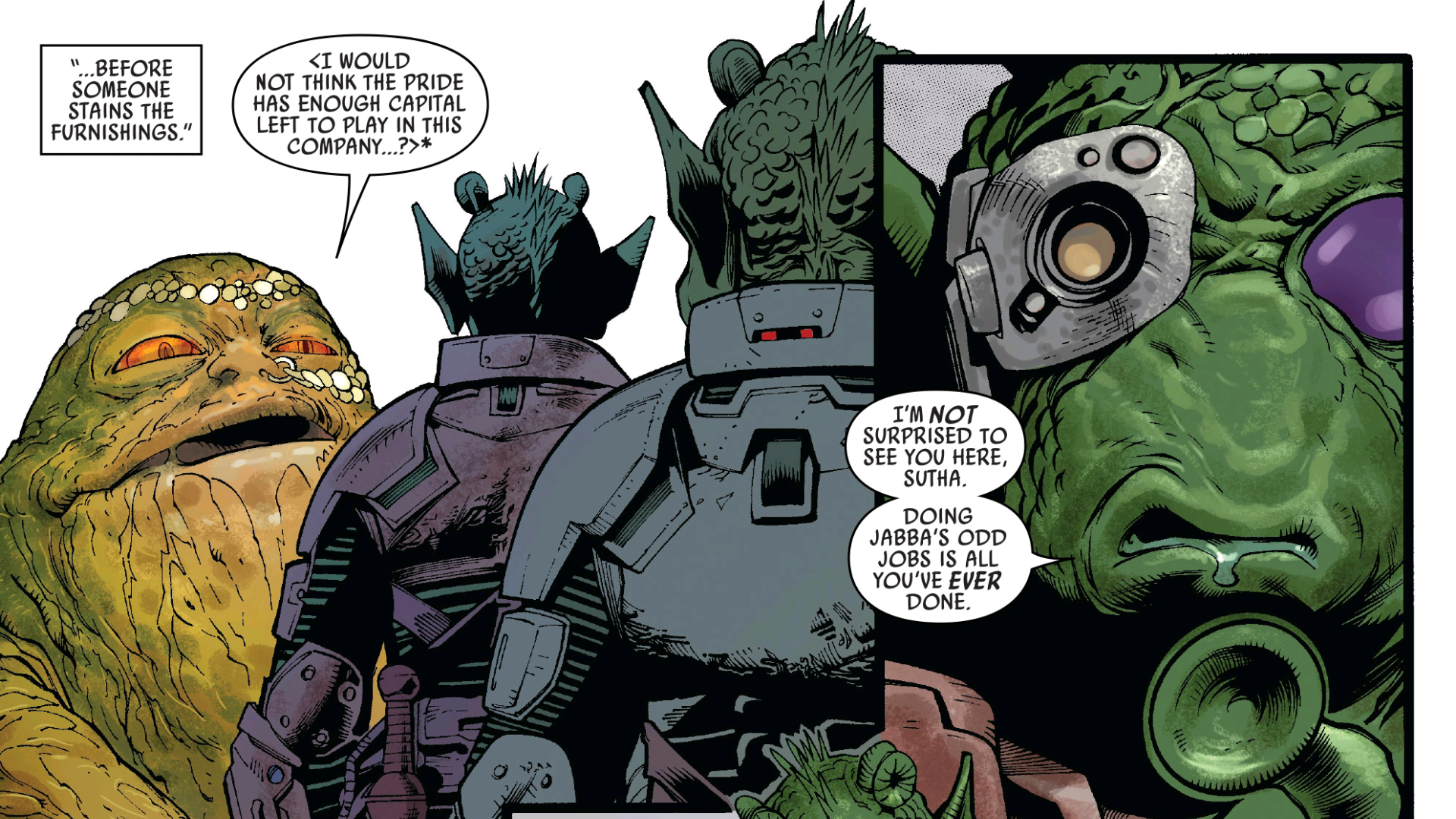 Among Aphra's guests are a few characters we have seen before in other comic series, such as Sutha the Hutt (Darth Vader) and Papa Toren (Lando, Poe Dameron), along with some threatening newcomers like Yonak the Rodian and his ghastly crew. All of the threats these guests pose, however, pale in comparison to the impending threat that Vader will be bringing to the table. Whatever you have to do Aphra, do it quickly, and get the heck out of there before it's too late.
Score: 7/10
Doctor Aphra #9 is available at your local comic shop or online at Comixology. Until next time, happy reading comic fans!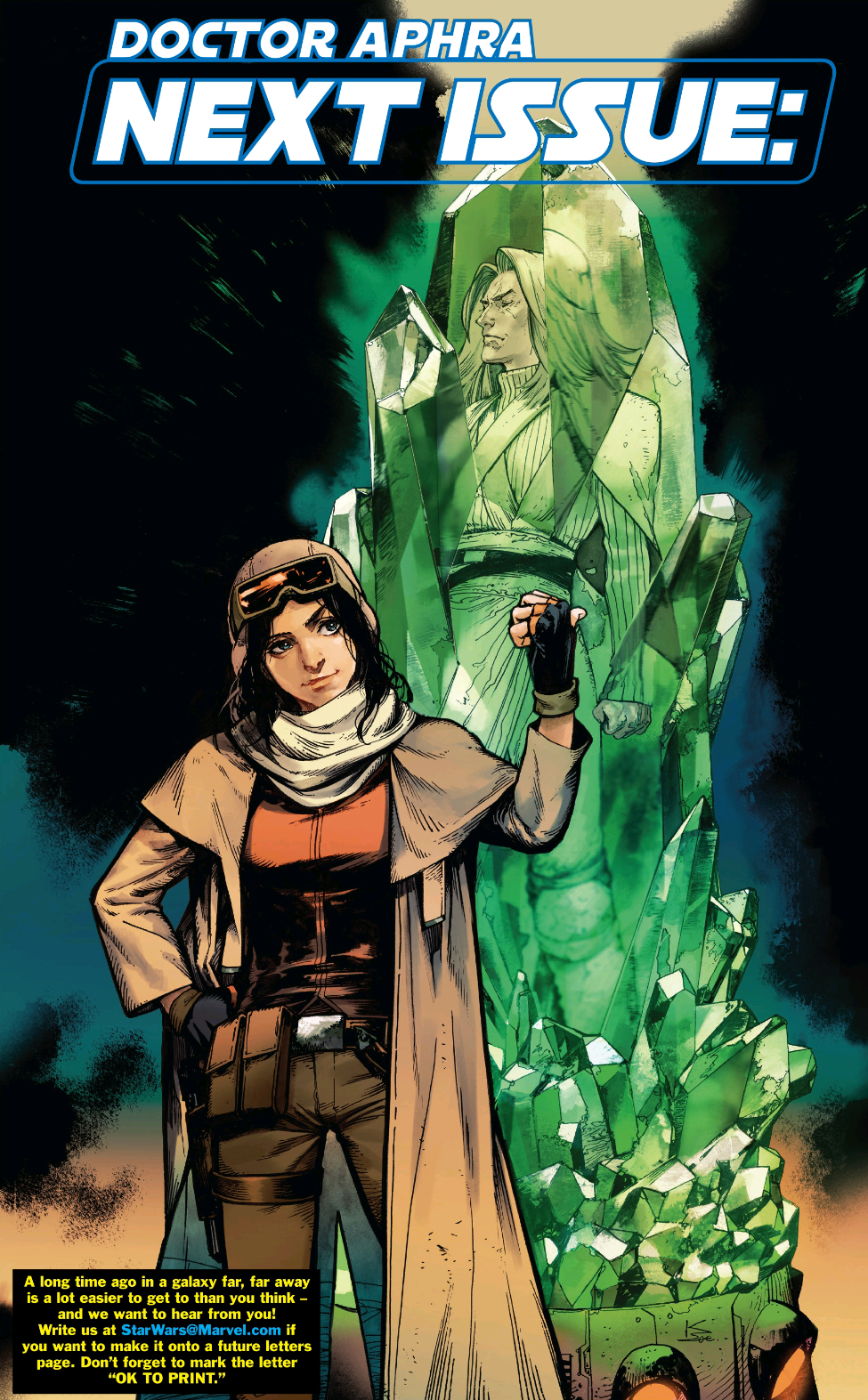 Click HERE to check out and comment on this topic in our forum The Cantina