UPDATE: Is the Next Star Wars: The Last Jedi Trailer New or a Re-Cut of the First?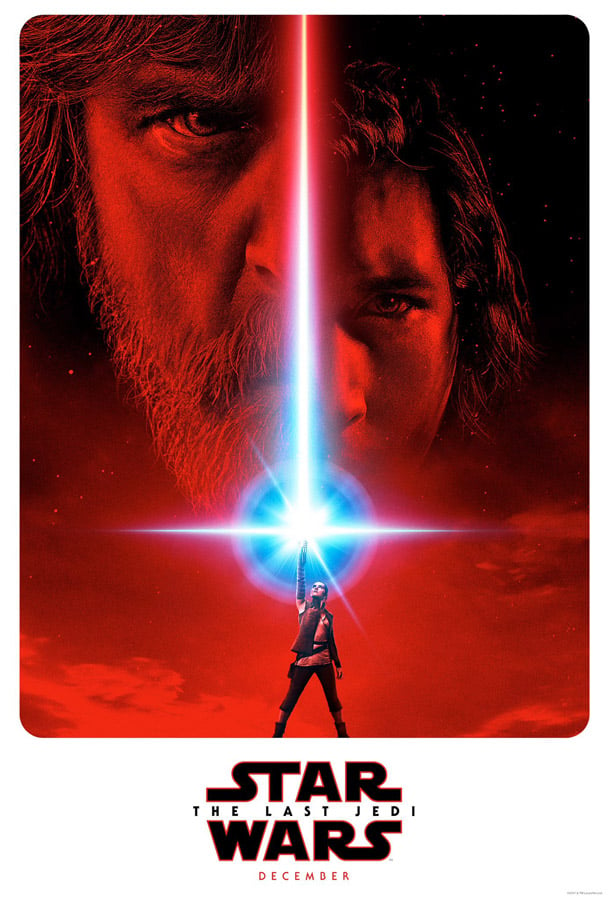 A reddit user first caught a post on the British Board of Film Classification, that appears to confirm the approved running time of the alleged second trailer to The Last Jedi.
Thanks to Reddit user Nonsuch42, we were provided a link to the British Board of Film Classification, which we can confirm accurately lists the approved running time of the alleged second trailer (titled trailer B) for The Last Jedi, and it confirms it is distributed by "WDSMP UK" (Walt Disney Motion Pictures UK).  Here is a screenshot of the listing: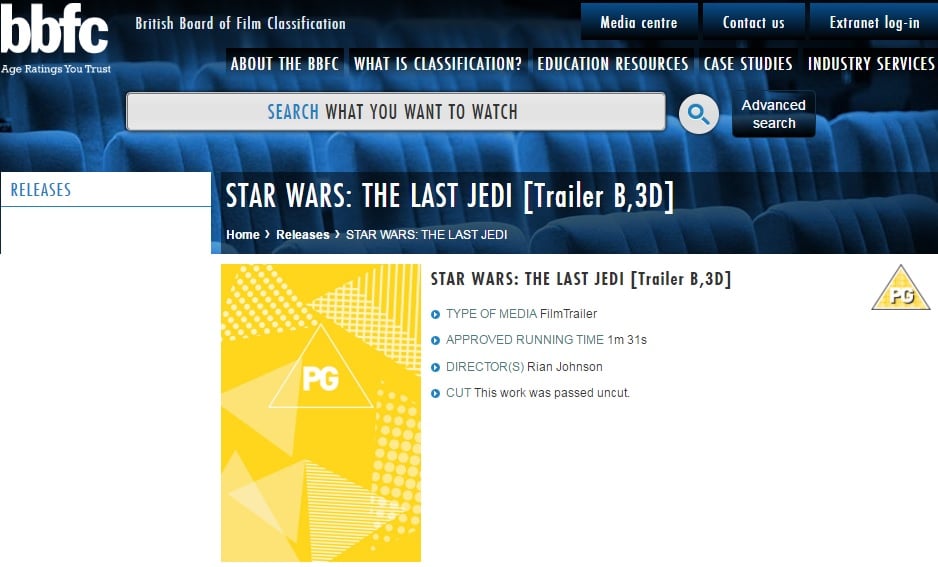 As you can see next to "APPROVED RUNNING TIME" it says one minute and thirty one seconds. Here is what else we can gather from this listing:
The trailer will be available in both 2D and 3D which confirms it will be theatrically released.
The trailer will come in around 30 seconds shorter than the first trailer (now dubbed Trailer A).
Although it says PG, the rating for trailer A was was also PG, as well as all trailers for The Force Awakens. The movie will still likely carry on the recent tradition of an MPAA: PG-13 /BBFC rating: 12A
UPDATE!
The trailer length directly contrasts the first two trailers for The Force Awakens in which the second trailer was roughly 30 seconds longer than the first, this lead to a lot of speculation that this second trailer could possibly be a theatrical re-cut of the first. Our friends at @TrailerTrack make a good point:
guys, this very likely isn't a new trailer, but a 90-second cutdown of the previous one. See our other tweets addressing this

— TrailerTrack (@trailertrack) June 20, 2017
Now it is true that The Force Awakens separate trailers were designated with A for the first teaser and B for the trailer that was released in April:
However if you click on the discussion, they make a compelling point that the lettering convention changed for Rogue One, with different letters applying to shorter versions of the same trailer:
With Rogue One, both the Olympics (D) and the final (F) trailers got shorter cutdowns (E and G respectively). pic.twitter.com/CyvRSfb0ZX

— TrailerTrack (@trailertrack) June 20, 2017
like we pointed out with R1 as a Star Wars example, 90-second versions of previously released longer trailers to play in cinemas

— TrailerTrack (@trailertrack) June 20, 2017
are incredibly commonplace. As another major 2017 film example – Dunkirk had 90-sec versions of its two longer trailers rated as separate

— TrailerTrack (@trailertrack) June 20, 2017
Also back in 2015, the same UK site listed a new trailer to be released which ended up to be false (probably just some recut version for other purposes) here.
We will update you as we get more information on this, but stay tuned. At the very least we are getting something, and likely soon. Hopefully it is a different clip entirely! Due to the 3D option we doubt that it is a behind-the-scenes sizzle reel, so we can speculate it is either a re-cut of the first or a new teaser entirely.
Of course our eyes are on this to release parallel to Disney's D23 expo on July 14-16th, but with Disney having yet to promote the new Han Solo film, there is a possibility The Last Jedi's trailer could debut at another time. The safe bet though is that it will debut at D23, which is only a few weeks away!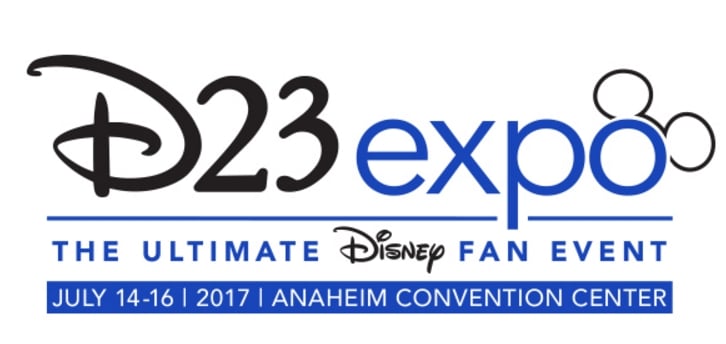 When do you think the second trailer will debut? Before, during, after D23? What do you think we'll see in the trailer? Or do you agree that this could just be a re-cut of the first? Sound off in the comments below and of course head to the Cantina and discuss it!
You can find my Twitter profile, which is canon, here: @JohnnyHoey"For my ally is the Force, and a powerful ally it is."