EA Announces Star Wars Battlefront II: Assault On Theed Gameplay Stream.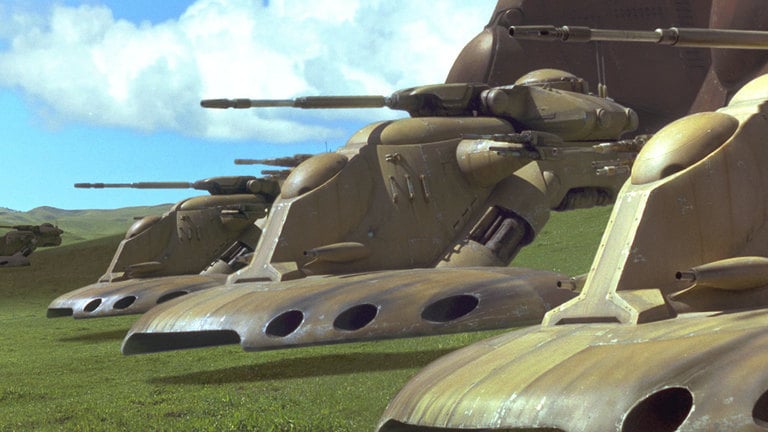 Not that long ago, word got out that Star Wars Battlefront II's EA Play presentation would feature Naboo. Now, they're making it clear well in advance that we're going to get a good look at the Prequel Trilogy planet to commemorate the first official gameplay reveal of the highly-anticipated sequel.
EA recently released some information on their website revealing that a "Star Wars Battlefront II: Assault On Theed" stream is going to happen soon as a part of their EA Play presentation.
Sleek N-1 Starfighters and Vulture Droids scream overhead spewing light and fire. Nimble AT-RT Walkers race around corners, pursued by roaring AATs. Agile Clone Jet Troopers hop from rooftop to rooftop, while rampaging B2 Super Battle Droids level everything in their path. Armies of Clones and Droids sprint across cover, their blazing weapons shattering the tranquility of the once-peaceful capital of Naboo. And at the center of the swirling melee the lightsabers and Darth Maul and Rey cut swaths through the ranks of the battling troopers.
It's definitely interesting to hear that we'll be seeing Rey in action and not Yoda or some other character – perhaps the Jedi Master isn't completely ready just yet, or perhaps this is teasing a greater degree of freedom for players to switch between armies and eras in multiplayer. From the sound of things, players will at least be able to use heroes and villains across eras regardless of what army they're fighting for (which makes it sound as though there will be a mode where heroes and villains from all Eras can fight against one another, much like in Pandemic's Battlefront II 13 years ago). But those who were worried that EA somehow were going to save Prequel Trilogy content for post-launch DLC can take a huge sigh of relief: EA is already ready to show gameplay of Clone Wars Era combat.
The press release continues:
Prepare for the Assault on Theed! On June 10 at 12:30 PM PT, Darth Maul and other cross-era heroes enter the battlefield in a massive multiplayer livestream gameplay event you won't want to miss. You might even become part of creating it. At EA Play, you'll be able to watch the first-ever live gameplay reveal of Star Wars ™ Battlefront ™ II, featuring livestream of 40-player gameplay set during the Assault on Theed – one of the new multiplayer battles from the prequel trilogy. Clone Troopers will mount a desperate defense against the invading forces of the Separatist Battle Droids. Can the Republic forces stop the relentless crawl of the massive Multi-Troop Transport as it lumbers toward the palace doors?
EA is setting up a pair of 20-player teams made up of some of Twitch's most popular streamers as the lucky 40 get to play the game for the first time. But that's not all: lucky fans on social media can get a shot at winning big by Tweeting #EAStarWarsSweepstakes #AssaultOnTheed. The details are better explained on EA's website, so I'll just link to it there. This is a really cool way to hype up interest in this game and I can't wait to see it in a little over a week.
Grant has been a fan of Star Wars for as long as he can remember, having seen every movie on the big screen. When he's not hard at work with his college studies, he keeps himself busy by reporting on all kinds of Star Wars news for SWNN and general movie news on the sister site, Movie News Net. He served as a frequent commentator on SWNN's The Resistance Broadcast.