A Closer Look at the "Han Solo" Set on the Canaries + New Rumors!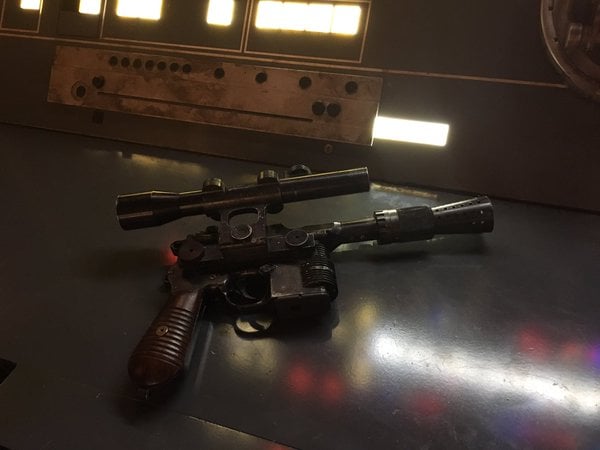 A new report from the Spanish newspaper Canarias7 reveals the best look yet at the desert set built on Fuerteventura for the still untitled "Han Solo" spin-off film. The report also shares some rumors about the filming, so hit the jump for more details.
SPOILERS
A few days ago we told you that the filming on Fuerteventura is about to begin, as actors Alden Ehrenreich, Emilia Clarke, Woody Harrelson and Warwick Davis were reportedly seen in Spain. Also a satellite image of the set was revealed, but it was hard to see anything specific from it. Now Canarias7 has gotten their hands on a much better image showing some alien looking buildings in the desert. Check it out:
It seems that these huts have been abandoned for some time as the destruction on the structures is very evident. Also you can see something like pod engines to the right. The whole thing has a very junkyard feel to it.
Also Canarias7 shared some rumors about this location, continuing to claim that this is Han's home planet Corellia. They never stated how they know that, and the whole situation seems more like a guess than real info, but we will see as time passes. Here's a rough translation from Spanish:
The hometown of Han Solo emerges from the white sand of the Jandía Natural Park. The inhabitants of this place, of the planet Corellia, live in some damaged igloos and under the remains of ships and other intergalactic scrap. It is the first image of the setting where for two weeks Disney and Sur Films will film the movie.

Early rumors pointed to houses being built of salt, with tons and tons of salt. A witness who managed this week to avoid the iron surveillance of the filming described that the town was formed by brown leather tents or jaimas. However, the image shows a village almost on the verge of being undone, built with metallic remains that are as protected as they can be from the sun of planet Corellia being created in Fuerteventura.
Unless they make a departure from the previous representations of Han's homeworld (which had a more temperate planetary climate), I seriously doubt that this desert landscape is Corellia. I think it's most likely an abandoned settlement on Tatooine, and here are a couple reasons why:
1. In ANH, Han comes across like a regular in Chalmun's Cantina; you just know he's spent a lot of time in that place. We also know that Han worked for Jabba – enough where Jabba considered him to be the best. We also know Jabba has had his palace on Tatooine since before the Clone Wars, so if Han encounters the Hutt it will probably be there.
2. We also know Boba Fett is very familiar with Tatooine – I look for an encounter with the bounty hunter on the desert planet as well. And c'mon…does anyone really think Fett will not be in this movie? I wouldn't be surprised if Fett is even Han's initial contact in working for Jabba.
Given the desert location's similarity to Tatooine and that the filmmakers will probably not want to have two locations in the movie that are so aesthetically similar, I'd say this planet is most likely one fans are very familiar with. But still, the architecture doesn't feel like Tatooine, so it may be a different planet after all. Whichever the case, we are still ready to bet some money that we will see Tatooine in "Han Solo".
UPDATE!
After we posted this article we spoke with several people that know stuff, and from all of them we got the same answer – that's not Tatooine. Curious… We have to wait and see. Until then – grain of salt. 😉
Also the report claims that Donald Glover, who will play young Lando Calrissian has joined the cast at Fuerteventura. He was spotted in Florence, Italy 2 days ago so he is definitely close to Spain now.
At least we know Donald isn't in FTV. At least not yet. He was at a Gucci event in Florence yesterday and now was just spotted still there. pic.twitter.com/ynsJ9N5KQ1

— dragon's daughter (@yeahclarke) May 30, 2017
Thanks to @yeahclarke for first spotting the news.