Star Wars Celebration Orlando Essential Stories: Day One.
Star Wars Celebration Orlando's first day – and the few days preceding it – proved to be rather eventful. While we didn't get any major announcements about the upcoming films themselves, we did learn a few crucial bits and pieces about the future of Star Wars media that we'll be getting over the next few years.
Battlefront II – Battle Across All Eras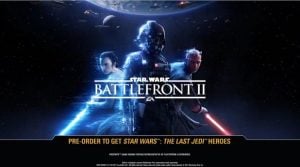 The first of the two big surprises that came before Celebration ended up being a leak – one unwittingly facilitated by the production studio itself, amusingly enough. Representatives from EA tweeted out a short clip showing that yes, their new game would take players beyond the Original Trilogy by dabbing into the Prequel Trilogy and the Sequel Trilogy to varying extents. While it's incredibly likely that this was meant to be a major surprise to an unsuspecting audiences who expected everything but Clone Wars Era content, it's certainly a welcome one coming a few days early. The full trailer will arrive with the panel this Saturday.
Forces Of Destiny – Star Wars Heroines Get Their Own Show
Many predicted that there'd be some kind of announcement of a new animated series at Celebration, but few had any idea that it'd be a series of shorts that would complement Rebels instead of replacing it. The new series, which will be comprised of several 2-D shorts, will focus on the women of Star Wars in an effort to get more young girls interested in the series. The shorts will be released online and will coincide with the launch of a new line of dolls created by Hasbro. The series is expected to be discussed at a panel featuring Tiya Sircar and Ashley Eckstein tomorrow.
40th Anniversary Panel – No Announcements, But Several Surprise Appearances
Anyone hoping for details on another Star Wars Anthology film unfortunately went home empty-handed as far as announcements go. However, there were a lot of surprise appearances at Star Wars Celebration Orlando's 40th Anniversary Panel, including the likes of George Lucas, Harrison Ford, Billie Lourd, and John "Star Wars Secret Sauce" Williams. Liam Neeson and Samuel L. Jackson were also able to chip into the conversation through livestreams. Might this allude to the possibility of future returns to the franchise? It's too early to say, but it's clear that Star Wars is still important enough for these actors that they want back in.
General Leia Organa In The Last Jedi
During the poignant tribute to the late Carrie Fisher, we could briefly see some new behind-the-scenes footage of the actress as General Leia Organa in Star Wars Episode VIII: The Last Jedi. This is technically the first behind-the-scenes look we've seen of The Last Jedi since the humorous production announcement video that was released over a year ago. Her outfit seems to be ceremonial, but not in a particularly joyful way – it seems likely that whatever address she's going to give will be a solemn one indeed.
The Rex/"Gramps" Connection Confirmed?
Here's a #StarWarsRebels sneak peek for you. I wonder what Rex'll be up to next season? #SWCO pic.twitter.com/Zj0RiYTpSC

— SYFY WIRE (@SYFYWIRE) April 13, 2017
One of Dave Filoni's pet theories is that Rex, a veteran Clone Trooper, fought as a Rebel on Endor under the alias of Nik Sant, a soldier affectionately called "Gramps". At a panel discussing the fates of characters from The Clone Wars, Filoni gave viewers a quick of what to expect at Saturday's Rebels Season 4 panel by offering concept art of Rex in combat fatigues reminiscent of that same soldier from Return Of The Jedi. A simple fan theory? It's looking less and less like one!
Ahsoka's Fate Will Be Revealed On Rebels… Eventually!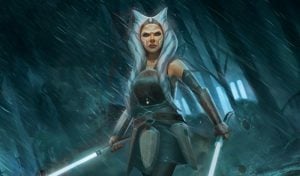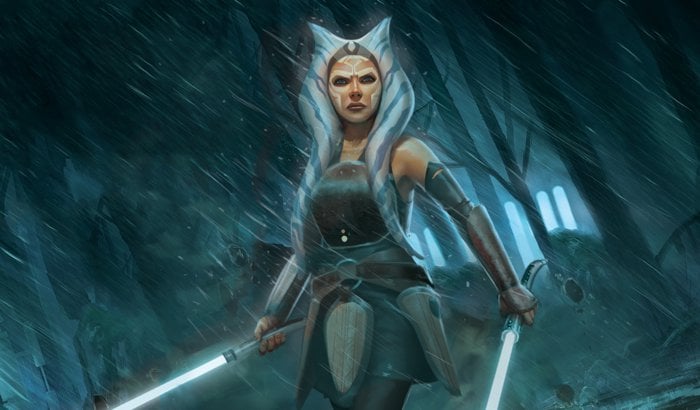 Ahsoka's last scene in Rebels Season 2 was left on an incredibly ambiguous note, with it not being clear if she lived or died. Well, from the sound of things, it's not going to stay a mystery forever. At the same panel as the above, Pablo Hidalgo mentioned that her story will be given proper clarification (and possibly even a continuation) in the same series that made sure her return and subsequent exile (or death) was meaningful. This is something that they alluded to in a panel last year, but they noted that this story element had to wait until Season 4 because the story in Season 3 was much too far in development to actually feature her in any significant capacity.
Boba Fett VS Cad Bane
#SWCO: How #BobaFett got his dented helmet! Thank you @pablohidalgo and @dave_filoni for sharing this. (Video for BFFC by @jfett85.) pic.twitter.com/reBuqrix5L

— Boba Fett Fan Club (@bobafettfanclub) April 13, 2017
One last gem from the animation panel was an unfinished reel of animation from The Clone Wars, and apparently the last one that Filoni and Hidalgo intend to share at a Celebration event. The video portrays a confrontation between Boba Fett and Cad Bane that leads into a Western-influenced quick-draw that doesn't seem to have a clear winner. While Fett obviously lives (albeit with a dent on his new helmet), Bane's fate was left unexplained by the creative duo. Perhaps he's got a shot at appearing in Rebels if Fett didn't actually finish him off (since it's not entirely clear if this series of events will be treated as canon).
Lando Calrissian Is Absent From The Last Jedi
Sadly, not all news at Celebration Orlando was good news. It was recently confirmed by Billy Dee Williams himself that he won't be making a cameo in The Last Jedi. Still, don't rule out an appearance in Episode IX, even if the actor is getting up there in terms of age. We're pulling for ya, Billy!
Also check out director Rian Johnson paying a visit to the people waiting in line for The Last Jedi panel and a few cool photos from the first day (use the arrows on the second Instagram post for more photos):
Johnson spent 3 hours signing autographs and taking photos with all the people there. Incredible guy!
Great catching up w/longtime pals @ #SWCO: John Williams-Harrison Ford-Denis Lawson-Ian McDiarmid-Hayden Christensen-Peter Mayhew #More2Come pic.twitter.com/jyfTDqIuDt

— Mark Hamill (@HamillHimself) April 14, 2017
What are your favorite Celebration moments thus far? Let us know in the comments below.
Grant has been a fan of Star Wars for as long as he can remember, having seen every movie on the big screen. When he's not hard at work with his college studies, he keeps himself busy by reporting on all kinds of Star Wars news for SWNN and general movie news on the sister site, Movie News Net. He served as a frequent commentator on SWNN's The Resistance Broadcast.