Highlights from The Last Jedi Panel. New Teaser Trailer and Poster Revealed.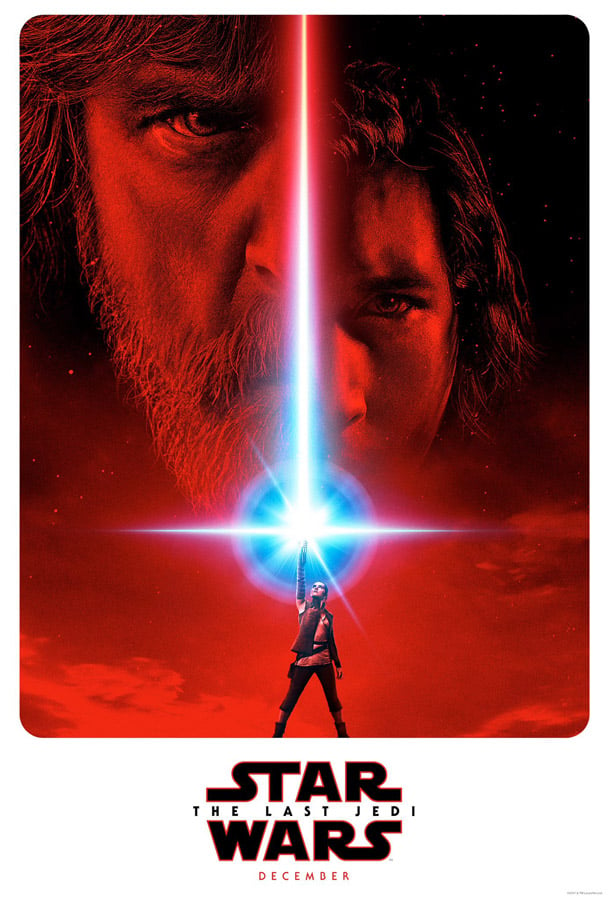 A long time ago, in a galaxy far, far away…
The biggest movie of the year, of the century, is upon us so there is no need for a lengthy introduction, here is the breakdown of The Last Jedi Panel at Star Wars Celebration Orlando!
Host Josh Gad is introduced and proceeds to introduce Kathleen Kennedy and Rian Johnson. Johnson started off by revealing The Last Jedi was deep in post-production.
Gad asked Kennedy what Rian Johnson brings to the Star Wars Universe:
"Rian is on his way to standing alongside many of the great filmmakers I've had the opportunity to work with. He has an amazing uniqueness to what he does and writes as beautifully as he directs. He writes amazingly fierce and independent women."
Rian Johnson talked about his experience making the film:
"It was a joyful experience. We were shooting in Pinewood Studios, which was like Camelot growing up so to actually work there every day added to this magical experience. We were up and down the west coast of Ireland, and everywhere we went, we had a great time there and shot some beautiful landscapes."
Johnson went on to explain that he was the only one on set allowed to take personal photos, so he took it upon himself to use his personal camera and wound up taking incredible black and white shots of the cast and crew while filming, including Oscaar Isaac, Carrie Fisher, Anthony Daniels, and a rather hilarious shot of a broom weilding crew member with a mess of dead Stormtroopers to clean up.
One of the shots that caught my eye was Daisy holding a lightsaber with a crew member holding an umbrella over her head. It looks like we are definitely getting some training or fight scenes in the rain, perhaps on Ach-To.
Josh Gad then asked Kathleen and Rian about Carrie Fisher:
Kennedy – "Carrie is remarkable in the movie. What Rian wrote and the performance she ends up giving is an amazing tribute to her talent."

Johnson – "I connected with her as a writer. She is a brilliant writer, an incredible mind. We'd sit on her bed for hours and go through the script, and have stream of consciousness ad-lib poetry sessions, and after hours a four word line would stand out."
Daisy Ridley comes on stage.
Daisy Ridley on what she could tell us about her character and the movie:
"I can tell you some things. A small amount. In the Last Jedi we go deeper into Rey's story, and what is apparent is Rey has a certain expectation of what she may be getting from Luke. It is difficult to meet your heroes because you might not get what you expect."
This makes me think that Luke is far more jaded than Rey expects. While she may be expecting a willing and ready teacher in the Jedi Master, perhaps we may find Rey encountering a hesitant and reluctant damaged Luke at the onset.
Daisy said that over the last two years mothers and daughters all over kept thanking and congratulating her, but she points out it was JJ Abrams, Kathleen Kennedy, and Lucasfilm who are to thank. However Rian Johnson interrupted and said make no mistake about it, Daisy Ridley brought Rey to life and gave young girls across the world a new hero to get behind.
BB-8 arrives on stage
There isn't too much revealed here other than the fact that I still marvel at how incredible the technology is to create this real life moving and interacting droid. Rian Johnson did reveal a bit about BB-8 and his role in The Last Jedi:
"JJ and his producers told me that you can't have enough BB-8. He is the Buster Keaton of this movie."
John Boyega Hits the stage.
Boyega spoke briefly about his character and where Finn is at in The Last Jedi, and although Oscar Isaac couldn't be at Celebration, he assures fans that Finn and Poe and still great friends:
"Finn stood up for himself and caught a bit of an injury, but he'll be back, and he is not playing around this time."
Rian Johnson on the First Order.
"The first order is aggressive and capitalizing on the core of the New Republic that they destroyed. They are not sitting on their hands out of the gate."
Kelly Marie Tran's "Rose" is the biggest new part in the movie!
Kelly Marie Tran is introduced, and Johnson explained that Rose is a part of the resistance, but she is no hero, she works in maintenance. However, like Luke in A New Hope she is unwillingly somehow thrust into the fight and has to realize a strength within herself that she didn't know existed. We fully expect her to go on an adventure with Finn throughout the movie as we saw in previously released photos.
Mark Hamill Arrives on stage.
Hamill talked about how he was terrified to try to catch lightning in a bottle since his story had a beginning, middle, and end that ended after Return of the Jedi. He took solace in the fact that Rian Johnson admitted to him that he was terrified too. Hamill went on to say Johnson is at the top of his all-time favorite directors and that he was completely at peace that Luke was in his hands to bring the best that character can be to the screen.
While Hamill humbly said it's not his story anymore, Kathleen Kennedy interjected immediately to assure us all that Luke is a huge part of this movie.
The funniest part of the panel came when Hamill faked a slip of the tongue by almost referring to Daisy as his daughter, but then he went on to remind us all that he is a pathological liar, purposely to keep us all guessing.
Mark Hamill closed by thanking the fans:
"If it weren't for you, I wouldn't be sitting here. You're there for us all the time, in good times and bad."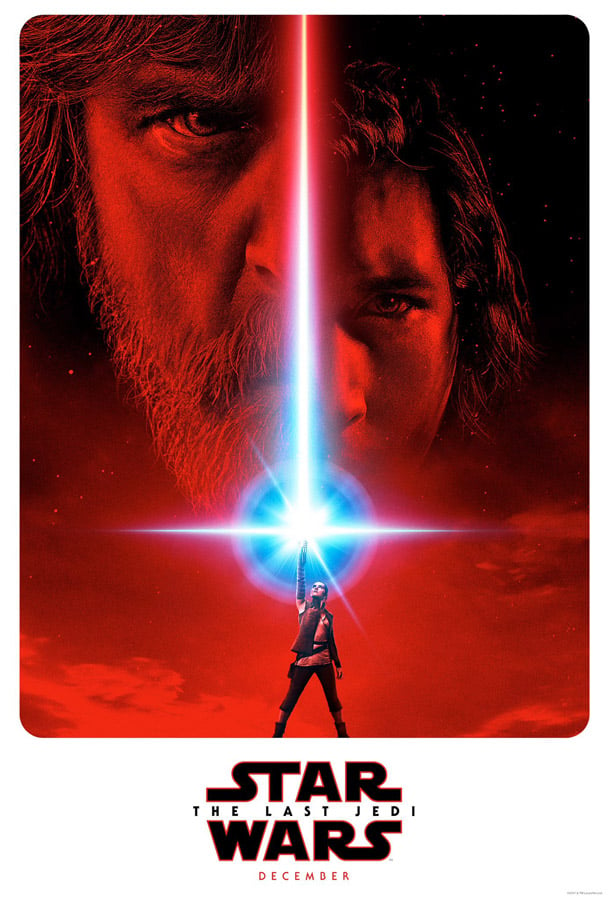 Incredible new teaser poster.
Johnson teased the fans with a brand new teaser poster. It is a powerful piece. We see Rey standing holding the blue lightsaber to the sky, very reminiscent of Luke from one of the original Star Wars posters from 1977. The background is red, and the lightsaber beam splits the faces of Luke and Kylo Ren. A very ominous poster perhaps indicating the lines between the dark and the light will be more blurred than ever, but either way it is an incredible piece of art work.
Teaser trailer!
Rian Johnson revealed the trailer to the crowd and ended up showing it twice. Please see our trailer breakdown piece right here at Star Wars News Net which will be posted soon!
Also check out these other images shown during the panel.
Are you as excited as I am? What did you take away from the panel? Sound off below!
"For my ally is the Force, and a powerful ally it is."
Twitter: @JohnnyHoey
John Hoey is the Lead Editor and Senior Writer for Star Wars News Net and the host of The Resistance Broadcast podcast
"For my ally is the Force, and a powerful ally it is."