New Helmet Creator Available on the Official 'Rogue One' Website – Join the SWNN Squadron!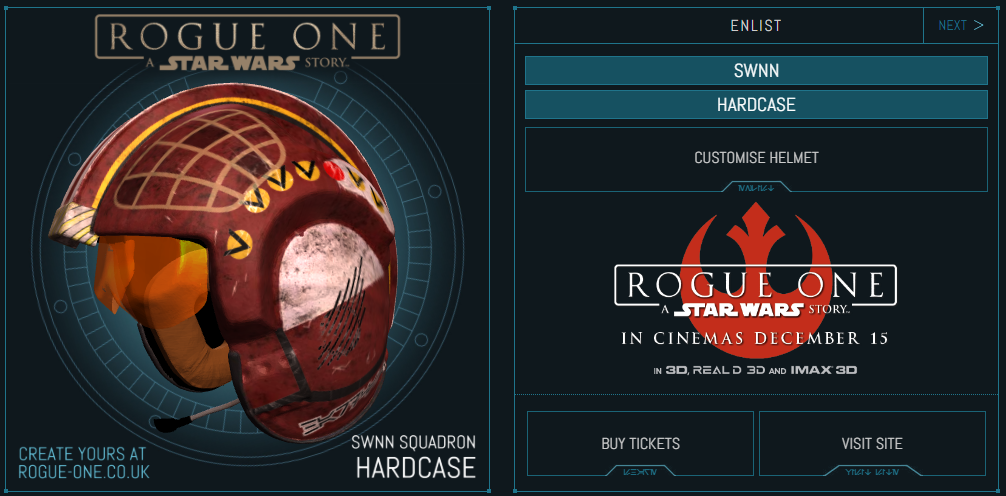 We are just one week away from the release of Rogue One: A Star Wars Story, and it's time for Star Wars fans all across the galaxy to stand up against galactic tyranny by enlisting in the Rebellion!  The official Rogue One website in the UK has added a new feature where fans can create their own squadron, designate a call-sign for themselves, and customize their very own flight helmet.
The feature is easy to use and the helmet is fully customizeable.  You can select your own helmet style, color, hero insignia, mohawk stripe, side decals, and victory decals.  When you're finished, upload an image of your very own face and share it with your friends on social media.  So what are you waiting for?  This is a Rebellion isn't it?  So…Rebel.
The SWNN Squadron needs you! If you want to join us, be sure it says "SWNN" under squadron name. There is a leaderboard at the bottom where you can see the number of people in each squadron. Click here to get started, and may the Force be with you.
Jordan Pate is Co-Lead Editor and Senior Writer for Star Wars News Net, of which he is also a member of the book and comic review team. He loves all things Star Wars, but when he's not spending time in the galaxy far far away, he might be found in our own galaxy hanging out in Gotham City or at 1407 Graymalkin Lane, Salem Center, NY.