Update! Did Dave Filoni Just Give Us the Most Subtle Hint that Ahsoka Lives!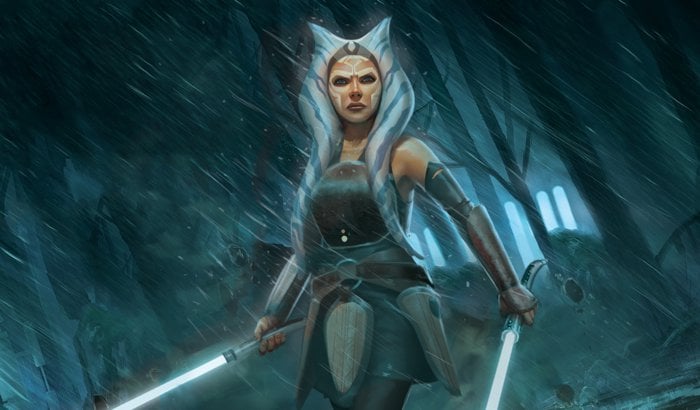 Ever since the incredible season two finale of Star Wars Rebels there has been one incredibly impactful question that we have all been asking ourselves. What the heck happened to Ahsoka Tano after the jaw-dropping and emotional duel between herself and her former master, Darth Vader? It was the one thing that the show's third season never addressed at all and with the show going into its fourth and final season, it's something that needs to be resolved. Well Dave Filoni may have given us the most subtle hint about her fate ever, and shown us that punctuation is everything.
During the panel for the fourth season of Rebels Filoni was wearing a shirt that said "Ahsoka Lives?". Obviously this is Filoni playing with our emotions, as he usually does, but what he did next is taking that to a whole new level and could have huge implications for next season. After they showed the trailer for the fourth season, in a trolling move for the ages, changed his shirt to "Ahsoka Lives!". C'mon man! Ashoka lives confirmed? Not confirmed? What does it all mean!?!
While the trailer for #StarWarsRebels was playing, Dave Filoni changed his shirt from "Ahsoka Lives?" to "Ahsoka Lives!" #SWCO #StarWars pic.twitter.com/USthNCZuHH

— Ashley Carter (@AshleyLCarter1) April 15, 2017
Confirmation from @dave_filoni himself… #AhsokaLives!

Switching shirts mid Rebels S:4 trailer. Clever Dave!;)

Ahsoka Lives!!! pic.twitter.com/1hQhyJxyRh

— ALPHA vs B3TA @SWCO (@Iamtheonlyalpha) April 16, 2017
There was no mention of Ahsoka at all in the trailer so it does seem a little odd he would do it. Once again he's probably just trying to troll us a little bit, but still if that's his way of letting us know that Snips is coming back, I absolutely love it!
During the Rebels season 4 panel Filoni revealed that despite the fact that the show will end with season 4, this doesn't mean they are not working on something else. Could this potential new series be connected with Ahsoka somehow? Or maybe he is talking about the newly announced series Forces of Destiny, where Ahsoka is one of the main protagonists? The last bit seems unlikely, since they are just a brief shorts.
What do you think?
May the Force be with you!
Update!
Also, as some of our readers pointed out, don't forget about this sketch and the Topps cards that Filoni showed during last year's panel about Ahsoka at Celebration London:
Could she be reborn as the white wolf in Rebels season 4?
As you can see even the markings on the wolf resemble Ahsoka's tattoos.
@StarWarsNewsNet @dave_filoni @HerUniverse The signs are obvious. 🙂 pic.twitter.com/Su53ynVTSw

— Jedi Knight (@Alias_WiSeMan) April 16, 2017
After this tweet by @Alias_WiSeMan, I think everything is clear. Don't you agree?