Star Wars Weekly Buzz: Bob Iger Comments on The Last Jedi, Hasbro Reveals New Toys for Star Wars' 40th Anniversary and More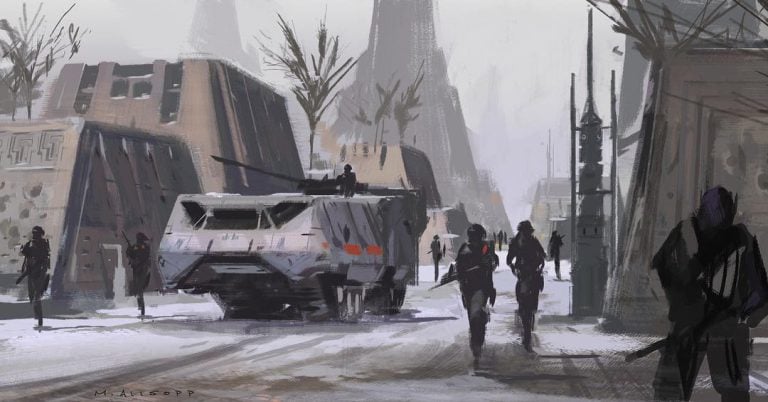 This week on the Weekly Buzz we have: Bob Iger comments on The Last Jedi, Rosario Dawson wants to play Ahsoka Tano, Jimmy Smits talks Rogue One, new toy reveals from Hasbro for Star Wars' 40th anniversary, Timothy Zahn is coming to Star Wars Celebration Orlando and more.
Inside The Magic reports that Disney CEO Bob Iger revealed during a conference call that he might extend his contract with the company for the third time in the last years, mainly because of the lack of a satisfactory successor.
Disney's CEO Bob Iger may extend his tenure with The Walt Disney Company for a third time! https://t.co/ObdXflk5RH pic.twitter.com/mNuXJH1WQq

— Inside the Magic (@InsideTheMagic) February 6, 2017
Also Iger shared his impressions about The Last Jedi. Obviously he saw an early cut of the movie, and not surprising to anyone, he loved it. 🙂
And of course his quote about the "Skywalker family saga" was quickly picked by the fans, who started reading too much into it.
Perk of being @WaltDisneyCo CEO: seeing The Last Jedi early. Bob Iger calls it "a great next chapter in the iconic Skywalker family saga."

— Hannah Sampson (@hannahbsampson) February 7, 2017
@wandernesss @doug_hanks @WaltDisneyCo I wouldn't read TOO much into it (unless you want to!)

— Hannah Sampson (@hannahbsampson) February 8, 2017
Actress Rosario Dawson was sent a tweet from a fan asking her, if she would be interested in playing Ahsoka Tano in a potential feature film about the fan favorite Togruta. Dawson reacted with great excitement, even using one of the popular Ahsoka hashtags #AhsokaLives, showing familiarity with the character.
@Bosslogic how about @rosariodawson as Ahsoka Tano?

— John Kilker (@JohnKilker) February 6, 2017
Ummmm… yes please?! #AhsokaLives #AhsokaTano #StarWars https://t.co/jYposLVGIY

— Rosario Dawson (@rosariodawson) February 7, 2017
So what do you think? Is she a good fit? Not that we're getting such movie any time soon, but…. Here's a cool fan art:
Just sent this to Rosario Dawson: #ahsokatano #rebels #rosariodawson #StarWars pic.twitter.com/7Dugu7mNgk

— Cardiff Jack Sparrow (@CardiffSparrow) February 9, 2017
ABC News has an interesting article on how some of the classic Star Wars ships have been build for The Force Awakens and Rogue One:
It's no wonder the Millennium Falcon is the "fastest hunk of junk in the galaxy." It's part Ferrari.

"The Y-Wing is actually a Saturn V rocket kit," Paul explained. "This is the main fuselage of the rocket kit, but it actually was used directly to make the engines of a Y-Wing."

If you know where to look, you can also spot pieces of a German World War II-era tank on the bridge of a Star Destroyer.
For the full article click on the link in the tweet below:
Did you know the Millennium Falcon is part Ferrari? More behind the scenes @starwars fun at @ILMVFX. https://t.co/5YlKVHpOA8

— Clayton Sandell (@Clayton_Sandell) February 8, 2017
In an interview with Rotten Tomatoes, actor Jimmy Smits spoke briefly about his returning to the role of Bail Organa in Rogue One: A Star Wars Story. When asked whether he did reshoots or any alternate versions of his scenes, Smits referred to the pivotal scene that included a conversation between Mon Mothma and Bail as the reason why he returned to a galaxy far, far away.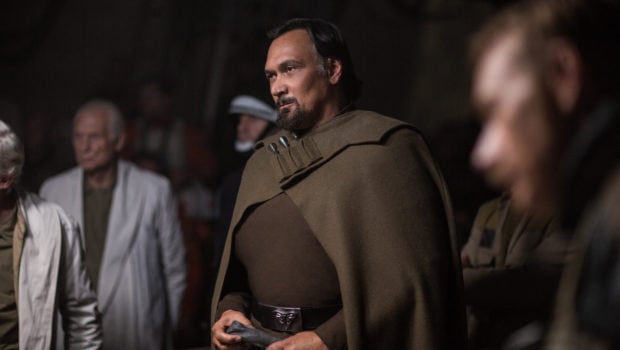 "No. That was one of the reasons why I did it, because that little scene there meant a lot to me. I'm so happy that the film has done well, because it meant a lot, I think, to the franchise to do this whole thing that the standalone films would be just as substantive and good as the others, so that they can have a life themselves."
The official Star Wars Celebration site announced that Rogue One star Felicity Jones, Jeremy Bulloch, who played Boba Fett in the Original Trilogy, and Emperor Sheev Palpatine himself Ian McDiarmid will be at Star Wars Celebration Orlando!
Join Felicity Jones, Jeremy Bulloch, and the Emperor himself Ian McDiarmid at Star Wars Celebration. #SWCO #StarWars https://t.co/j9IJzcSVZh pic.twitter.com/RcSWmRcl3T

— StarWars Celebration (@SW_Celebration) February 8, 2017
Speaking of Celebration Orlando, fan favorite author Timothy Zahn will also be joining the highly anticipated fan event, which happens to be just a week after his new novel Thrawn is released. Zahn announced his appearance via his Facebook account:
Rogue One director Gareth Edwards was at the Visual Effects Society awards:
How much talent can you cram into one pic?! @TaikaWaititi Victoria Alonso @pattonoswalt @auliicravalho Gareth Edwards #VESAwards pic.twitter.com/KYckgFEhVn

— VisualEffectsSociety (@VFXSociety) February 8, 2017
Unfortunately Rogue One didn't win a single award, although it had the most nominations – 7. You can check the full list of winners HERE. After these results it's a pretty safe bet that the Oscar for Best Visual Effects will most likely go to The Jungle Book, as many expected.
For comparison, The Force Awakens won 4 VES awards, again from 7 nominations, but the competition this year was really tough.
Here comes Part 3 of the Josh Gad and Daisy Ridley saga: The Quest for More The Last Jedi Answers. This time with some help from Judi Dench.
I enlisted help today in my quest to get the truth from #DaisyRidley #LastJedi #DontRunFromYourFateDaisy #DameJediKnight pic.twitter.com/KiJMYE8H8L

— Josh Gad (@joshgad) February 8, 2017
Hasbro sent us several hi-res photos with some new reveals for the 40th anniversary of Star Wars that include highly detailed Star Wars The Black Series 3.75-inch Titanium Series Diecast figures based on A New Hope, including Princess Leia, Darth Vader, Luke Skywalker, Obi Wan Kenobi, and Han Solo, as well as Black Series Luke Skywalker Centerpiece figure, Black Series Obi Wan Kenobi Force FX Lightsaber, and new Star Wars Monopoly 40th Anniversary Edition.
Check them out: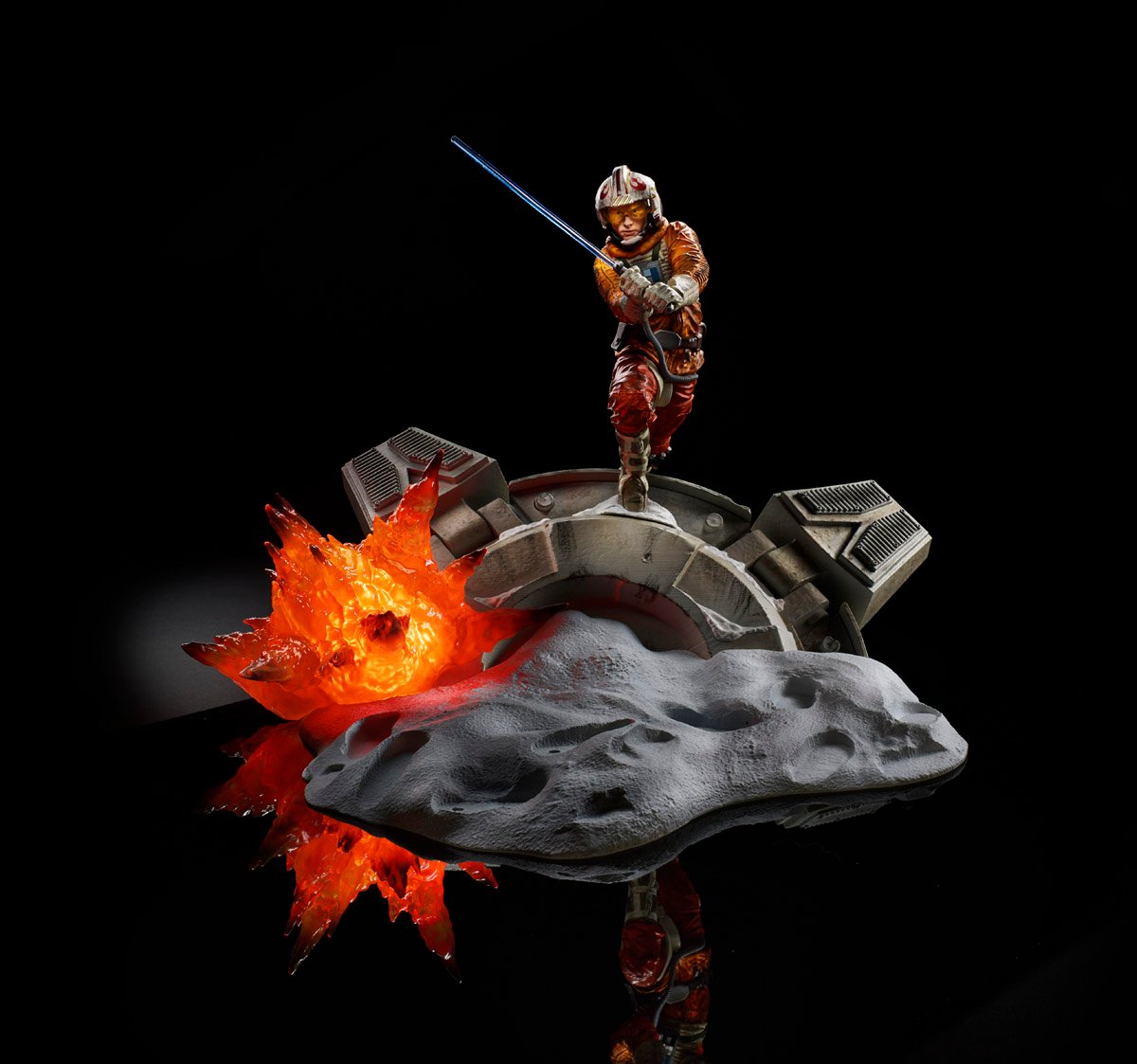 STAR WARS: THE BLACK SERIES CENTERPIECE Figure
(Ages 14 years & up/Approx. Retail Price: $49.99/Available: Fall 2017)
Showcase some of the most incredible STAR WARS battle scenes like never before! Each CENTERPIECE Figure Dramatic Moments collection features iconic scenes enhanced with premium light and sound effects. Look for the LUKE SKYWALKER figure inspired by the battle from STAR WARS: THE EMPIRE STRIKES BACK. Each figure sold separately.
STAR WARS: THE BLACK SERIES 3.75-INCH TITANIUM SERIES Figure Assortment
(Ages 4 years & up/Approx. Retail Price: $14.99/Available: Spring 2017)
This highly detailed scale of action figures allows fans to recreate epic scenes from STAR WARS EPISODE IV: A NEW HOPE. Inspired by the 40th Anniversary of the first STAR WARS film, each iconic figure represents a notable character, including DARTH VADER, HAN SOLO, LUKE SKYWALKER, PRINCESS LEIA, and OBI-WAN KENOBI, in impeccable movie-real design. Each figure features a dynamic, double-sided backdrop and character-specific accessory, allowing fans to recreate iconic moments. Even better, collect each individual backdrop to piece together a bigger STAR WARS scene. Each figure sold separately.
MONOPOLY STAR WARS 40th ANNIVERSARY Edition Game
(HASBRO/Ages 8 years & up/ Players: 2-6/Approx. Retail Price: $29.99/Available: Spring 2017)
Celebrate four decades of STAR WARS history with MONOPOLY! Featuring graphics of iconic characters and classic movie moments from STAR WARS EPISODE IV: A NEW HOPE, this 40th ANNIVERSARY Edition Game takes you back to when it all began. Based on classic gameplay with an intergalactic twist, players can travel around the galaxy and build bases and fleets. When every space is owned, count up the fleets & bases. The player with the most spaces on the winning side is the ultimate winner! The MONOPOLY: STAR WARS 40th Anniversary Edition Game includes 1 Game board, 6 Tokens, 28 Title cards, 16 Force cards, 16 Smuggler's Cargo cards, 32 Fleets, 12 Bases, 2 Dice, and 1 Money Pack.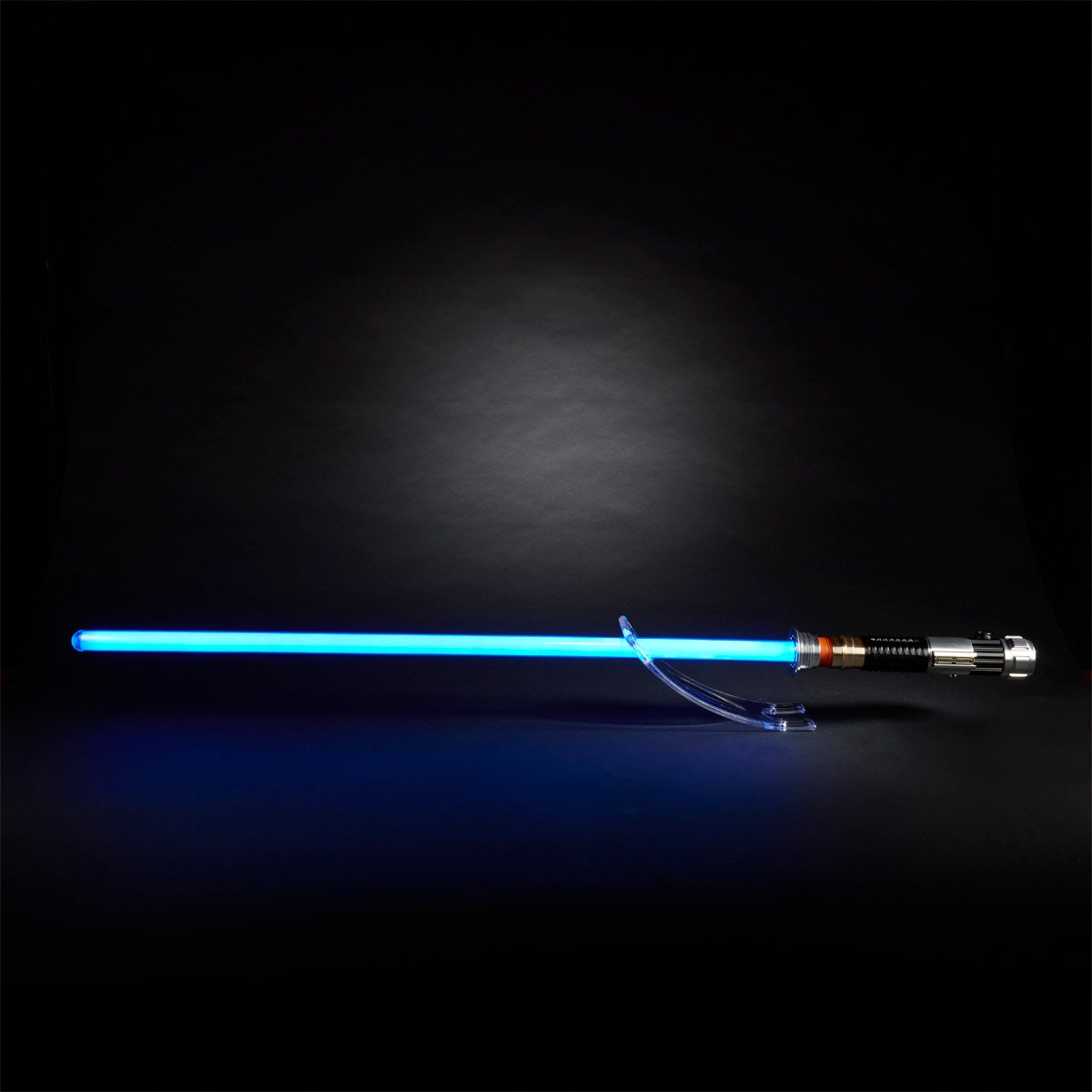 STAR WARS: THE BLACK SERIES FORCE FX LIGHTSABER Assortment
(Ages Adult/Approx. Retail Price: $179.99/Available: Fall 2017)
The power of the Force is in your hands with the STAR WARS: THE BLACK SERIES FORCE FX LIGHTSABER! This incredibly detailed weapon features a quality metal hilt, built-in accelerometer, realistic light effects, and battle-clash sounds. Become a master of the Force like OBI-WAN KENOBI. Each lightsaber sold separately and includes a clear display stand. Requires 3 1.5V AAA alkaline batteries, not included.
All of the listed items are available at most major retailers and on HasbroToyShop.com.
Some photos from Disney's Expo in Japan:
#starwars Disney Expo in Japan highlights some 40th anniv. SW memorabilia (pic via @FansVoiceJP ) pic.twitter.com/yXagW24mch

— SW Comlink (SWNN) (@starwarscomlink) February 8, 2017
#starwars more pics are starting to trickle in from the Japan Disney Expo (pics via @TVGroove ) 1/2 pic.twitter.com/dY1ot2rLNt

— SW Comlink (SWNN) (@starwarscomlink) February 8, 2017
#starwars Japan Disney Expo pics, it appears they will be making plastic versions of the popular Tsum Tsum toys and some kitchenware (2/2) pic.twitter.com/DsmVyIvf9F

— SW Comlink (SWNN) (@starwarscomlink) February 8, 2017
The American Society of Cinematographers posted a very cool interview with Rogue One Production Designer Doug Chiang, discussing the aesthetics of the Star Wars galaxy.
Ace #StarWars #ProductionDesign article with #DougChiang https://t.co/jGHMHKK5Wf @AmericanCine @starwars #RogueOne @JonMcCoyArt #NeilLamont pic.twitter.com/bCPN9ylo1P

— SCI-FI SCARBOROUGH (@scifiscarbs) February 7, 2017
And lastly, here's a very informative article by "Art of VFX" on the Rogue One VFX that you might have missed:
#StarWars an article with the previs/postvis supervisor on #RogueOne https://t.co/gBgbcIjnya pic.twitter.com/AlVetxiTp5

— SW Comlink (SWNN) (@starwarscomlink) February 5, 2017
#StarWars #RogueOne ILM's @halhickel interview with Art of VFX https://t.co/gqv3ZZ2Fkf pic.twitter.com/I1UsmkwyQO

— SW Comlink (SWNN) (@starwarscomlink) February 5, 2017
#StarWars #RogueOne and ILM's John Knoll interview with Art of VFX https://t.co/gqv3ZZkgbN pic.twitter.com/ltIC43d2Tx

— SW Comlink (SWNN) (@starwarscomlink) February 5, 2017
With contribution by @starwarscomlink
Stay tuned for more next week.