First of "Obi-Wan Wednesdays" Promises New Weekly Merchandise
With just two days until the premiere of Obi-Wan Kenobi on Disney Plus, the merch is finally rolling in! Today is the first of six "Obi-Wan Wednesdays", with each week revealing new merchandise available for pre-order. Each Wednesday, you will get your first look at new show-inspired toys, accessories, books, comics, and much more!
Whether you are an avid collector or a simple fan making your way in the universe, simply head over to the official "Obi-Wan Wednesdays" site, where there's bound to be something to light up your imagination. With today marking the first "Obi-Wan Wednesday", here is a quick look at some of the items available for pre-order.
The Hasbro Black Series action figures are incredibly popular, and I'd expect this Reva figure to follow that trend. A brand-new character to the Star Wars universe, I love how powerful she looks in her Inquisitor uniform. In addition to this 6-inch figure, you can collect a 3.75-inch figure from the Vintage and Retro Collection too.
A few of the Pop! figures from Funko are shown here. These figures from Obi-Wan Kenobi are my favorites, especially the one with him riding the eopie. I'd imagine it might end up being a fan-favorite as well. 
Fear not! LEGO is prominently featured in this week's "Obi-Wan Wednesday". Here is a look at an Inquisitor Transport Shuttle plus a new Obi-Wan Jedi Starfighter from Episode II. Everything about the Inquisitors screams at me, and having just celebrated the 20-year anniversary of Attack of the Clones, both of these seem perfect.
Lastly, here is a look at the Darth Vader "voice manipulator plush" by Mattel. It features not only a voice manipulator, but also a light-up lightsaber. Scare those around you in a cute way with the fearsome-but-soft Sith Lord.
There are many more collectibles available at StarWars.com — from Obi-Wan-inspired keychains to new stormtrooper looks. If you remember "Mando Mondays" well, then you recall how incredible some of the releases were.
"Obi-Wan Wednesdays" will run through June 29th. And Obi-Wan Kenobi is less than 48 hours away. This is where the fun begins!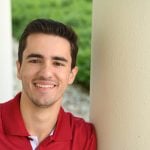 Finding ways to nonchalantly incorporate Star Wars quotes into his daily meetings at work, Tyler lives and breathes Star Wars. His morning tradition is sending the latest number in the countdown for different Star Wars projects and loves engaging in uplifting Star Wars dialogue. If you are passionate about  Star Wars you can follow him on Twitter at TyBrad5.