Star Wars: The Force Awakens Soundtrack Gets A Limited Edition Vinyl Release
Last year the soundtrack for Star Wars: The Force Awakens, featuring all new music from legendary composer John Williams, was made available when the film hit theaters. Now, there's even more in store for the Star Wars music fans. The new release features the stunning art used for The Force Awakens limited edition IMAX posters. Read on for more details.
Iamshark.com is releasing Star Wars: The Force Awakens Original Motion Picture Soundtrack on Limited Edition cohesive colored vinyl pressed 180 gram discs, available for pre-order now. The soundtrack score was composed by the legendary, John Williams who is best-known for scoring some of the most revered movie classics of recent decades, including "Jaws", "Superman", "Schindler's List" and adventures featuring Indiana Jones and Harry Potter.
The release includes four different collectable covers designs from the UK's Dan Mumford, that features Rey, Poe, Phasma, Finn and Kylo from various scenes from the film.
Rey (Yellow / Orange / Brown Marble) – 500 Copies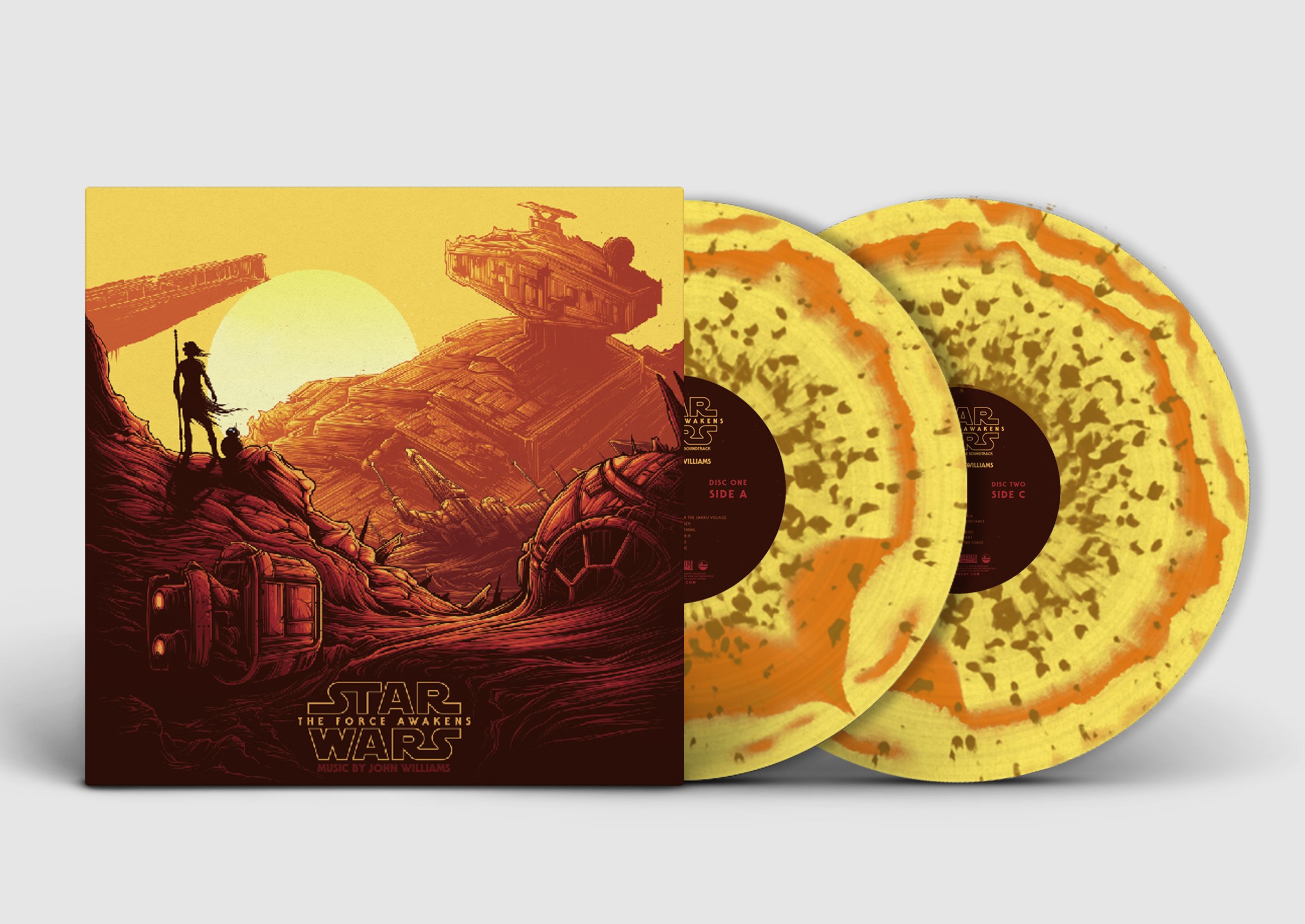 Poe (Yellow / Green Half & Half) – 500 Copies
Phasma (Clear w/ Red, Yellow, and Orange Splatter) – 500 Copies
Finn & Kylo (Blue & Black Smoke) – 500 Copies
You can view the tracklist below.
The Force Awakens Tracklist
Disc 1 / Side A

1. "Main Title and The Attack on the Jakku Village" 6:25
2. "The Scavenger" 3:39
3. "I Can Fly Anything" 3:10
4. "Rey Meets BB-8" 1:31
5. "Follow Me" 2:54
6. "Rey's Theme"
Disc 1 / Side B 3:11
7. "The Falcon" 3:32
8. "That Girl with the Staff" 1:58
9. "The Rathtars!" 4:05
10. "Finn's Confession" 2:08
11. "Maz's Counsel" 3:07
12. "The Starkiller" 1:50
13. "Kylo Ren Arrives at the Battle" 2:00
14. "The Abduction"
Disc 2 / Side C 2:23
15. "Han and Leia" 4:41
16. "March of the Resistance" 2:34
17. "Snoke" 2:03
18. "On the Inside" 2:06
19. "Torn Apart" 4:19
20. "The Ways of the Force"
Disc 2 / Side D 3:14
21. "Scherzo for X-Wings" 2:32
22. "Farewell and The Trip" 4:55
23. "The Jedi Steps and Finale" 8:51
Check out the official I Am Shark website and social media platforms for more news, releases, and information.
Source: The Nerdist