Rogue One Costume Designers and Concept Artists Share New Details About the Movie!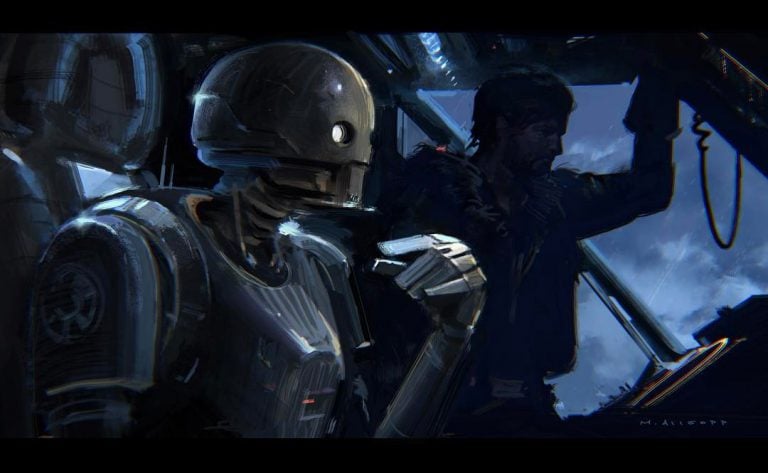 A special Q&A event was held at the comic book store Gosh in London. Costume Designers and Concept Artists that worked on Rogue One shared interesting new tidbits about the making of the first Star Wars spin-off movie. Read on for the details…
From StarWarsHyperdrive:
Saw Gerrera was supposed to be on another planet. There was an icy planet (designs showed Snowtroopers) supposed to be shot in Iceland as well as a different (?) jungle planet (as seen in the very first teaser).
Gareth Edwards worked very closely together with the concept artist. Most of them are already working on the 'untitled new project' (Han Solo). Some of them made appearances as extras.
While they were shooting the final Darth Vader scene the concept artists were upstairs working on additional sketches.
The costume designers have a huge archive with of army surplus and other stuff they use to create that classic Star Wars feeling mixing otherworldly and worldly designs.
At first they wanted to use CRAB-ATs, transport vehicles resembling crabs, on Scarif, but then decided against it in favor of the more familiar looking AT-ACT. They spoke about the danger of going overboard with the designs, so they made a conscious not to pack too many new designs into the movie.
The Ring of Kafrene design is inspired by Bladerunner.
They always look back at the work of Ralph McQuarrie and (quote) the forgotten hero of Star Wars storyboard designer Joe Johnston because they created the 'language' of Star Wars by bouncing ideas back and forth and inspiring each other.
They worked for 2 months on the citadel tower on Scarif and then completely changed and redesigned it in 2 hours.
They didn't have a budget for a tank but didn't want to do it in CGI, so they designed the hover tank around an existing tank at their disposal.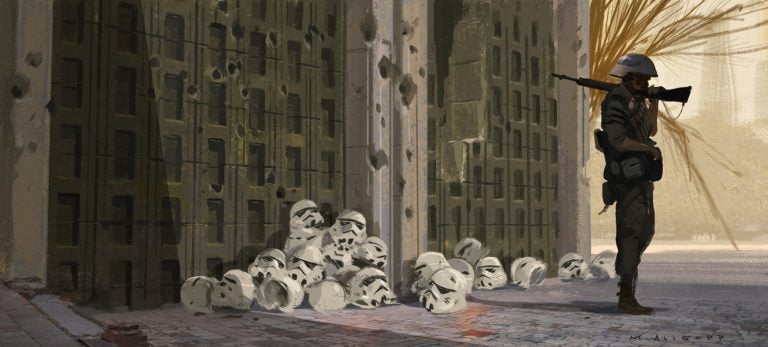 When Gareth Edwards finished his directors cut they painted over the parts that used green screen to visualize it before they sent it to ILM.
Most design go through a lot of changes only a few are spot on from the beginning. Baze Malbus was one of those.
They still rely heavily on real models. They have two model makers who make mock ups of their sketches.
The concept artists are not allowed to print out anything. The costume designers on the other hand have everything lying around in their offices.
For the full list of details, make sure to go to StarWarsHyperdrive
Thanks to Twitter member Mr. Eve Evangel for the heads up.
Images by Matt Allsopp