40 Years of Star Wars: SWCO Pays Tribute to the Franchise's 40th Anniversary and Carrie Fisher
Star Wars Celebration Orlando kicked things off today with a look back at four decades of the galaxy's most beloved franchise. The panel was hosted by Warwick Davis and highlights the impact the franchise has had on pop culture and the fandom that keeps it going. The event featured Lucasfilm President Kathleen Kennedy, Dave Filoni, Mark Hamill, Ian McDiarmid, Anthony Daniels, Peter Mayhew, Billy D. Williams, Hayden Christensen and a few other surprises along the way. Read on for a recap of the panel.
The panel began with an introduction by Warwick Davis and a short video honoring the legacy of Star Wars fandom. Kathleen Kennedy was the first to take the stage. Kathy talked about how Star Wars would be nothing if it weren't for a certain special someone…and out walks Star Wars creator George Lucas!
George went on to describe how he came up with the idea of Star Wars and how hard it was to get the movie made initially. Soon after, George's padawan of sorts, Dave Filoni took the stage, where the two shared what it was like working together during their collaboration on The Clone Wars. Filoni also talked briefly about how social media has really helped the creators and cast members of Star Wars to connect with the fans.
And here comes our first surprise…Liam Neeson, although unable to attend, sent a video where he talked about how honored he has been to have been part of the legacy of Star Wars. He closed his speech with a tease about the reason he was unable to be present – he is filming an unofficial Jar Jar movie exploring the character's fall to the dark side.
After the video, dark side rockstars Ian McDiarmid and Hayden Christensen made an appearance to talk with George about their favorite memories and funny stories about working in Star Wars. McDiarmid shared his favorite scene to film – the opera scene in Revenge of the Sith – and Christensen joked about how difficult it was to film the lightsaber fights without making the sound effects, having been conditioned from childhood to do exactly that.
Samuel L. Jackson also sent a surprise video where he pleaded with Kathy to bring Mace Windu back – that he would love to be in Star Wars again.
After Jackson's video, Anthony Daniels, Peter Mayhew, and Billy D. Williams entered the scene. They discuss their Star Wars memories and soon another star arrives – Luke Skywalker himself – Mark Hamill!
Just when it seemed as though things were wrapping up, Harrison Ford makes an appearance (his first ever Celebration)! Warwick teased how difficult it was to keep his appearance a secret given that when his plane arrived he landed it in the middle of the interstate.
Ford eventually plays along when talking about how he got the part for Han in the first place. George asked him if he could fly. Harrison says, "Fly? Yes…Land? No."
As everyone leaves, George and Kathy take center stage and talk about the late Carrie Fisher. Soon, Billie Lourd, Carrie's daughter comes out in a dress reminiscent of her mother's outfit in A New Hope. She talks briefly about her mother and then fans are treated to a truly beautiful and emotional video honoring the life of Carrie Fisher as our beloved Princess (below).
After the video, John Williams makes a surprise appearance to conduct Leia's theme in honor of Carrie and closes the panel with a mini-concert playing some of the most iconic themes in Star Wars.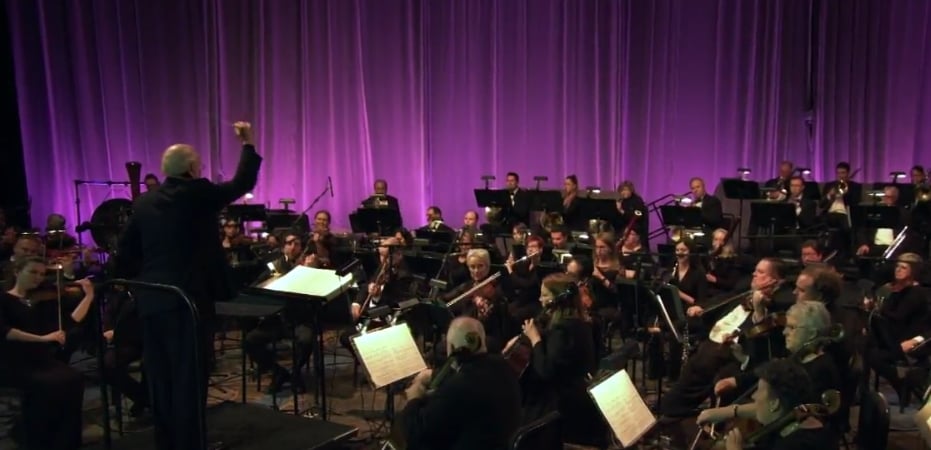 What a start to what promises to be an amazing weekend! No big reveals dropped during this panel, but it was still a truly outstanding thing to behold for fans old and new. The legacy of Star Wars has no peer in entertainment and this was an incredible way to celebrate 40 years of that unrivaled legacy.
If you missed the event, I encourage you to go back and watch it in its entirety as it is better to experience for yourself. The panel begins at around the 30-minute mark in the video. Check it out…
Stay tuned to SWNN as we will continue to bring you coverage on Star Wars Celebration Orlando 2017. May the Force be with you!
Jordan Pate is Co-Lead Editor and Senior Writer for Star Wars News Net, of which he is also a member of the book and comic review team. He loves all things Star Wars, but when he's not spending time in the galaxy far far away, he might be found in our own galaxy hanging out in Gotham City or at 1407 Graymalkin Lane, Salem Center, NY.