Star Wars Rebels Season 4 Announcement Possibly Imminent; Creator Discusses Sabine's Story Arc.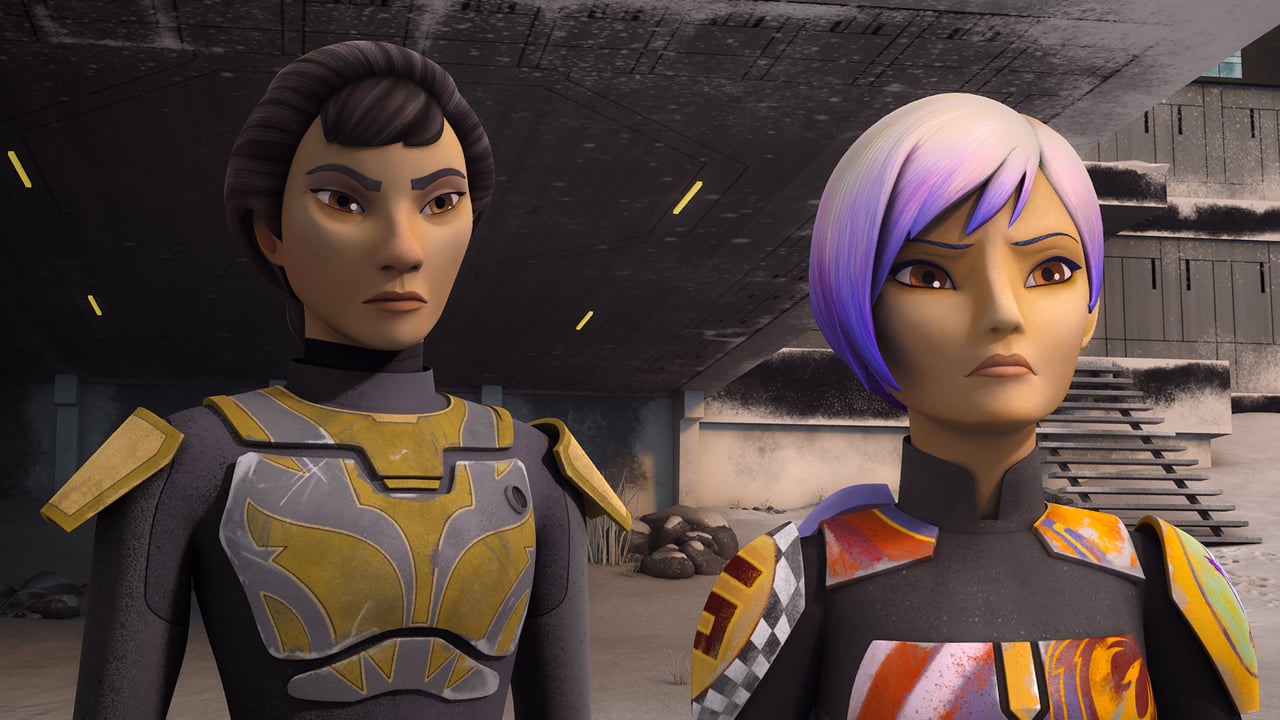 No, Star Wars Rebels isn't being cancelled at the end of Season 3 to make room for a new series, contrary to what some recent speculative pieces on other sites might tell you. Based on an interview with Dave Filoni, an announcement for Season 4 should happen in the near future even if there has not yet been an official announcement from Disney that they're going to renew the series. In addition, Filoni discussed why last night's episode ended with a major change to the status quo.
Spoilers for last night's episode of Star Wars Rebels will follow this point. Either watch the episode before reading the rest of this article or get spoiled at your own risk.
ComicBook.com just ran a series of interviews with former showrunner Dave Filoni – who was promoted to oversee all Star Wars animated projects – and one interview actually discusses Season 4 in particular. While it doesn't directly confirm that Season 4 is a go, the impression that the author of the piece has is that they're working on it and that Filoni intends to give the show a full conclusion.
"I give a pretty good eye to [applying major shifts to the status quo] because I like where we got the end of last year, and it really shook things up… Last season ending with kind of a dividing line between who the characters were and what they need to evolve into being, and I feel very good that this season drives us to a point where you can actually look and see these arcs within this season of where, say Kanan and Ezra, everyone started and where they end, and what the future may or may not hold for them. Imagining they survive, what's about to happen?

You always have an eye on [the possibility that your show might get cancelled], and it's tricky. I have to be honest. It's tricky in TV having worked on a series that frankly didn't really have an all-out end like we had planned it. I'm always a bit wary. I'm thinking, 'Okay, where do we need this to go?' Because I want to make sure that we take the audience in these Star Wars stories, I think, on this really, I hope, interesting and entertaining journey, and I want them to feel that they get a complete payoff for it, and that it's the story that we intended.

From the very beginning, Simon [Kinberg] and I, working with the writers and story group have had a goal in mind of where we would like to get to with this, and we've been taking steps towards it along the way, and some surprising twists and turns even to us, but we always have a goal in mind of where we want to be. So, I think we have taken some strong steps towards that with always an eye on 'Does the adventure continue?' So we'll have to see. For Sabine, hopefully the adventure will continue. That would be great because then we can change her hair again. People love that!"
Speaking of Sabine, her decision to leave the Spectres is definitely a major change to the status quo that few were expecting – least of all, Dave Filoni and Simon Kinberg. As noted in another article by Comicbook.com, while the show has an outline planned, the decision to have Sabine leave for a while came as a result of what the story immediately demanded instead of some creative decision made far in advance.
"I think a big part of it is you can have a broad plan, which is obviously always good because you have a guideline to go by and rails, but you have to also take opportunities and try to instigate things to make important character moments happen. I think you just learn by doing when those moments are. Once you meet Sabine's parents, and you go all in, you create this dynamic. I thought, 'Well, she hasn't seen them in all this time. It's kind of weird if she just goes and meets them and leave.' Once we worked out the bigger politics of what's going on with Mandalore, we're like, 'Good grief. We've destabilized this entire planet now.' So there's a sense of responsibility here.

I think that it really shows a maturity in Sabine that she's even willing to help this family and help these people, and I think that's why Kanan is proud of her in that moment, though he might not say it. It's that she's grown, and so much of this show has been about watching these two young characters, Ezra and Sabine, grow into becoming adults, and in their own ways more like Hera and more like Kanan. That's been really fun because Simon Kinberg pointed out in the very beginning of the series that the family dynamic would be the most important thing here to keep expressing in different ways.

I know it's difficult to have this happen to Sabine, but by doing this, it actually is also serving the greater Star Wars universe to say that there's a lot going on in this galaxy. It's not just this one-angled thing with this rebellion, and now you meet her parents, at least her mother, and you have rescued her basically, or freed her up. So she's going to do stuff. I think it creates a great moment for the character in an unexpected moment, obviously. We'll see where it goes from there."
As it stands, it's been suggested that we could see Sabine again before Season 3 comes to a close, although the window for that is fairly limited based on the episode premises that are out now – so a Season 4 return is way more likely. For now, we'll presumably get more emphasis placed upon Hera, Zeb, and the others while Sabine does her own thing.
So yeah. There's clearly a plan in place for more Rebels stories for the next few years, and as of right now it sounds like they'll be committing to another season at the absolute minimum. For those of you who are still worried that Rebels will get cut short like The Clone Wars because they haven't announced a renewal just yet, I'd like to present two counterpoints to assuage your concerns. The first is that the Cinelinx article which is being used to support this line of speculation in the past few days was publicly debunked by Pablo Hidalgo shortly after it first came out. The debunking, for frame of reference, was nearly a year ago, which is why I find it so curious that this article is in circulation again.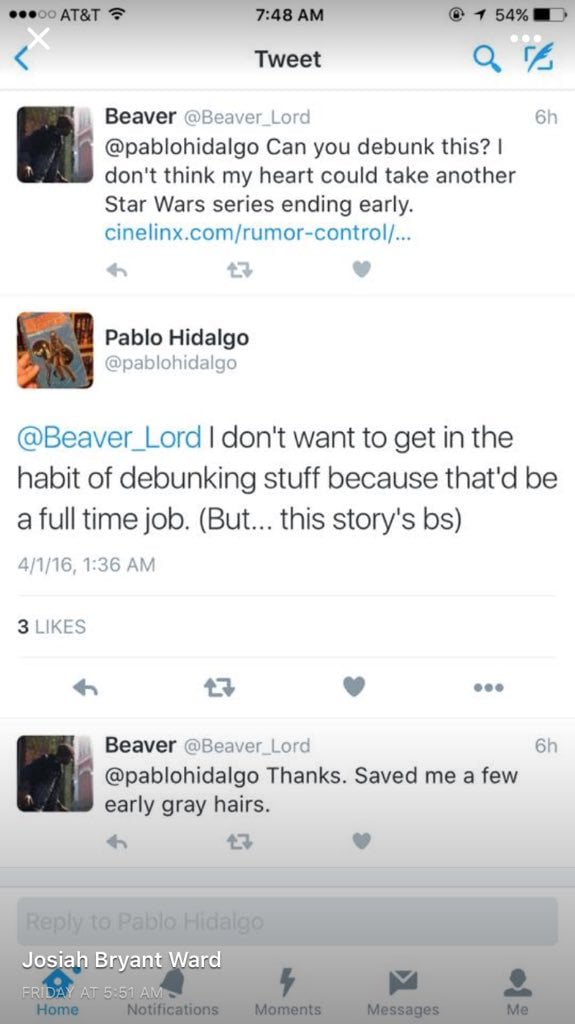 Now, that's not to smack Cinelinx as a site, because they're very good at what they do – it's just that this one story they reported doesn't quite reflect what Lucasfilm's intention is. If I remember correctly, Hidalgo also said something to the effect of "Season 3 ends on a note where it's clear that there will be more story to tell" – which is something that Dave Filoni more or less said up above in that interview. Considering that the show's dialogue is recorded about a year in advance of the episodes airing, this should mean that dialogue for Season 4 would already be ready to animate at this point (and that, most likely, a lot of it already is animated).
However, there's one more argument about Rebels that leads a few people to believe it could be cancelled, and that concerns the matter of ratings and how they're lower than The Clone Wars, so therefore the show must be doomed. Well, that's not really an accurate conclusion to draw from what we know, because there are a lot of differences between SWTCW and SWR that make this anything but an apples-to-apples comparison. The biggest difference are that SWTCW's budget was substantially higher than SWR's is, and that SWTCW was more or less funded out of George Lucas's own pocket to account for these high costs – so with SWR costing less to produce, the show demands lower ratings to actually be considered successful. (The budget was most likely the reason SWTCW was cancelled, too – since George Lucas planned on retiring after selling the franchise, it would be easier for Disney to save the remaining stories for other times and formats to tell them through.) Also worth noting is that SWTCW aired on a channel that most packages get, while comparatively fewer providers let viewers watch Disney XD.
Since there's no other Star Wars show that's readily available to air, cancelling Rebels without giving it a replacement (which would most likely need an entire year of development at the absolute least) is a bad idea. It's basically free advertising for their big event movies that they are already set to make fortunes off of, and it's better to indoctrinate a fan early on in life than to wait later, as there's more money to be made the younger your audience is when they get invested in your source material. The environment for measuring ratings is significantly different, too – DVR exploded in the time between SWTCW and SWR, meaning that initial ratings don't account for viewership on digital platforms (something Disney XD pushes for). Finally, the reason that the whole ratings argument is a bit silly is that the show is one of the highest-rated programs on Disney XD right now, so if they were really worried about ratings, then they would be looking toward pulling the plug on Disney XD as a platform – it'd be easier for them to shut the channel down entirely than it would be to cancel their best-performing show.
So no, the sky is not falling – Rebels will keep on truckin' for a while, and little suggests otherwise. While other animated projects are in the works, with Dave Filoni at the helm, we're probably not going to hear a whole lot about them until next year or the year after that. For now, let's just wait and see where the ride takes us – the Rebellion has a long way to go.
Grant has been a fan of Star Wars for as long as he can remember, having seen every movie on the big screen. When he's not hard at work with his college studies, he keeps himself busy by reporting on all kinds of Star Wars news for SWNN and general movie news on the sister site, Movie News Net. He served as a frequent commentator on SWNN's The Resistance Broadcast.