Starting Tomorrow You Can Purchase Rogue One Tickets and Merchandise at the Same Time Using Atom's App!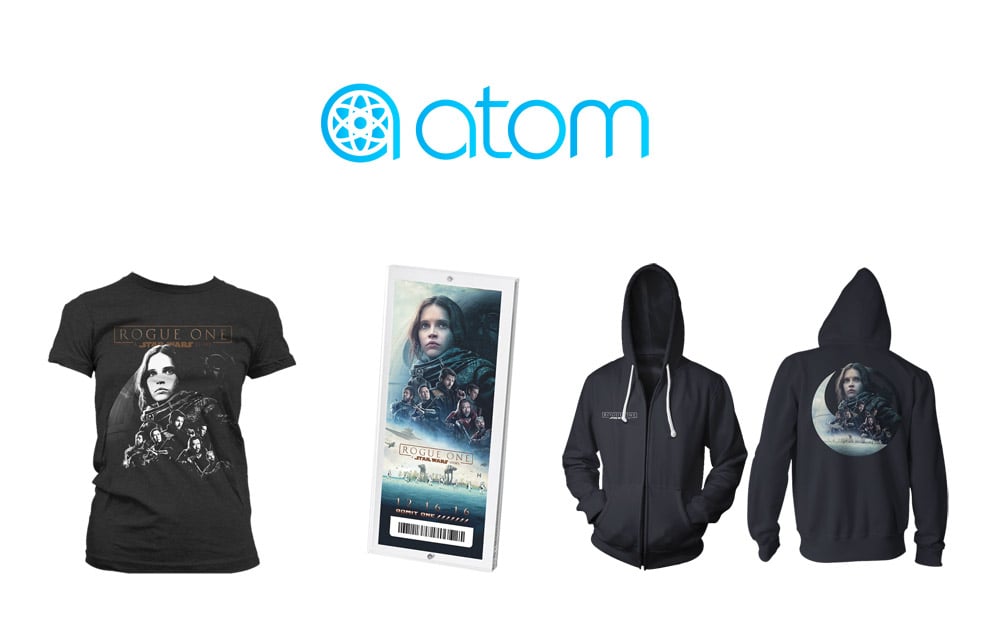 A few days ago we shared with you how you can get movie tickets and concessions super easy, skipping the tedious theater lines, via Atom Tickets' phone app. Also thanks to Atom we are giving you a chance to win 2 of 36 free tickets for Rogue One, which will officially go on sale tomorrow. Now Atom has yet another surprise for the movie fans. Read on for the full details…

Atom's social features make it super easy to get your crew together. You can use the rally function to pick the show-time that works best for everyone. You can even see where in the theater your friends are sitting so you can buy seats next to them.
One of the best features offered by Atom is the possibility to pre-order your concessions in enabled theaters, so you can skip the line for popcorn! Theater employees are alerted when an Atom customer is arriving – all you have to do is walk up to the counter via the Atom express lane and grab your prepared concessions – the popcorn is hot and the ice is frozen.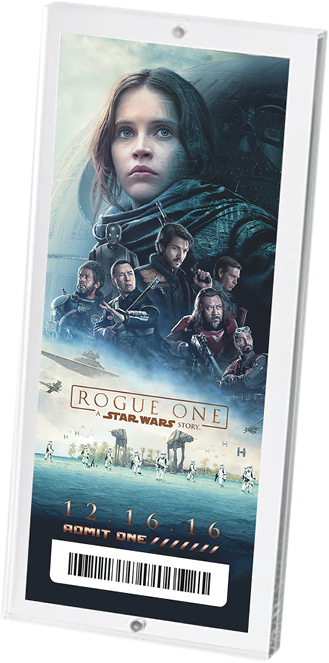 But this is not all. Now Atom joins forces with Disney on exclusive Rogue One merchandise, that you can order through their app together with the tickets and concessions. Here are the details:
Atom Tickets, the first-of-its-kind theatrical mobile ticketing platform, is teaming with Disney to bring fans the ultimate Star Wars offering right on their phone. Beginning Nov. 28, when fans purchase their "Rogue One: A Star Wars Story" movie tickets via Atom Tickets, they will be able to buy exclusive products only available digitally through Atom's innovative mobile ticketing app and website.

This venture marks Atom Tickets' first entry beyond movie tickets and concessions. The app's exclusive product offering includes a "Rogue One: A Star Wars Story" hoodie, t-shirt, girl's shirt and a limited-edition ticket placard (available while supplies last) that will ship directly to customers.
Using predictive analytics and modern e-commerce techniques, Atom Tickets connects theatergoers with movies they will love, helps them coordinate with friends and family, and now offers more ways for them to enjoy the film long after the movie ends with future offerings across toys, apparel, music and games.

The collaboration continues Atom's relationship with Disney, which selected Atom Tickets as one of nine companies for the esteemed 2016 Disney Accelerator Program, offering guidance, access, and opportunities to work with all divisions of The Walt Disney Company.
The revolutionary Atom Tickets platform lets consumers check show times, quickly and easily connect with friends, order tickets and even pre-pay for concession items with just a few simple taps. Atom Tickets makes the moviegoing experience fast, easy and social – recommending movies based on history and preference, enabling invitations to friends and family and providing the VIP experience of skipping ticket and concessions lines.
As always, the best way to get to know Atom Tickets is to download the app on the Google Play or Apple App store and experience it for yourself!
Also don't forget to join our contest for a chance to win a pair of free Rogue One tickets, supplied by Atom for our readers (here). So far we've given away 16 tickets and we still have 20 left, which will find their owners in the next days. And don't forget that the SWNN promo code earns you $5 off your total Atom order – use it to see Rogue One!