Star Wars Battlefront Sequel Eyes Autumn/Winter 2017 Window.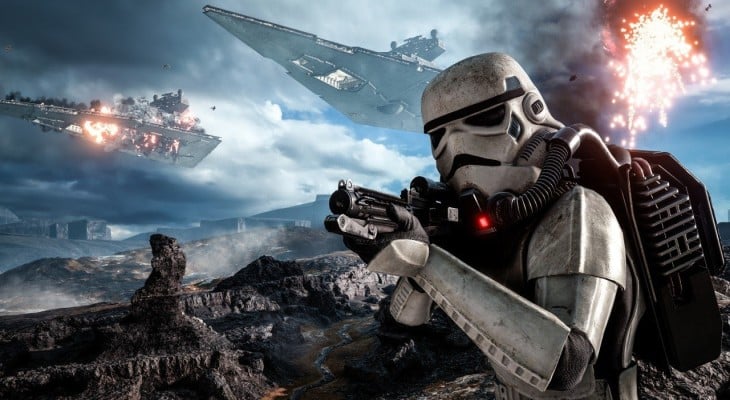 In this week in "Well, duh!" news, a DICE representative has confirmed that their follow-up to the wildly-successful Battlefront will be released slightly before Episode VIII comes out in order to take maximum advantage of Star Wars hype.
From GamesRadar:
Electronic Arts has indicated that the next Star Wars Battlefront game will come out in fall 2017. The company had previously said the multiplayer shooter would arrive sometime next year, and EA chief financial officer Blake Jorgensen confirmed in a conference call with financial analysts yesterday that it would arrive "a year from now" – just in time for the holidays. "We're working very hard on making sure that it's an extremely deep and engaging offering," Jorgensen added before moving on to other upcoming EA titles. Yeah, earnings calls aren't typically the place for hot new gameplay details.
So far, the only thing that we know about the Battlefront sequel is that the Sequel Trilogy will be represented in the game in some capacity (as mentioned on The Star Wars Show). After all, the video that EA brought to E3 explicitly showed concept art of a battle on Starkiller Base. There's still no word on whether or not the Prequel Trilogy being represented because of DICE's quietness on their project so far, but given that a number of fans made their grievances heard about the Battlefront reboot and that DICE has made it clear that they're listening to what the fans want since the game's initial release, it's likely that they'll include something in the future. (Battlefield 1 has very clearly established that DICE are willing to take a step back – so to speak – to allow for a different kind of warfare to be represented in their games.) It has also been confirmed that a single-player campaign was outright cut from the reboot due to DICE having to meet a deadline, which is something they've strongly implied that they're going to remedy with the sequel (although they've made no promises as of yet).
I personally would have preferred it if they chose to wait until the movie is released on Blu-Ray in order to give the developers more time to add content to the game prior to the DLC blitz – if the base game feels like a complete experience to most players, then the sequel can avoid facing the same criticisms of Battlefront lacking content at launch. However, I can understand the business model going into this – in spite of the criticism, Star Wars Battlefront was far and away the highest-selling Star Wars game in history with over 13 million copies sold, and the title's financial success has probably given EA a lot of leeway to potentially extend their licensing deal with Disney. It's possible that if they get a superior sequel out in time for the next movie, they might do even better. DICE has consistently put a lot of content out for Battlefront since the game was launched, so it's likely that they've already been devoting a good amount of resources to developing content for the game's sequel – and it's also likely that with the sequel's continued use of the Frostbite engine, most of the assets from the original can be reused.
There's still no word about the exact date in December in which the final DLC expansion (Scarif) for the Battlefront reboot will hit, but the game's sequel will be arriving sometime in the Autumn/Winter season of 2017. If the pattern of biennual releases continues, we can probably expect a third game to arrive in the same window in 2019 – just in time for Episode IX.
Grant has been a fan of Star Wars for as long as he can remember, having seen every movie on the big screen. When he's not hard at work with his college studies, he keeps himself busy by reporting on all kinds of Star Wars news for SWNN and general movie news on the sister site, Movie News Net. He served as a frequent commentator on SWNN's The Resistance Broadcast.