Star Wars Weekly Buzz! Full SWTOR Trailer, Stormtrooper Battle Ride, First 3 Minutes from 'Ahsoka' and More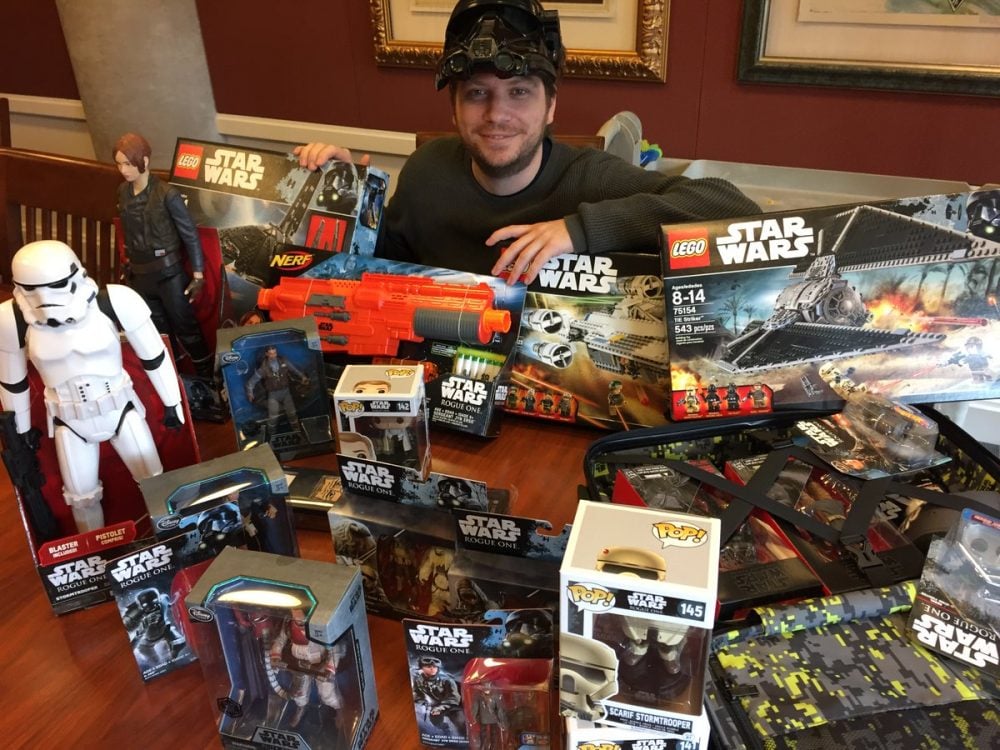 This week on our Star Wars Weekly Buzz!
Poe Dameron's Adventure on Jakku; new 'The Millennium Falcon Ride' and 'Stormtrooper Battle Escape' concept ideas for Star Wars Land at Disney; Ashley Eckstein narrating the Ahsoka audio book; the infamous Pablo Hot Spot and more!
First here's the full glorious "Betrayed" trailer of STAR WARS: The Old Republic – Knights of the Eternal Throne:
Just how did Poe Dameron get off Jakku, anyway…?
The Hollywood Reporter has alerted us to a new trailer from LEGO: Star Wars The Force Awakens titled "Poe's Quest For Survival".
According to a press release from Warner Bros. Interactive Entertainment, The Poe's Quest for Survival Level Pack extends the adventure with a previously untold story that can only be played in LEGO® Star Wars™: The Force Awakens.
The level pack will revolve around Poe Dameron's journey back to the Resistance base after his daring escape from the First Order. While stranded on Jakku, Poe must locate a ship to get off the desert planet in an effort to find his way home. Playable characters and vehicles include: Naka Iit, Ohn Gosv, Poe Dameron (Jakku), Strus Clan Leader, Strus Clan Raider, Strus Clan Speeder (Full-size Vehicle) and Strus Clan Speeder (Microfighter Vehicle).
Check out the trailer below:
Disney's – Star Wars Land Update
This week, new information on 'Star Wars Land' at Disney was found in an insider report over at MiceChat.com (via /Film). WDI wants to take on the competition at Universal Studios with the creation of new fantastic rides and exciting fan adventures: Detail on the new 'The Millennium Falcon Ride' and 'Stormtrooper Battle Escape' concept ideas:
The Millennium Falcon Ride: "code-named Big Bird at WDI, the experience would involve moving between multiple pre-show theaters setting up the plot and what tasks you must complete once you board the Falcon and launch into space. And if you fail at your assigned tasks, a happy ending is not a guarantee."

The Stormtrooper Battle Escape:" code-named Alcatraz, WDI wants you to rush to your wireless and trackless vehicle and board and then disembark and re-board the vehicles on different levels of the massive ride building several times during the course of a long experience, all while under attack by Stormtroopers."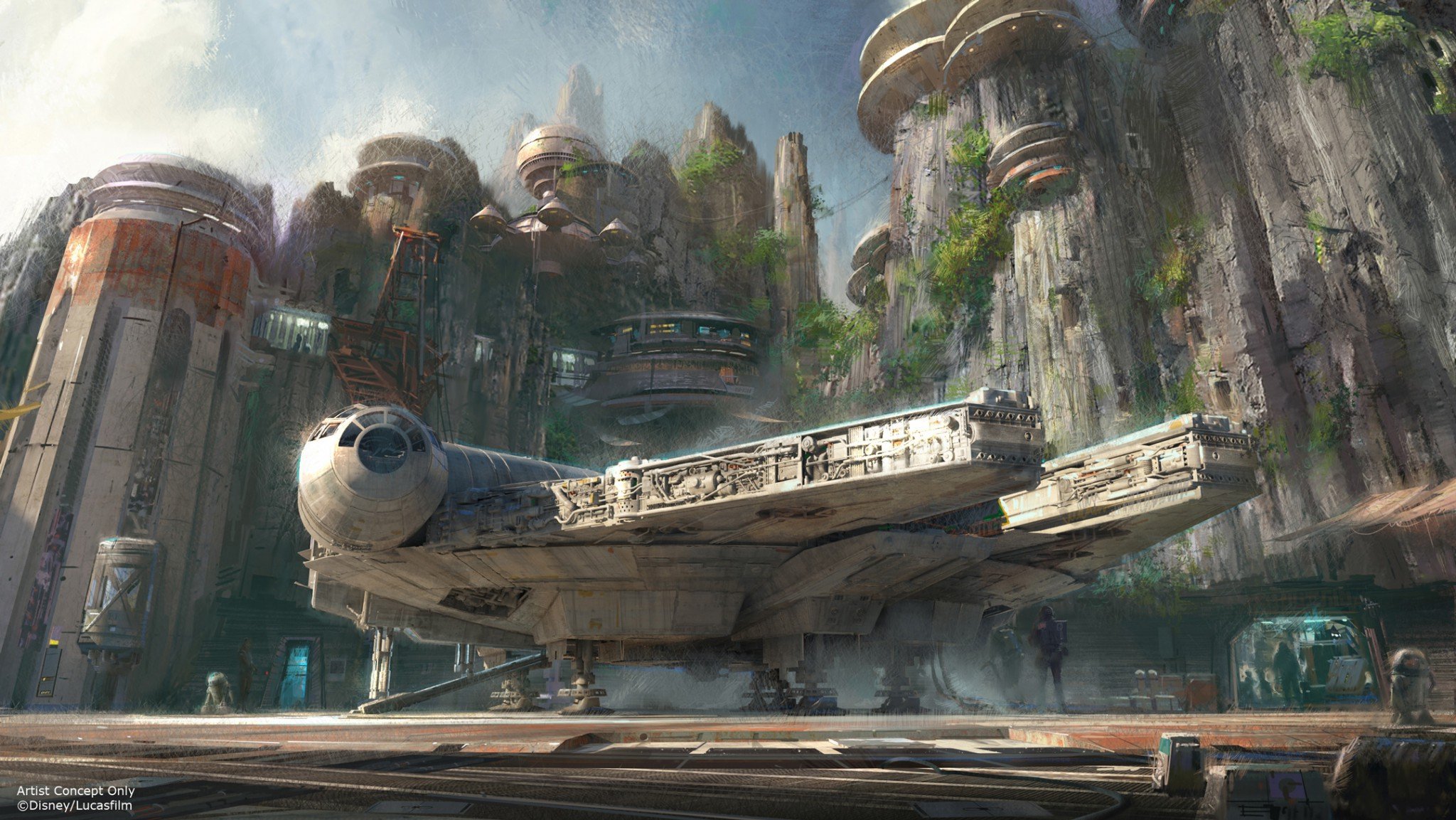 Ashley Eckstein is narrating the new Ahsoka audio book, which tells the story of the famous character between The Clone Wars and Rebels. Hear the first three minutes of the book (via PRH Audio):
The Star Wars AFTER Show
This week on The Star Wars After Show (October 6th 2016), presented by Verizon; Andi Gutierrez sits down with Lucasfilm employees and Star Wars Michael Dailey, Ian Bucknole, and Sammy Holland talk about the upcoming Ahsoka novel and why they love the character so much.
'Rogue One' director gets going on holiday shopping and looks forward to seeing fan films!
"Imperial perks helping to get holiday shopping done early. Looking forward to seeing all your #GoRogue fan films." -Gareth Edwards pic.twitter.com/BSED3kIyiJ

— Star Wars (@starwars) October 4, 2016
And some more tweets from the cast with their own action figures:
My action figure is the biggest – not that it's a competition although I'm obviously winning. pic.twitter.com/WQnbkZ14cx

— alan tudyk (@AlanTudyk) October 1, 2016
"Don't you hate it when people put you in a box?"
"Well usually yea, but…" @starwars pic.twitter.com/MH2zKGvcXX

— Riz Ahmed (@rizmc) September 14, 2016
Check out the new toy of my character #SawGerrera in @starwars #RogueOne. @HasbroNews #NYCC #NYCC2016 pic.twitter.com/LQDzKmLf3V

— Forest Whitaker (@ForestWhitaker) October 6, 2016
Can't wait to give one to my kids!!! https://t.co/VM7Rt37UYf

— diego luna (@diegoluna_) September 30, 2016
Doc Brown, can I borrow your time machine?
1978 New York Toy Fair Star Wars Showroom #StarWars #ActionFigure #history pic.twitter.com/QwyroCcYd5

— Mark Austin (@BobaFettANHSE) October 6, 2016
Target continues its Rogue One: A Star Wars Story marketing
Not long now folks…. #RogueOne #StarWars @wesjanson99 @karlossuzuki @Jfseb30 @BoomyNation @mactak95 pic.twitter.com/38Bpun1Zyz

— Mark Austin (@BobaFettANHSE) October 5, 2016
An interesting fact about the upcoming Rogue One prequel novel – Catalyst:
Fun Fact: The upcoming #StarWars #Catalyst went through MANY titles during development, but in-house we always refer to it as DEATH START

— Star Wars Books (@DelReyStarWars) September 28, 2016
The Pablo Hidalgo Spot!
Pablo say's his Ultimate Visual Guide is done…
Oh, and the Rogue One Ultimate Visual Guide is done. Can't wait to discuss it in December!

— Pablo Hidalgo (@pablohidalgo) October 2, 2016
On how Anakin became a force ghost:
@OwlX11 I've heard it said that George thinks he had help from the other side after self sacrificing.

— Pablo @ NYCC 2311 (@pablohidalgo) October 5, 2016
On lightsaber colors:
@RealHerobrain nothing beyond it being a reaction to the builder who bonded with the central crystal during lightsaber construction.

— Pablo @ NYCC 2311 (@pablohidalgo) October 6, 2016
On Dooku's intentions when he told the truth about the Sith Lord to Obi-Wan in AOTC.
Star Wars Related News!
Creator George Lucas donated $1.5 Million to the Norman Rockwell Museum. The donation from good old George will fund digital and multimedia programs, including digital gallery tours and online links to lectures and podcasts.
Bravo Mr.Lucas!
'Star Wars' creator donates $1.5 million to Norman Rockwell Museum – The Boston Globe https://t.co/2QhJ0YcZdk #museum #museums

— Museum News Now (@MuseumNewsNow) October 3, 2016
Stay tuned for more next week.