2 New Images from Rogue One Reveal New Detail About the Story + More from Gareth Edwards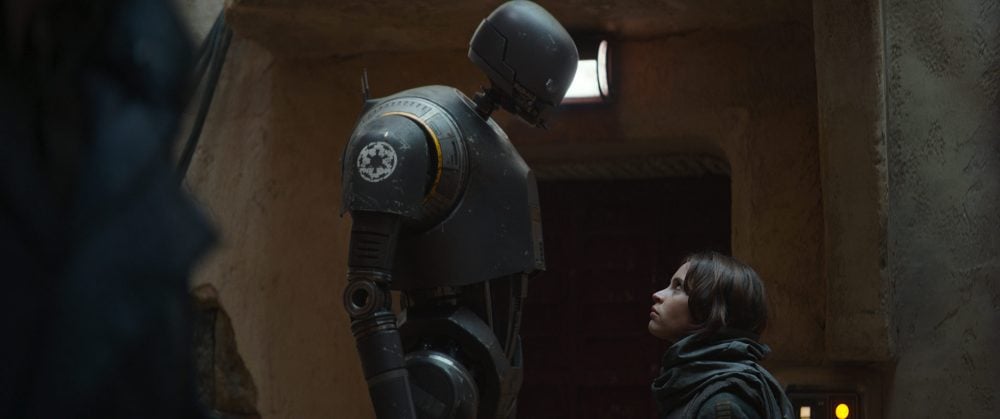 USA Today and Entertainment Weekly revealed two new images from Rogue One: A Star Wars Story. Felicity Jones' character Jyn Erso is featured on both images as the movie's main protagonist. The way Jyn was depicted on one of them raised some questions about the movie's story and the chronological order of the events, that everyone is trying to arrange in his head, based on all the trailers and the BTS footage. Also director Gareth Edwards made an interesting comment accompanying one of the images. Read on for the full details.
First, today Entertainment Weekly shared a new image from Rogue One: A Star Wars Story showing Jyn Erso in front of several members of the rebellion, including Bodhi Rook, and also posted a new quote from director Gareth Edwards:
"The thing every [filmmaker] typically struggles with is 'How does it end?'" says director Gareth Edwards. "But we knew how our film was going to end. Our problem became 'How do we reverse engineer from that and know where to start?' You've got a finite number of options and you go through them all like a puzzle to find the one that's going to lead to the strongest result."
Also a few days ago USA Today posted an article about the 10 must see movies for this Holiday season. Not surprising to anyone, one of the movies is Rogue One. The article included not only a never before seen photo with Jyn Erso and K-2SO, but also yet another new quote from Gareth Edwards, teasing the fans that the movie "doesn't unfold how you think". Here's the whole quote:
Everybody in the motley crew has reasons to take on the Empire, but Jones' Jyn Erso for sure is a reluctant hero, Edwards says. "Events take place that just shatter her life and send her off to basically be raised as a soldier in the midst of a war. She ends up not the person she was supposed to be." Her journey is also a very Star Wars-y one: to redeem the sins of the father. "Even though we're not telling the story of Luke Skywalker, it was important to me that we capture the same themes and emotion," Edwards says. "But the film doesn't unfold how you think. It's not the same path as Star Wars."
While Gareth's quote is really intriguing, it's more intriguing that in the photo above, Jyn is wearing shackles and she is clearly on Jedha. We've seen a similar photo before, but without the shackles.
Many of us thought that the rebellion will save Jyn from an Imperial prison somewhere, then bring her to Mon Mothma on Yavin IV, convince her to help them, and then go to Jedha to recruit Chirrut and Baze, and meet with Saw Gerrera. Now from the photo above it is pretty clear that the rebels save Jyn from a prison transport on Jedha. We've seen Jyn with shackles on Yavin IV, and we've seen 2 scenes suggesting that the shackles are being taken off – once in the prison transport (although they don't show the actual removal of the shackles) and once in the rebel base (Cassian Andor takes them off). If this is indeed the case, this means that our heroes will visit Jedha at least twice early in the movie – first to rescue Jyn, and then to meed with Chirrut, Baze and Saw after they recruit her for their cause in the main rebel base on Yavin IV.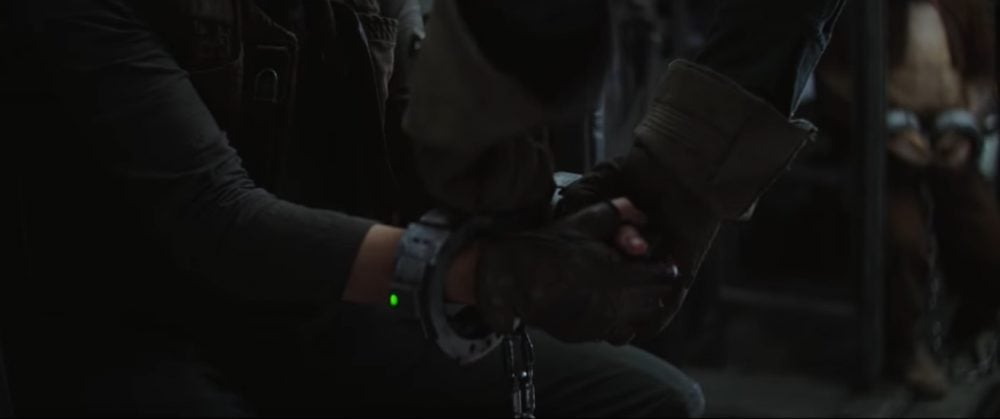 There is a second possibility explaining why Jyn is wearing shackles on Jedha. This might be a set up. They might be trying to fool the Empire with the imperial droid K- 2SO bringing a rebel prisoner, and this way be able to infiltrate whatever they want to infiltrate. No matter whichever is correct it's cool to see a simple image bringing us so much information about the movie's chronology of events.
What do you think? Which scenario seems more likely for you. Tell us what you think in the comments below.