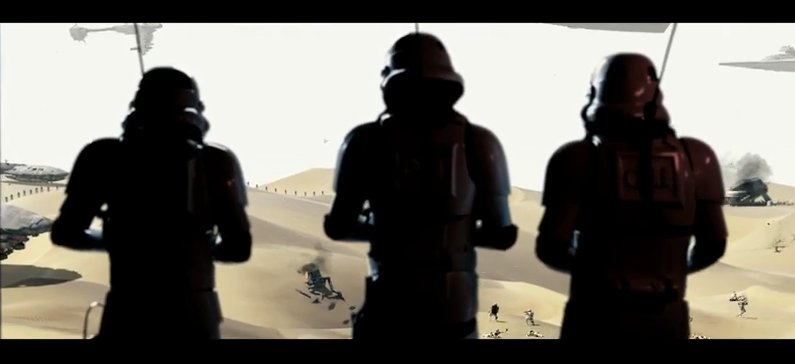 This week on our Star Wars Weekly Buzz!
Star Wars: Rebels Season One Soundtrack is finally released on digital platforms, an amazing fan film entitled "Jakku: First Wave" hits Youtube, Actor Paul Blake's (Greedo in the original Star Wars film) son wins first Paralympic gold medal in the men's T36 400m, this week's 'The Star Wars AFTER Show' and more.
Daisy Ridley was a presenter at the Academy of Motion Picture Arts and Sciences' 43rd Student Academy Awards on Thursday, September 22. The awards ceremony caps a week of industry activities for the 17 winning student filmmakers from the U.S. and abroad.
Bestselling author Brad Meltzer got a special sneak peak at the new Star Wars Art: Ralph McQuarrie ultimate collection.
Great mail day. Sneak peek at the book of Ralph McQuarrie's full art from @starwars by @ABRAMSbooks. #starwars. pic.twitter.com/R4X19A8qfg

— Brad Meltzer (@bradmeltzer) September 21, 2016
Star Wars: Rebels' Season One Soundtrack is finally here!
Kevin Kiner has released the original soundtrack for the first season of Star Wars: Rebels. The album is now available to download on digital platforms, including i-Tunes and Spotify. Read more here.
Han Solo director Chris Miller is excited to work with Cinematographer Bradford Young, and so are we.
Very excited. https://t.co/QggZxnHxPh

— Chris Miller (@chrizmillr) September 22, 2016
Oscar Isaasc reads Alec Guinness' letter about his Star Wars experience. Now we can wach the actual video from the reading. (via GQ)
Guinness wrote that his A New Hope dialogue was "rubbish" and called co-star Harrison Ford a "languid man" in a letter to his friend Anne Kaufman in 1977.
Check out this cool fan film called "Jakku: First Wave"! The Star Wars themed fan film centers around three Imperial Stormtroopers right before they go into battle against the Rebellion on Jakku. You have got to see this incredible bad guy take… From Writer/Director: Benjamin Eck.
Paul Blake, Britain's three-time world champion has won his first Paralympic gold medal in the men's T36 400m, a category for athletes with coordination impairments.
His father was a star on screen, best known for his role playing the bounty hunter Greedo in the original 1977 "Star Wars" film. Paul Blake Sr. (Greedo) is seen here in a Tweet supporting his son in Rio!
Heres @ParalympicsGB 400 & 800m runner Paul Blake's Dad in action in @starwars as Greedo and on Ipanema beach in Rio pic.twitter.com/uf25IXBgj8

— Gareth A Davies (@GarethADaviesDT) September 16, 2016
The Prequels Strike Back Is Now Available On Digital Release!
The "Star Wars" Prequels Trilogy is the most debated chapter in cinema's greatest franchise. But what if moviegoers were only examining the films from a certain point of view? Filled with commentary from passionate fans and scholars of cinema, "The Prequels Strike Back" follows the travels of a bewildered fan as he attempts to unlock the method behind cinema's most controversial trilogy and George Lucas, the even more controversial man behind them. He must unlearn what he has learned and look at the polarizing saga like never before.
Check out an 11 minute preview!
Indy News? Not really…just a very cool Indiana Jones themed ad. Be patient everyone, real Indy news will come.
Anyhow, here's a funny introductory ad from politician Paul Clements, a college professor running for office in Michigan's 6th District. Clements recently told an audience that "Indiana Jones made being a professor cool".
The Star Wars AFTER Show is here!
This week Andi Gutierrez sits down with fellow co-host of The Star Wars Show, Peter Towley, as well as Lucasfilm employees Kyle Kao, and Scott Bromley to talk about new Rogue One posters, the season premiere of Star Wars Rebels, and more!
Attention Model builders! For those of you who are waiting for some 'Rogue One' models to build your in luck. Soon you can build your very own AT-ACT from Rogue One — The company Revell, has just introduced two new model kits from the upcoming Rogue One: Star Wars Story: the all-new AT-ACT Imperial walker and a Rebel U-Wing fighter.
Here's a quick look at one of the vehicles. The others can be found here.
The Pablo Hidalgo Spot
New planet in Battlefron DLC is NOT Jedha according to Pablo.
@SavogiSW Jedha does not have rings.

— Pablo Hidalgo (@pablohidalgo) September 20, 2016
Not what you think!
1/ The giant kyber crystal in the Utapau arc is just a proxy (not final) model, untextured. Its final texture was never defined.

— Pablo Hidalgo (@pablohidalgo) September 18, 2016
Pablo finally gives an answer to whether Boba Fett survived the Sarlack Pit …. kind of. 🙂
@pablohidalgo the question that will answer FAN's wondering once and for all ; IS BOBA FETT DEAD OR ALIVE ? pic.twitter.com/zXQwDnIJW6

— The Legendary Cj (@THEcjhogan) September 20, 2016
— Pablo Hidalgo (@pablohidalgo) September 20, 2016
On the change of composers for Rogue One.
@GenerationJSIN that's a part of postproduction I have no insight into.

— Pablo Hidalgo (@pablohidalgo) September 16, 2016
On the expected Rogue One box office.
This needs to be said? Heck, Force Awakens wasn't expected to do Force Awakens business. https://t.co/WkyQAxwv7T

— Pablo Hidalgo (@pablohidalgo) September 21, 2016
On Force ghosts.
@DelaneyWood Nearest I can tell its someone being able to retain a sense of individual identity within the Force.

— Pablo Hidalgo (@pablohidalgo) September 21, 2016
Trust LFL, you must!
I have assurances that people at Lucasfilm have seen their own movies. https://t.co/OdqM93nXfd

— Pablo Hidalgo (@pablohidalgo) September 21, 2016
On when Timothy Zahn was brought in for the new Thrawn novel.
Stay tuned for more next week.