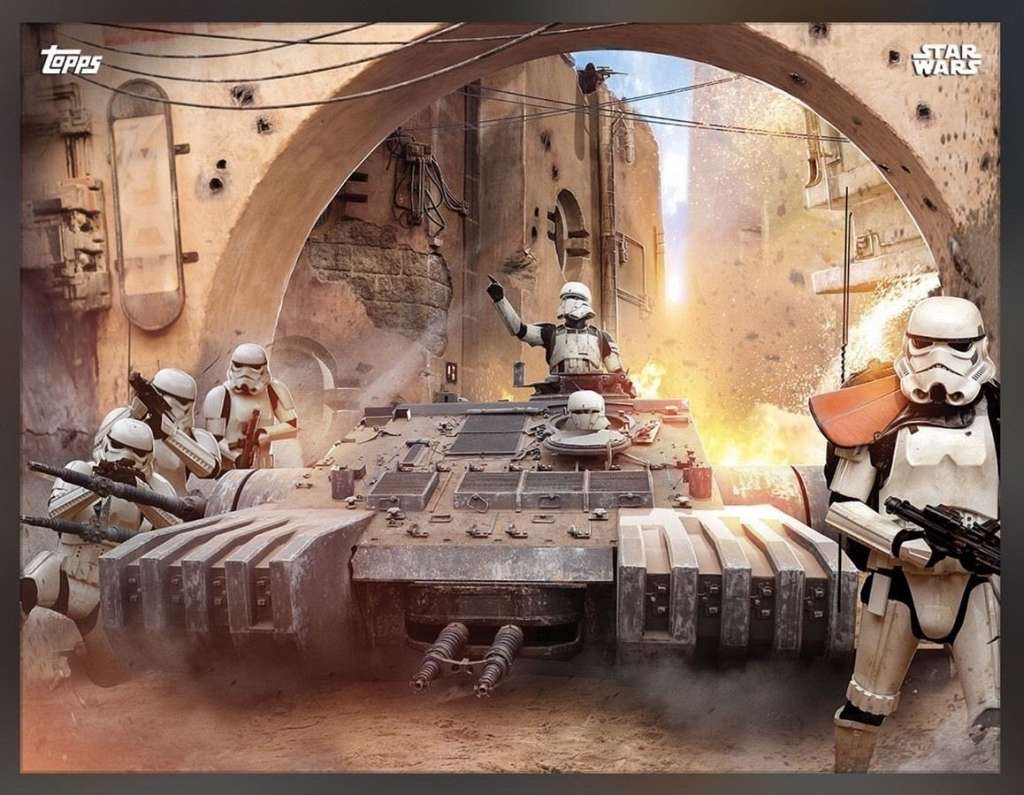 This week on our Star Wars weekly buzz:
William Shatner talks Star Trek and Star Wars, Chewie and Maz Kanata's romantic connection, Carrie Fisher's alternate view of Han Solo and Princess Leia's relationship problems, Daisy Ridley is cast in the new "Peter Rabbit' film, Prowse talks Vader, latest from Pablo Hidalgo and more.
David Prowse says he wants more Vader in future films!
The Daily Independent caught up with David Prowse at the Ashland Town Center in Kentucky recently. The actor, who played the villainous Darth Vader in the Star Wars original trilogy of films, said the popularity of the character really surprises him:
"Everyone loves Vader," Prowse said. "He has a very great and long-lasting effect on the public. He's the evil villain of the film and he should be hated, but everyone loves him."
He also went on to talk about the appeal of Vader in the Star Wars universe, and how he would like to see more of the famous bad guy in future films:
"It's been 30 years and the appeal of Darth Vader just seems to be getting stronger. It's just amazing, really, and it shows no sign of stopping." He said. "I just wish that they would do more movies to include Vader,"
Check out his Tweet:
It's the director we're about to get to know very well soon….. #StarWars #RogueOne pic.twitter.com/vPY6iN0ReW

— Mark Austin (@BobaFettANHSE) September 26, 2016
Director Who?
There's just over two months until the release of Rogue One: A Star Wars Story in cinemas all over the world. On that day, the first of the Star Wars spin-off films from Lucasfilm will be revealed with an entirely all-new, all different adventure. Today, Animation/FX Supervisor at ILM, Mark Austin posted and interesting Tweet on his Twitter page. Probably just fan art since he is known for posting them, however, wouldn't this look be and an exciting way to introduce a cross-over with the two Rebels (Star Wars: Rebels and 'Rogue One' cells.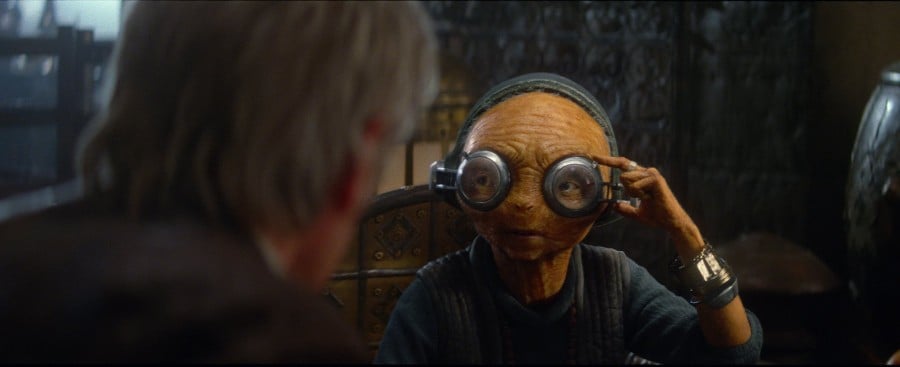 A Chewbacca-Maz Kanata Romance?
Yahoo Movies caught up with Lupita Nyong'o from Star Wars: The Force Awakens' this week and asked her if there was any hope for a Maz Kanata and Chewbacca romance, she said told our Kevin Polowy:
"That is a brilliant question. As the representation for Maz, I would say, I certainly hope so." She said. "So you're saying there's a chance," said Polowy. "I think that is in Maz's hopes and dreams, yeah," Nyong'o said, laughing.
Rian Johnson congratulates Mark Hamill for his birthday and revealed the breaking news that Luke will have dialogue in Star Wars: Episode VIII. 🙂
He gave me a crash course in Sgt Bilko appreciation. I gave him dialogue. A friendship was born.

Happy birthday @HamillHimself!

— Rian Johnson (@rianjohnson) September 26, 2016
Check out this cool share from Bad Robot (J.J. Abrams' production company involved with Episode VIII, but not with Rogue One:
RT for a chance to win a canvas patch, made at the Bad Robot Workshop! pic.twitter.com/5zg6opfMeC

— Bad Robot (@bad_robot) September 23, 2016
That's some really cool and realistic looking Tarkin, don't you think?

Saw Gerrera's Funko Pop figure reveals that he will have a robotic foot in Rogue One. We also know that his costume is a life supporting system. That's one badass rebel veteran!
And here's an even better look at Saw (via THR):
Also here are some cool images from Rogue One from Topps (via Screenrant):
Han Solo and Princess Leia Organa: Years of love on the Rocks!
Carrie Fisher has a alternate view of why Han and Leia separated all those years. The actress offered a hilariously answer to the official explanation at the The Saskatoon Comic & Entertainer Expo.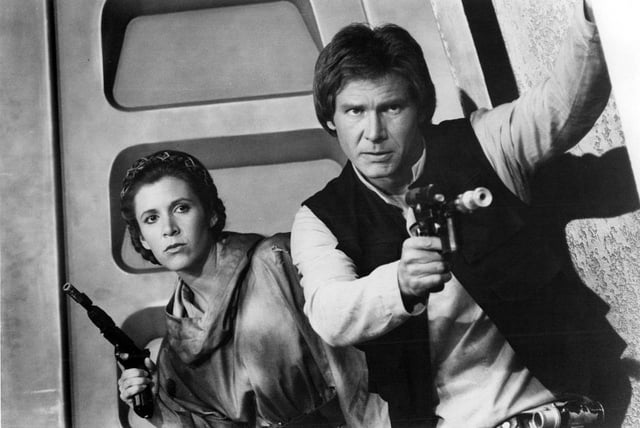 From Collider:
"He smuggled way too much," Fisher said during a panel at the Saskatoon Comic & Entertainment Expo. "And girls, I know you don't want your husband smuggling, do you? [And] hanging out with the hairy guy too often. I think there are a lot of problems with that. He wouldn't take me on that hyperspace thing enough… [that's a] euphemism."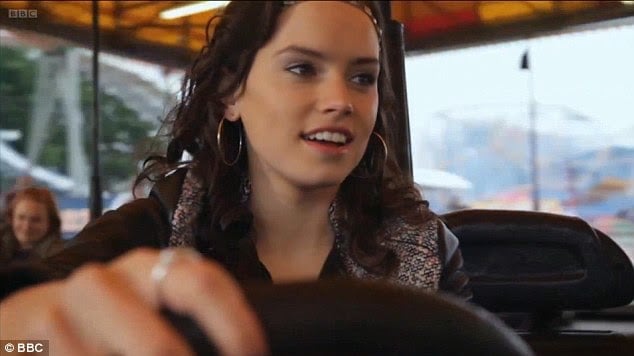 Variety has dropped the news of Daisy Ridley's casting in Sony's live-action/animated hybrid "Peter Rabbit," starring Rose Byrne and James Corden. The film, directed by Will Gluck will bring Beatrix Potter's beloved character Peter Rabbit to a new family audience. Production on the film is set to begin in early January 2017 through Screen Australia and Screen NSW collaboration with Sony Pictures Animation. Daisy's role is unknown at this time.
The Star Wars After Show: Breaking Down the Star Wars Rebels Premiere!
This week on The Star Wars After Show:
Andi Gutierrez sits down with Lucasfilm employees and Star Wars fans Dana Jennings, Ian Bucknole, and Alex Castillo break down the season opener of Star Wars Rebels, and discuss what they look forward to seeing this year.
Shatner on Star Wars and Star Trek!
William Shatner discussed Star Wars and Star Trek on the Tiki and Tierney radio show over at CBS SportsRadio recently. The actor, best know for his role as 'Captain Kirk' in the original 'Star Trek' TV and Film series had this to say about the differences in the two mega franchises.
"I think it's a matter of taste," he said. "Star Wars is like grand opera. Star Wars is big and a big story and, like opera, the heroes and heroines and big. Star Trek, on the other hand, deals – (or) should be dealing – with stories that are human and small and here's what a human being is like and human failings and the great things about human beings. That's what Star Trek is about. So given your appetite for grandiose operas and big opportunities to have large battles, as against human failing, you could do both and be there."
The Pablo Hidalgo Spot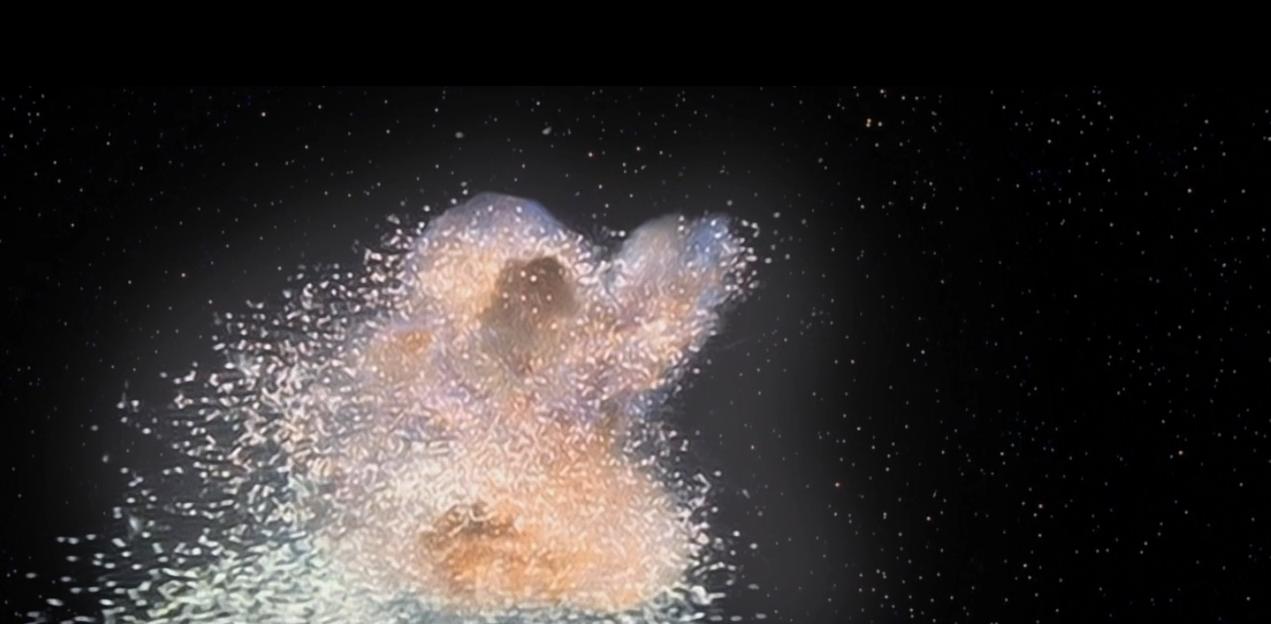 Pablo say's he once thought the 2nd Death Star was the remains of the first? Hmmmmmm…… see the original Star Wars film!
The first time I saw an image of the 2nd Death Star in a magazine, I thought it was the remains of the first one.

— Pablo Hidalgo (@pablohidalgo) September 26, 2016
You probably remember the controversy that in some of the Rogue One toy images Darth Vader is wearing his cloak differently from A New Hope. Here's a comparison: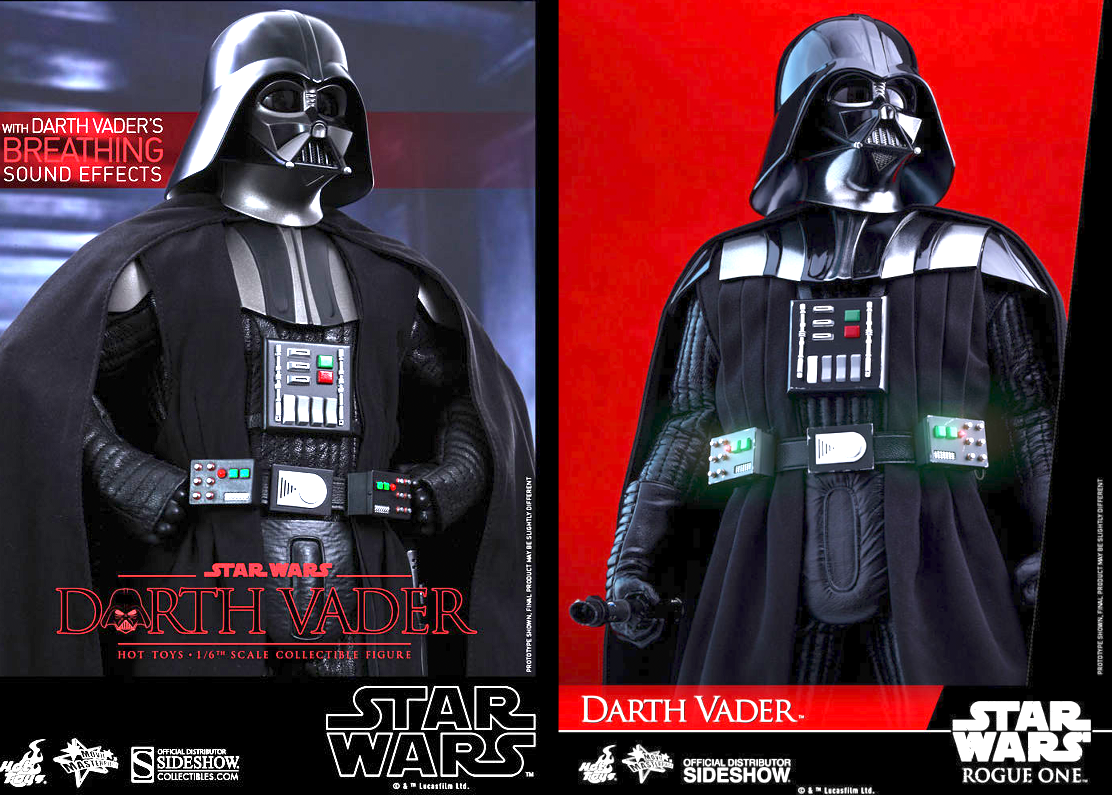 The image on the left is Vader from A New Hope. On the right is the new Rogue One Vader (via Sideshow Collectibles). You see that in A News Hope he was wearing his inner cloak over his shoulder plate, unlike the one from Rogue One. But don't worry. This is just a toy and according to Pablo, Vader will look as he should in the movie.
@StompinSteveB Let's see what made it into the movie.

— Pablo Hidalgo (@pablohidalgo) September 30, 2016
There can only be one first!
@ReyaShankar I think "first" rightly implies there can only be one first.

— Pablo Hidalgo (@pablohidalgo) September 29, 2016
More revelations on Plagueis:
@JeremyMSandoval Mainly because the story didn't come from George – as well as things like Sifo-Dyas, Maul's origin and Palpatine's name

— Pablo Hidalgo (@pablohidalgo) September 29, 2016
On the latest development around Filoni and the new animation shows:
The difference between LFL before the Disney deal and now:
Star Wars Related News
Alan Tudyk has married choreographer Charissa Barton.
The Rogue One: A Star Wars Story actor, 45, and the choreographer reportedly tied the knot Saturday in Los Angeles, California according to People.
On Thursday he tweeted:
'Getting married saturday. any tips?'
Congrats Alan! 🙂
And since it's Force Friday, here are some cool tweets from today:
Star Wars The Black Series Shadow Trooper Electronic Helmet https://t.co/EQvuIuiuzB@yak_face

— Soheyl Shafiee (@soybean311) September 30, 2016
If you are going to @Target use the Cartwheel app and get Hot Wheels ships 50% off until 10/1 pic.twitter.com/r946zXRLe1

— Pete (@ThePeteAwakens) September 30, 2016
Get Your Amazon Exclusive Star Wars The Black Series Shadow Trooper Electronic Helmet https://t.co/TwVJqWth3l pic.twitter.com/HdUN6T4gqg

— FLYGUY™ (@FLYGUY) September 30, 2016
#GoRogue #RogueOne @ToysRUs pic.twitter.com/NZULoj6MB4

— Justin LaSalata (@justinlasalata) September 30, 2016
#GoRogue #RogueOne @ToysRUs pic.twitter.com/GB9T2uuXKQ

— Justin LaSalata (@justinlasalata) September 30, 2016
#RogueOne Star Wars Story merch is now officially on sale! @ToysRUs offered these #RogueFriday giveaways for #MidnightOpening #GoRogue pic.twitter.com/n50LKpLfPF

— Inside the Magic (@InsideTheMagic) September 30, 2016
@yak_face @FLYGUY I guess this confirms another midnight event #StarWars #GoRogueAtToysRUs #GoRogue pic.twitter.com/iaJMzjGcsV

— Seamus Gameus (@SeamusGameus) September 30, 2016
Bought "a few" of these online because Shoretroopers and free shipping and variants #rogueone #gorogue #gobroke pic.twitter.com/UrUoKeJ5Hi

— Yakface (@yak_face) September 30, 2016
We love it too! Best design since the Biker Scout. 🙂 https://t.co/lAfVUgKe7E

— SWNN (@StarWarsNewsNet) September 30, 2016
Meanwhile at @ToysRUs… #RogueFriday #MidnightOpening #StarWars #ForceFriday #RogueOne #geoffreythegiraffe pic.twitter.com/DBbxD8f68A

— BB-K8 of (@Kamiduu) September 30, 2016
These #RogueOne figure sets are pretty great. The Krennic is awesome. pic.twitter.com/SiMKShhyLt

— Chris Argyropoulos (@ThatChrisA) September 30, 2016
They didn't have any exclusive tank troopers but it's okay, I got what I came for. #RogueFriday pic.twitter.com/84ScI8wsW8

— Matt Martin (@missingwords) September 30, 2016
A #RogueOne store display in Japan pic.twitter.com/6odbXvKsYp

— SW Rogue One (@SW_ROGUE_ONE) September 30, 2016
@JediNewsUK @DeeGoots @starwars @yak_face @FLYGUY my midnight haul plus a few extras this morning. Happy dayz! pic.twitter.com/2W2OmReUJO

— Ahilan (@AhilanNav) September 30, 2016
#blackseries scored at Walmart #RogueFriday #gorogue pic.twitter.com/tD3Fig6UAO

— Yakface (@yak_face) September 30, 2016
Stay tuned for more next week.