Electronic Arts on the Future of Star Wars Games.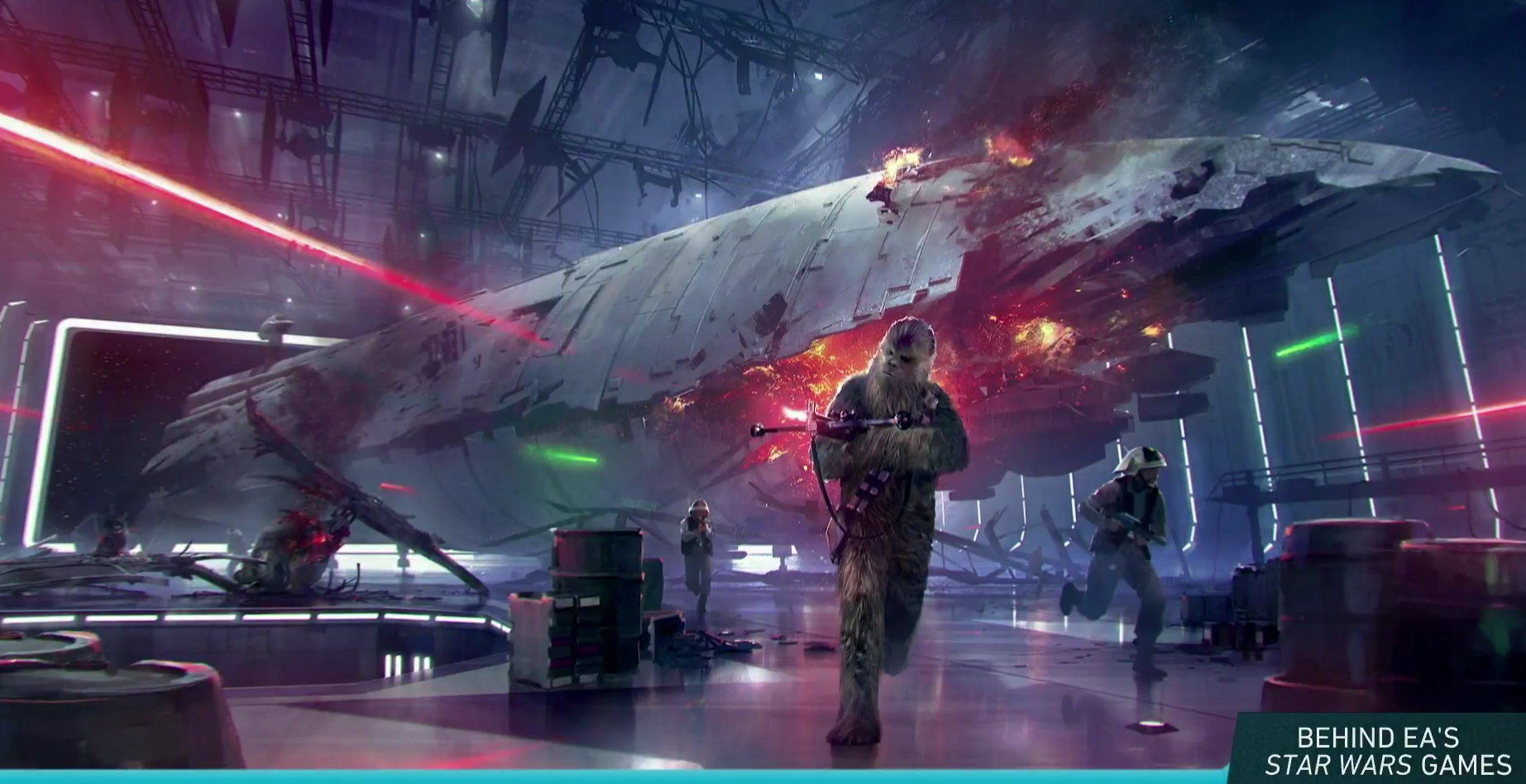 Electronic Arts is presenting one of the largest selection of Star Wars games for their Celebration Panel. Look ahead for more information on the many games that are planned, and what's to still to come for existing titles.
Battlefront was the key focus of the event. A lot of emphasis was placed on listening to what the fans want and implementing their suggestions into the game. Most notably, it was said that Skirmish Mode – a single-player option that fans have asked for for a long time – will be added as soon as next week. The VR expansion for PS4 players was mentioned as being an immediate focus for the development team, and a teaser for the Death Star expansion was also shown, emphasizing space battles. Bossk and Chewbacca are confirmed as the playable Villain and Hero for this expansion. The final expansion pack will be called Rogue One: Scarif, and it will be released in time of the release of the film instead of early next year as initially planned. Jyn Erso and Director Krennic will be playable in this expansion.
The other games were brought up, but details on what they would add were comparatively sparse. With The Old Republic, there are plans for "something big" for the Autumn of the year. A retrospective showing off the development of the game and the content they've released so far was shown, along with a teaser for the next expansion: Knights Of The Eternal Throne. For Galaxy Of Heroes, it was confirmed that Rogue One characters will be added. Another trailer showing additions to the new Raid and Guild modes was shown. Lastly, with the Visceral Games project, a 2018 release window was confirmed. It's reiterated that the gameplay will be like Uncharted, but other details on the project continue to be sparse.
Stay tuned for more Celebration coverage tomorrow.
Grant has been a fan of Star Wars for as long as he can remember, having seen every movie on the big screen. When he's not hard at work with his college studies, he keeps himself busy by reporting on all kinds of Star Wars news for SWNN and general movie news on the sister site, Movie News Net. He served as a frequent commentator on SWNN's The Resistance Broadcast.