Star Wars: Rebels Season 3 Trailer Hits. Grand Admiral Thrawn is Officially Canon Now! New Poster Revealed.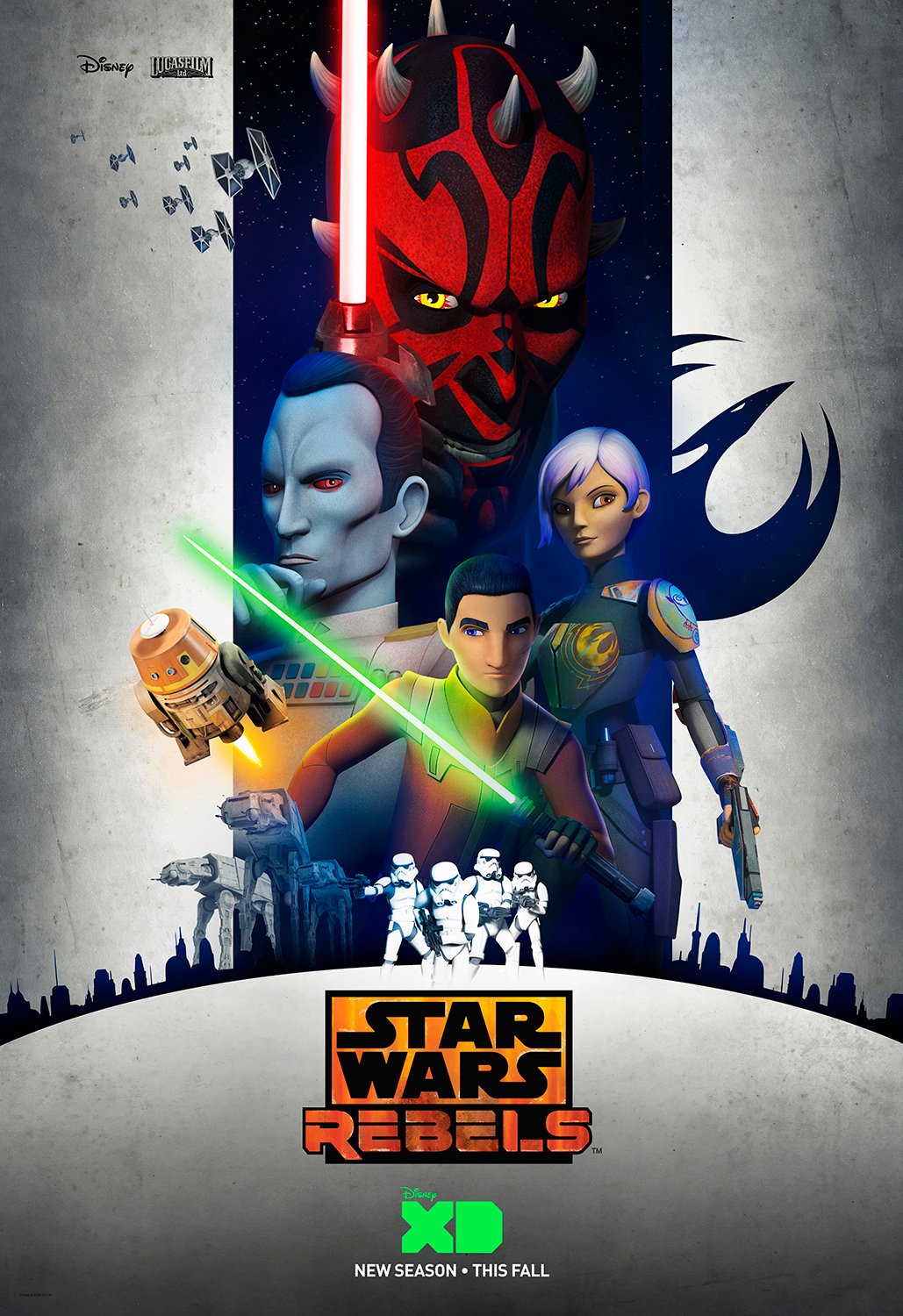 The highly-anticipated panel for Star Wars Rebels has just arrived at Celebration. Click ahead to see what we've learned.
Full trailer revealed!
Panel notes:
10:03 AM CST – Panel host Warwick Davis arrives.
10:06 – Davis recaps the ending of Season 2. Dave Filoni, Tiya Sircar, and Sam Witwer arrive.
10:07 – Filoni dances around the answer of if Ahsoka survived or not. He suggests that we haven't seen the last of her in one way or another.
10:09 – Kanan's new character art is shown off, having a greater emphasis on appearing like a samurai. He has a goatee now.
10:10 – Ezra's new look features a shorter haircut and a general older appearance.
10:12 – Sabine's new hair color is a mixture of white, blue, and purple. Sabine has to face her past with new gadgets; Sircar teases that we find out who she's related to.
10:14 – A clip showing Sabine rescuing Ezra from Mandalorians using a jetpack is shown off in a chase sequence. Ezra is shown being more visceral with his new lightsaber.
10:16 – Zeb's armor is simplified to look closer to A New Hope's alien designs.
10:18 – Witwer talks a bit about his experience with meeting Ray Park.
10:20 – Maul is coming to terms with his existence. He thinks of Ezra as an apprentice that can achieve what he was not able to do.
10:23 – A sequence showing Maul in action is shown. After landing in an abandoned base, Ezra and Kanan confront Maul, who has kidnapped their allies. Kanan is shot out of an airlock on a cliffhanger.
10:26 – The hidden base that Darth Maul resides on is the same one from Darth Maul: Son Of Dathomir.
10:27 – The Season 3 trailer hits. Grand Admiral Thrawn is confirmed!
10:31 – Thrawn was a character that Filoni wanted to bring into the story from the beginning. He is played by Lars Mikkelsen.
10:34 – Timothy Zahn offers thanks for integrating the character back into the character. He's pleased with the direction that the Rebels writers have taken Thrawn in. A new, canonical Thrawn book is being written by Zahn himself.
10:37 – Sabine gets the Darksaber formerly owned by Pre Vizsla and Darth Maul.
10:39 – Tom Baker of Doctor Who fame voices Bendu, the giant Force creature that communes with Kanan.
10:46 – Q&A starts. Dave Filoni does not have immediate plans to adapt more content from role-playing scenarios, but the influence of that material is still there.
10:48 – A fan asks about Mara Jade's possible inclusion in the series. He doesn't think it's likely for the show. The Ysalamir will not be appearing in the canon for the sake of consistency.
10:50 – A fan asks that if Ahsoka died, if she could become a Force Ghost. Filoni doesn't think she knows the secret at the time, but he says the option is up in the air.
10:51 – A reporter asks if Daniel Logan could play Boba Fett on the show, to which he says "you never know"; other alumni from The Clone Wars may appear on the show to reprise their characters.
10:52 – The Sith Lady who spoke to Ezra has a name, but he's not ready to reveal it.
10:53 – The marks on Kanan's mask have two purposes – to help with animation, and to show Kanan's newfound appreciation for Rex.
10:55 – Sam Witwer jokes about voicing both Maul and the Emperor. Filoni says that Maul is actively trying to avoid Palpatine in direct confrontation.
10:56 – A fan asks if Maz Kanata could appear on the show. Filoni coyly responds: "That's a great idea."
10:58 – Dave Filoni suggests that Cad Bane is alive during Rebels, but there are no plans to include him in the show.
10:59 – A fan asks about a ship that looks like the Outrider, and if Dash Rendar would appear. Filoni says that Rendar is a no-go, but the ship itself is the same kind of model.
11:01 – The panel ends, and the first two episodes are shown. Naturally, the stream cuts away at this point.
And that's a wrap!
Screenshots from the event:
Also Wookieepedia has just uploaded the new poster HERE.
Grant has been a fan of Star Wars for as long as he can remember, having seen every movie on the big screen. When he's not hard at work with his college studies, he keeps himself busy by reporting on all kinds of Star Wars news for SWNN and general movie news on the sister site, Movie News Net. He served as a frequent commentator on SWNN's The Resistance Broadcast.