Star Wars Weekly Buzz: Biker Trooper From the Han Solo Movie, The Last Jedi Toy Rumors and More!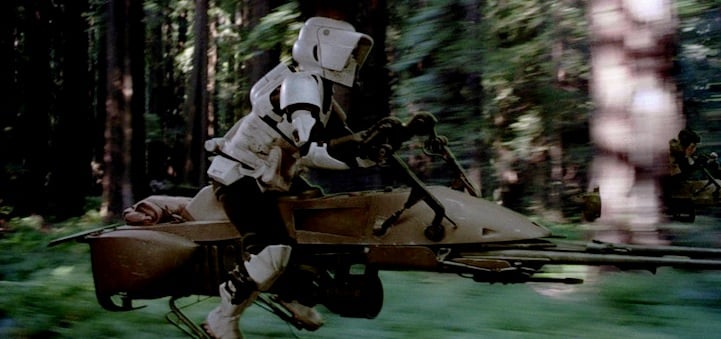 This week on our SWNN Weekly Buzz: new video from the Han Solo set shows a Stormtrooper in action; Star Wars: Rebels Season 4 could appear on a Con in the fall; John Williams gets an a cappella performance tribute; Of course the latest shares from Pablo Hidalgo and Rian Johnson and many more.
This week we start with a cool video from the "Han Solo" set at Fawley Power Station with a Stormtrooper riding a speeder. You can hardly see the helmet but I can't help but have a Biker Scout vibe from him, especially with the lack of leg coverings. Still, it's almost a certainty that the helmet will be unique and something we haven't seen until now.
This stormtrooper driving a vehicle at the Han Solo set at Fawley Power Station looks hella cool (via davidpennyesq/IG) pic.twitter.com/R4AvdGCPHV

— dragon's daughter (@yeahclarke) May 30, 2017
Also the Splash News channel has some pictures from this shoot that we didn't see before. You can see better Alden Ehrenreich's and perhaps Emilia Clarke's stunt doubles in the video and some cool fireworks.
Rebelscum (via PrensaImperial) has an interesting rumor to report regarding the upcoming Hasbro figures for The Last Jedi:
If what we're hearing turns out to be true, Hasbro's basic action figure assortment for The Last Jedi line will include an accessory, or components of an accessory, called the Force Link Bracelet. We're told it essentially gives your figures the ability to talk to each other. Sounds kind of like an evolution of their CommTech technology that they launched with their Episode I collection in 1999.
It seems that Rebels Season 4 might make an appearance on an upcoming Con in the Fall. The biggest contender for this seems to be New York Comic Con, but this is just a guess. Lucasfilm's Tracy Cannobbio said:
Also there is still no word if The Clone Wars will drop from Netflix or no.
Hey Snips! ; ) I'm waiting for a confirmation on this…personally hoping it's not true, but will let you know!

— Tracy Cannobbio (@Tcann13) May 31, 2017

Student group "Harvard Din and Tonics" give an a cappella performance of John Williams' most beloved scores, including Star Wars, Jaws, and Indiana Jones.
The official Star Wars site thanks everyone for their donation in the Force for Change initiative:
A very cool fan tribute to Luke Skywalker.
Now that's a very nice looking cover!
This variant cover of the new Darth Vader comic needs to be poster sized. And framed. pic.twitter.com/iXGn0INarU

— Bryan Young (@swankmotron) June 2, 2017
Former Critic Stands By His Original 1977 Star Wars Assessment.
The Minneapolis Star Tribune has released a fantastic article from former film critic Bob Lundegaard. In the article, Lundegaard talks about why he panned the 1977 Star Wars film when it first was first released to theatres. Originally he penned that the film lacked an overall plot and contained terrible dialogue. Today, he says he stands by his original assessment.
Of course I had no idea it would become one of the most successful movies ever, spawning sequels and video games and T-shirts that collectively have grossed more than $42 billion dollars. Who knew? But critics can be stubborn. I stand behind my original assessment, which essentially was "don't bring your brains with you," but "your kids will love it." Mine certainly did, and they never let me forget it.
Another great art from our friend John Burns:
Speedpaint of Kylo arriving at Vader's castle on Mustafar!

Cc @TheSWLegacy @HarrisHarrisev9 @SW_ArtGallery pic.twitter.com/k4Bv3UCd5V

— John Burns (@realJBurns) May 28, 2017
E3 is just around the corner (June 13-15). Who is ready for some Battlefront II revelations?
Done!!! Who's ready for E3? And who am I gonna see at EAplay?? @eastarwars pic.twitter.com/PPZ4gqowTc

— janina gavankar (@Janina) May 29, 2017
Earlier this week John Boyega showed Finn's blaster from The Last Jedi on Instagram:
George Lucas was a special guest to the Renault team for Star Wars' 40th anniversary at the Monaco Grand Prix:
The Force is with us for the #MonacoGP! Thanks @StarWarsUK!
(Oh come on, we had to!)#Renault40YearsF1 #StarWars40th #EnterTheZone #MonacoGP pic.twitter.com/HM2F7dIOF4

— Renault Sport F1 (@RenaultSportF1) May 28, 2017
Family complete; and what an honour! @GeorgeLucasILM joins us to mark the occasion!#Renault40YearsF1 #StarWars40th pic.twitter.com/xRIWhbXrgU

— Renault Sport F1 (@RenaultSportF1) May 28, 2017
D23 Exclusive Poster of Star Tours:
#D23Expo – Affiche Star Tours #Exclusive – #starwars #startours #d23 https://t.co/KjBzY14Vqh pic.twitter.com/7ikwXtz2pq

— MintInBox.net (@MintInBox) May 27, 2017
The Men and Women who created Star Wars Unite to Celebrate its 40th Anniversary.
On Saturday, a group of people met in San Rafael, California to celebrate the 40th anniversary of the release date of #StarWars. 💥🌉🌟🖤🌎💞☄️💗🎨🏆 pic.twitter.com/uueFUgUIqQ

— Joe Johnston (@jjsketchbook) May 29, 2017
Tie Fighter's Take Off Into Twin Sunsets In This Doug Chiang The Force Awakens Concept Art. Hey, Jakku doesn't have two suns. 😉
TIEs take off into the twin sunsets in Doug Chiang's The Force Awakens concept art. pic.twitter.com/8yWBrXnwzA

— Star Wars (@starwars) May 31, 2017
Chewbacca Loves The Texas Star Wars Art Competition.
Texas Star Wars art competition? Love it. @lonestarwarstx pic.twitter.com/kj2JlWwnhv

— Peter Mayhew (@TheWookieeRoars) May 27, 2017
Hamill Thanks Service Members Who Have Sacrificed.
For your service & your sacrifice… #MemorialDay #HonorAndRemember pic.twitter.com/6LRSwvR2d9

— Mark Hamill (@HamillHimself) May 29, 2017
95 Minutes Of Weird Star Wars.
This 95-minute edit of weird Star Wars found footage is truly magnificent https://t.co/E3gEIbHAE4 pic.twitter.com/HXHay2knjw

— Gizmodo (@Gizmodo) May 30, 2017
501st Beginnings.
I talked with @501stLegion founder Albin Johnson about the group's beginnings and the last 20 years for @starwars: https://t.co/fMuqgngN5j pic.twitter.com/OkiyQf5g2k

— Amy Ratcliffe (@amy_geek) June 1, 2017
Another amazing Art.
My @starwars Revenge of the Sith piece – pt 3/8 of my #StarWars40th Tribute -watch me draw all movies here: https://t.co/WexxzcoKda pic.twitter.com/lEL23vid6r

— James Raiz (@boxofficeartist) June 1, 2017
Far Out Man!
When you've watched too much Star Wars for the night. pic.twitter.com/ooX6HAVrsn

— In a Far Away Galaxy (@Inafarawayg) May 30, 2017
Anthony Daniels Says….
I want to speak to fans of the Star Wars saga, not to have this space polluted by would-be hookers. Twitter needs an anti-lingerie filter.

— Anthony Daniels (@ADaniels3PO) May 31, 2017
The Latest From Pablo Hidalgo And Rian Johnson:
He's human.

— Pablo Hidalgo (@pablohidalgo) May 29, 2017
Lucasfilm, like most studios, does not take unsolicited creative.

— Pablo Hidalgo (@pablohidalgo) May 31, 2017
The idea is that it took place during the Battle of Jakku that ends Empire's End, Lost Stars and gets featured in Battlefront as well.

— Pablo Hidalgo (@pablohidalgo) May 31, 2017
Check out what's been said so far about Forces of Destiny.

— Pablo Hidalgo (@pablohidalgo) May 30, 2017
Or before and off camera.

— Pablo Hidalgo (@pablohidalgo) May 30, 2017
Oh we have. And we will. We're humans. At least there's better checks in place to keep the big disconnects of the past from happening.

— Pablo Hidalgo (@pablohidalgo) May 29, 2017
@Bogwing Sure, I think every script writing process changes you, right? You make new mistakes and learn from them.

— Rian Johnson (@rianjohnson) May 30, 2017
If there's one thing Star Wars does well, it's preserving its characters. pic.twitter.com/DPIvNHSTqY

— Rian Johnson (@rianjohnson) June 1, 2017
Thanks Monica – doesn't feel like harassing, just fans who want to be heard. If anyone's actually a jerk I block/mute them. 🙂

— Rian Johnson (@rianjohnson) May 31, 2017
I started with the characters, where they were coming from and where they should get to.

— Rian Johnson (@rianjohnson) May 30, 2017
I wrote on a dedicated macbook air that had never connected to the internet.

— Rian Johnson (@rianjohnson) May 30, 2017
And finally Pablo Hidalgo made several very interesting posts about speculations and rumors during the Original Trilogy. Great read!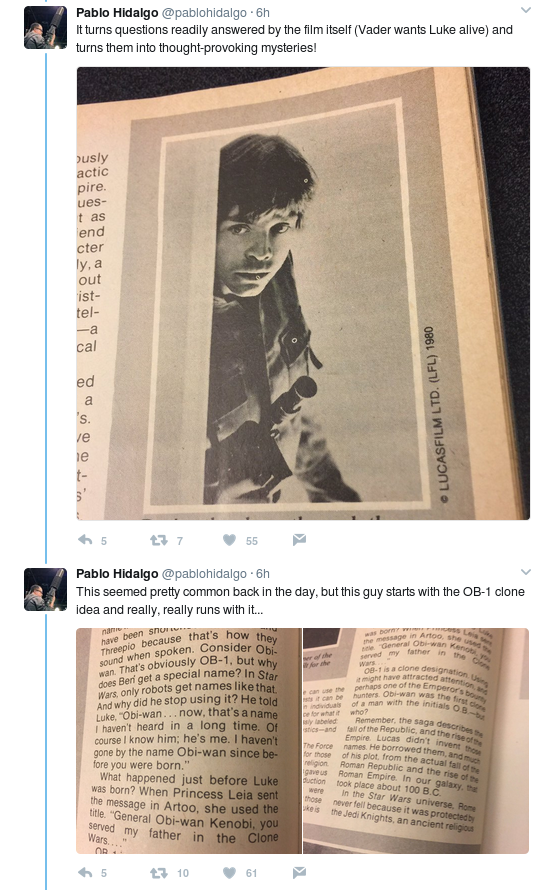 Stay tuned for more next week.