Entertainment Weekly Shares 16 New Photos from Rogue One!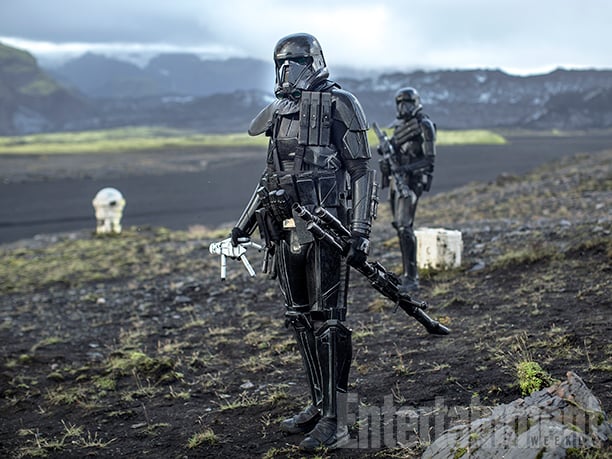 Entertainment Weekly posted yet another article on Rogue One. This time they shared 16 new photos from the production, plus brief descriptions and new info…
Direct quotes from EW. For the full story click HERE.
Deathtroopers Turn the Tide
A new, deadlier breed of commando Stormtrooper is storming the beach. As part of EW's exclusive preview of Rogue One: A Star Wars Story, we bring you this gallery of new images from the Dec. 16 film. Leading things off: This shot of a squad of Deathtroopers, who are tasked with hunting down and destroying the fragmented Rebel uprising.
Jyn Undercover…
Rogue One is an ensemble story, but its central figure is Jyn Erso (Felicity Jones), a young woman recruited by the Rebellion to infiltrate the Empire and secure details of its latest weapon – a moon-sized battle station we know as the Death Star. Here we see her in disguise, armed for conflict inside an Imperial corridor. Lucasfilm president Kathleen Kennedy says Jyn starts as an outlaw and "becomes a kind of Joan of Arc in the story."

Krennic Schemes for Dominance
Ben Mendelsohn's Director Orson Krennic is responsible for protecting the security of the Death Star project, but he's also a manipulator within the Empire. "He understands the system and he knows how things work, but he also is not above trying to bend it to get what he needs or what he thinks he wants," says Kiri Hart, Lucasfilm's head of story development. Krennic is intended to be a contrast to Imperial officers we've seen before, like Peter Cushing's Grand Moff Tarkin. "Tarkin is the model for these really cool, icy types, you know?" Hart says. "Krennic runs a little hotter than that, so that's kind of fun and it's a little bit different. … He is unpredictable and volatile."
Rest for Baze and Chirrut
Hong Kong action star Donnie Yen (Ip Man) plays Chirrut Imwe, a blind warrior monk who is not a Jedi but follows the path of the Force, and Chinese martial-arts actor and director Jiang Wen (Devils on the Door Step) co-stars as Baze Malbus, Chirrut's Force-doubting rough-and-tumble protector. Like the original Star Wars, these characters owe a debt to the two peasants from a 1958 Akira Kurosawa adventure saga. "They're inspired, again, by what inspired George in The Hidden Fortress, " Kennedy says. "You could even say to some extent it's, you know, R2 and C-3PO, a little bit of that."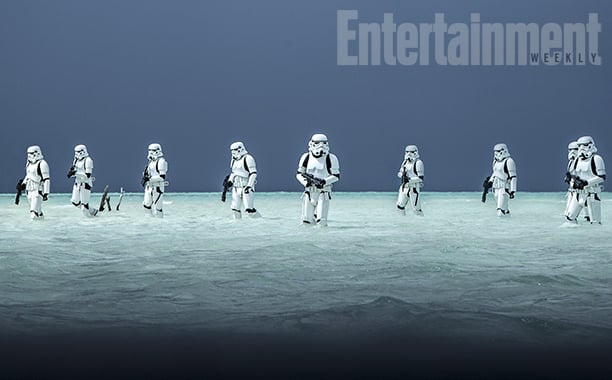 Paradise Lost
Keeping with the Star Wars tradition of planets with a single ecosystem, one key battleground in Rogue One is on a world that might resemble a relaxing seaside holiday destination if not for its proximity to the Death Star. That leads to a key battle in the film taking place on its balmy shoreline — blue waters and an eerie gray sky.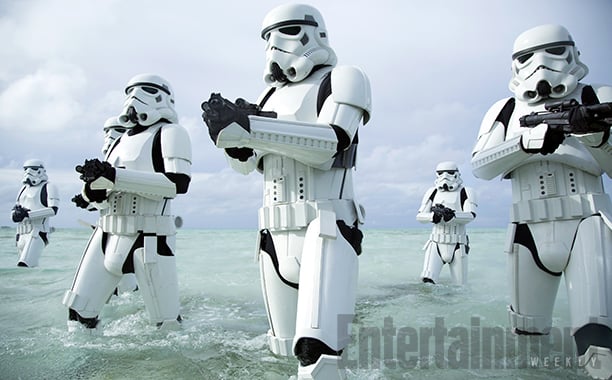 A Galactic South Pacific
We don't yet know the name of this world, but it's meant to evoke both heaven and hell — tranquility and war. "There's this sort of South Pacific, tropical paradise planet that subconsciously leads into some of the imagery associated with World War II," director Gareth Edwards says. "We went to lots of different places around the world, and one of them was the Maldives. When you're shooting Stormtroopers in paradise, you have the best job in the world, you know? You can't really deny it at that point."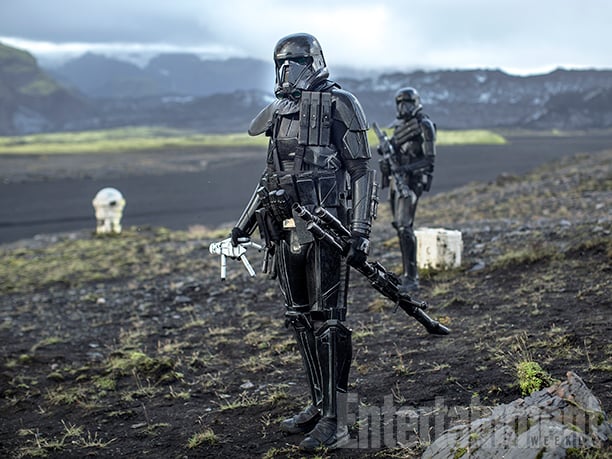 Toy Soldier
In one of the more intriguing photos from Rogue One, we have this image of Deathtroopers prowling on a tundra. One of them is holding what appears to be … an action figure of sorts. The filmmakers didn't want to explain exactly what's happening here, but they confirm: yes, that's a Stormtrooper doll, a galactic version of a toy soldier. And it will have special significance in the story. (Decades later, an abandoned girl name Rey will also fashion a doll for herself — this one an X-wing pilot.)
K-2SO in Detail
Here's a full-body shot of the newest Star Wars droid — a security robot known as K-2SO (Kaytoo Esso), who is voiced and performed via motion-capture by Alan Tudyk (Firefly.) Compare his gunmetal gray surface to the shimmering plating of "Goldenrod" C-3PO, and you'll see the difference between a utilitarian droid like Kaytoo and a protocol droid like Threepio. Kaytoo wasn't built to socialize. He's as brusque and blunt as he is strong. "He has a very dry delivery," Edwards says. "He doesn't realize what he's saying is very funny."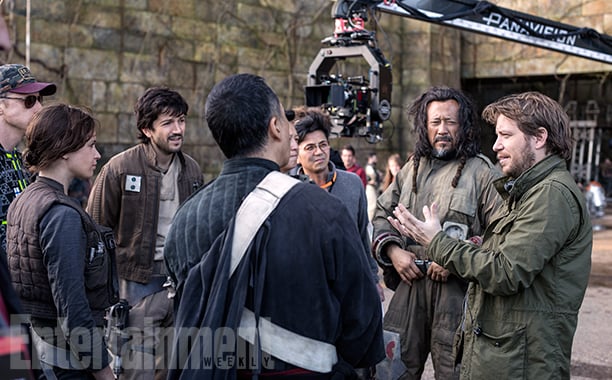 Multicultural Cast
In this behind the scenes shot from the Yavin-4 base, Edwards consults with some of his lead actors: Jones, Diego Luna, Yen, and Jiang and Tudyk (in his performance capture suit). The movie's Rebel team is a deliberately diverse mix from our own planet, meant to reflect a galaxy filled with a wide variety of humans from many different worlds (not to mention a healthy mix of creatures and aliens). "People are coming to the Rebellion because something has happened that has galvanized or politicized them," says Hart. "The question just becomes: What are those triggers for different people in different places?"
The Surly Pilot
We don't yet know what kind of craft he'll be maneuvering, but Riz Ahmed (Nightcrawler) will costar as the Rebel squad's lead pilot, Bodhi Rook. "He's a very experienced pilot. Flies a lot of cargo, one of his key jobs," Kennedy says. "And he tends to be a little tense, a little volatile, but everybody in the group really relies on his technical skills."
EW also shared more photos with info on the characters. Make sure to check out their full story HERE.