SWNN Celebrates the 17th Anniversary of The Phantom Menace
Seventeen years ago today, Star Wars – Episode I: The Phantom Menace was released in theaters around the world. Back in May of 1999, the world was jacked up on nostalgia-laced Star Wars Kool-Aid and fan craziness. It was the film that reinvigorated the fandom of the series and returned the magic to the franchise. While many Star Wars fans still have mixed feelings about The Phantom Menace, others have come to the conclusion that after all these years, the film is actually worthy of the name STAR WARS.
When The Phantom Menace hit theaters in 1999, I walked into it feeling very neutral due to the even feedback presented by the public. I came out of the cinema feeling satisfied about the film. As for the critics who slammed the movie, I think they over-reacted at the time. Opinions of this movie were formed well before it was finished … well before anyone knew anything about it. In fact, one must remember that this was the FIRST film out of six and therefore had to set a foundation for the entire Saga.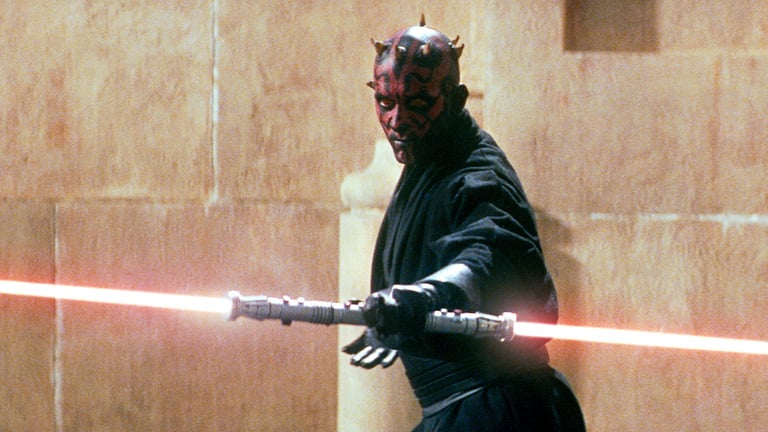 The action still holds up, definitely better than the "things-crashing-into-other-things" style of superhero standoffs that drag down many of today's blockbusters. From the senate council chamber to the epic pod race… right down to its epic lightsaber battle, it's pretty darn spectacular even to this day.
In the end, the film may not be the most loved addition to the franchise, but it remains an important one—after all, it brought the Star Wars films into the digital age and introduced a whole new generation of fans to the Star Wars family.
SWNN celebrates the 17th Anniversary of the film that brought the magic back to a Galaxy of Star Wars fans.
Lets take a look back at some of the Hype surrounding the film, the magical trailer, and fan reactions to the beginning of the greatest Saga in cinema history.
Star Wars: The Phantom Menace Theatrical Trailer in HD
CNN Live – Star Wars Episode 1 – Hours Before The Films Premiere
Star Wars: The Phantom Menace Local SoCal Channel 13 Opening Night Fan Reactions
We would like to hear from you! Please vote in the form below:

[socialpoll id="2360828″]

Share your memories and photos of the release with us below.
Check back for more Star Wars news here at SWNN.