Rian Johnson Confirms Filming Parts of Episode VIII in IMAX and the Extraordinary Experience of Some Lucky Irish Fans.
Several Irish fans just recently had one of the most incredible experiences of their lives when they met Rian Johnson and Joonas Suotamo in a Dingle pub as the Episode VIII shoot in Ireland was coming to a close. Yesterday we showed you two cool photos of Rian Johnson and Joonas Suotamo in the company of several fans. Today we reached out to one of the fans to hear his extraordinary story on meeting the Episode VIII director, cast and crew in a local Irish pub. He has shared with us some details on his conversation with Rian Johnson, who seemed more than eager to talk to him, even confirming that parts of Episode VIII are filmed in IMAX (few days ago we first told you about an incident on the set, where an IMAX camera was broken). We also learnt that there is a third actor who plays Chewbacca in Episode VIII.  Read on for more…
The following is a direct quote from Ronan, who was kind enough to answer our request for describing his incredible experience:
We headed down from Dublin and arrived on Sunday night in Portmagee where we had rented a house. On the Monday we spent some time just visiting the area, before making the two-hour trip to Ceann Sibéal.

When we got there we could see the edge of the Beehive huts quite well as you can see in all the photos online. Security was very tight and they had guards in all the surrounding fields. At one stage we stood at the edge of one of the fields which was the entrance to a golf club, and one guard came over and told us we weren't allowed stay. So we spent some time in the area before moving over to the scaffolding we saw, which all the trucks had been heading to. We drove up a farmers land and walked right along the cliffs to end up on a hill that was further out to sea than the cliff, making us getting a view from the back of the sea. We stayed for about 30 minutes as more and more people showed up, but we had to leave as we hadn't bought dinner and the shops were closing soon.
The next morning we went onto Skellig Michael and were completely lucky to get amazing hot and blue-sky weather. Last time it had been storm weather and completely misty. We recreated some shots from TFA and one of the shots from the Episode VIII to an amused audience of American tourists. When we got to the huts we talked to one of the women who stays on the island every Summer. We were the only ones on the top with her the last time we were there, and had been present for the filming on the island on both occasions, so she remembered us very well and is extremely nice. She let a few hints drop as to what she had seen, but she doesn't know the name of a single Star Wars character or prop so she couldn't spill the beans even if she wanted to, and we didn't want to get her into trouble anyways so we didn't press her for much.

After coming back from the island we decided to make the long trip back out to Ceann Sibéal, as at that stage the rumours of them finishing early had been circulating, and the woman on Skellig told us that they had been hitting the pubs of Dingle throughout the week, so that if they were partying that night it would probably be in a pub there. So we hit Ceann Sibéal and the base camp was almost completely cleared. There was about three trucks at the top with the beehive huts but that was essentially it. We looked around Ballyferriter, which is the town at the bottom of the Ceann Sibéal cliffs, and it was all quiet. It was clear no one was there for now anyways.
We decided to head to Dingle to check out where the crew were. There had been signs up since the filming saying things like "Techs", "Loc", and "Crew Parking", leading the crew from Dingle to Ceann Sibéal. But today there were new signs that were just arrows, and were leading the opposite direction. We decided that was probably a good sign so we followed it and ended up at the "Dingle Climbing Club" or something along those lines. As we drove down the windy entrance, we started to spot large taxi vans that we had seen transporting crew the day before. These were quickly followed by trucks, then trailers, then we suddenly arrived the entrance to a warehouse that was wide open and contained all the crew eating dinner, but was guarded by several security guards. We stopped immediately and pretended that we were just lost and left. We then headed to Dingle to scope out the pubs, and see if anyone had decided to party. We went into every pub but they were all empty. We took a break for dinner, did one more quick look around but all was still quiet. At this stage we decided to head back to Ceann Sibéal. Our thinking was that the set was probably fairly unguarded and that it might be much easier to sneak onto the beehive hut set, as we had heard of locals doing this at night. There was significantly less security allowing us to get to the entrance of the base camp, but no further. It was almost dark at this stage so we thought that we might be able to get to the cliffs further down and just walk over. In beginning to do this we found that there were hidden security with torches in some areas, so we decided it was too risky and decided to give up and head home.

On the way home we decided we'd do one last search of Dingle. We didn't think we'd meet anyone so two of us got out to do a quick check of the pubs, and myself and another stayed in the car. A few minutes went by and we were about to leave to pick the others up, when one of them texted me saying "She's in Foxy John's". So I immediately called him to clarify, and he said that the two of them had been walking past the entrance of the pub as the door swung open and Daisy Ridley was just standing right in the door way. So by the time we drove up, parked and got into the pub, my friends were no where to be seen. When we walked into the pub it was packed, and you could just tell it was pretty much all crew. So myself and my friend go looking for the others. We walk deep into the pub and I spot Rian Johnson talking to some crew. I immediately look to my left and see Daisy Ridley dancing with a few others who seemed like they were her friends, hard to tell if they were crew but then again they must have been. In the meantime Rian passed me several times and Daisy was essentially right in front of us talking to that group she was with. My friends eventually showed up and said that they had scoped out the entire pub and only seen Daisy.
So after a while I decided I'd go for it, and my friends followed. I apologised for interrupting as he had been talking with other crew, and I told him I was a massive fan and he seemed very grateful. At this stage he had turned away from his friends and was in our group, he even interrupted me to ask my name and he stuck out his hand to shake mine. He then went around my friends doing the same, which is when I realised just how nice he was. Throughout the conversation it was essentially him and I talking while my friends listened and occasionally said something small. I told him the story of how I saw Looper at a film festival in Dublin and that we were the second audience in the world to see it. We then started talking about Ireland and how the shoot had been going. He said it had been fantastic since they got unexpectedly great weather. We told him we had been on Skellig that morning and he talked about he had loved shooting there and he wanted to go back. He said he had been to Dublin once years ago but that's the only other time he'd been to Ireland. I said I hoped there was reshoots so that they'd come back and he laughed and said "Me too". I took off my Kodak Film cap and told him that I had a tradition started by Judd Apatow that only people who exclusively shoot on film were allowed to sign the hat. He enthusiastically said "I do that!" and asked if we had a marker. One of my friends took one out and he singed the hat. My friend then asked if he could take a picture of him signing the hat, and he was so nice about it. We then asked if we could take a group photo with him which he was completely down for. After that we kind of finished off the conversation and overall he just seemed very grateful that we talked to him. I asked if the cinematographer, Steve Yedlin, was around because I would've loved for him to sign the hat. Rian said he had seen him up the front but not for a while.
While I was finishing off my talk with Rian, my friends had gone to the front to get drinks, and had spotted Daisy leaving for another pub with a small group of crew and the others she had been with. They had also spotted Joonas Suotamo in the middle of the pub. They were eager to leave to follow Daisy after we talked to Joonas, so I agreed. We walked up to him and one of my friends told him that he had recognised him from the behind the scenes footage from TFA. He seemed quite grateful also, and the other tall man next to him said that he had also been playing Chewie while in Ireland. So we got our photos with them and walked out the front to leave, after I checked out the place and didn't recognise Steve.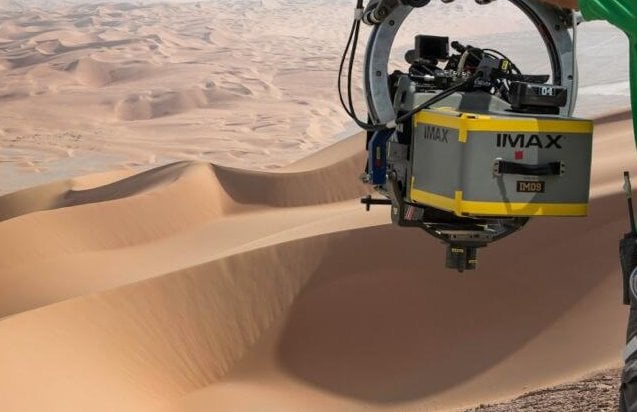 As we got out the front I remembered that I meant to ask Rian about shooting IMAX, as I am a massive fan of the format, so I ran back at the risk of annoying him. He spotted me walking towards him and seemed fine with it. I got to him and our conversation went roughly like this:

Me: Sorry to interrupt but I have one more question to ask you that you probably won't be able to answer.
Rian: Go for it.
Me: IMAX?
Rian: Yeah?
Me: Are you shooting it at all?
Rian: Oh yeah, we're shooting a little bit of IMAX, it's my first time using it, I love it.
Me: Yes I am so happy because I am a massive fan of IMAX as you can tell.
(I was wearing an IMAX t-shirt)
Me: Me and him (pointed to a friend) actually traveled to London to see Episode VII in 15/70mm.
Rian: That's awesome man.
Me: Yeah well me and him (pointed to a different friend) want to be cinematographers so were projection junkies.
Rian: That's cool. Did you meet Steve yet? He'd love to talk to you about IMAX.
Me: I didn't see him anywhere but I think we're leaving now so just tell him that there's an Irish guy who's a big fan of his and IMAX.
Rian: Ok man, take care.
Me: Thanks again.
After that the guys went to another pub where they again saw Daisy Ridley, and that's pretty much how their extraordinary evening ended.
It is still unclear why they need yet another actor playing Chewbacca except Joonas. Probably he will be doing some more intense stunts? Who knows.
Special thanks to Ronan, Bryan, Conor and Kevin for this truly amazing story. We're so jealous. 🙂