Several Interesting Offers and Promos for Star Wars Day
Check out these cool promos and offers for Star Wars Day. There is something for everyone…

From our friends at Star Wars Insider Magazine:
It's our favorite time of the year where we get to celebrate everything Star Wars and to mark this special occasion, we have some fantastic offers available across all of our Star Wars magazines!

Celebrate May the 4th by taking out a subscription to one of our official magazines. We have Star Wars magazines for all the family whether you are a young Padawan, rebel scum, or you have been seduced by the dark side. You can save up to 40% on the cover price, but act now because this biggest ever saving is available today only!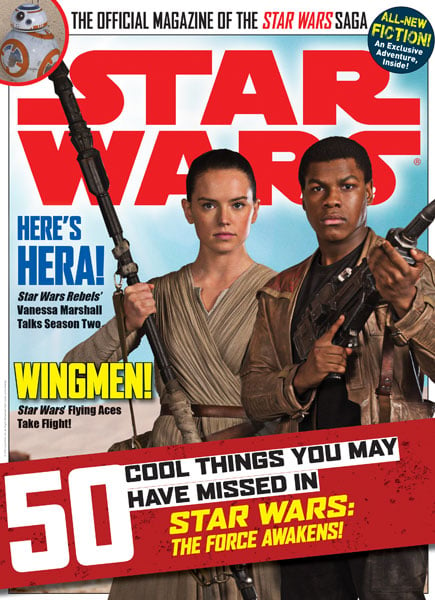 Star Wars Insider Magazine
SAVE 40% ON THE COVER PRICE! GET 8 ISSUES OF STAR WARS INSIDER FOR ONLY $38.50!
Take advantage of our exclusive Star Wars Day offer and with the best saving possible. Get the next 8 issues of Star Wars Insider for just only $38.50. That's over $25 off the full price! Act now – this offer ends May the 5th!
Star Wars Rebels Magazine
SAVE 30% ON THE COVER PRICE! GET 6 ISSUES OF STAR WARS REBELS FOR $20.99
The all-new companion to Disney XD's award-nominated, hit T.V. show!
To celebrate May the 4th, you can save 30% on the next 6 issues of Star Wars Rebels Magazine.
Star Wars Jedi Master Magazine
SAVE 25% ON THE COVER PRICE! GET 6 ISSUES OF STAR WARS JEDI MASTER FOR $22.50!
Packed full of facts, puzzles, games and character profiles from the entire Star Wars saga, Jedi Master is the ultimate guide to the galaxy for all young Star Wars fans! For one day only, readers in the US and Canada can get the next 6 issues for just $22.50, saving 25% on the cover price!
Find out more here: http://bit.ly/SWMY416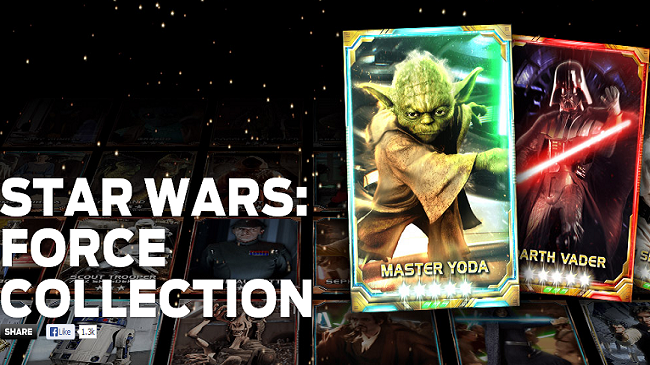 Konami Digital Entertainment celebrates Star Wars day, with new Star Wars: The Force Awakens content to their mobile title, Star Wars: Force Collection (SWFC):
Konami Digital Entertainment, Inc. announced today that its popular mobile title, Star Wars™: Force Collection (SWFC) released new content inspired by Star Wars™: The Force Awakens™, including new in-game events and card packs to celebrate the official Star Wars Day.
As a special bonus, Star Wars: Force Collection is also giving away an exclusive 5-star card of R2-D2 from Star Wars: The Force Awakens to all players who log in (limited time only). The mobile title will also introduce new events to help players progress as well as additional PvP-based elements for enhanced competitive gameplay.
· New Cards from Star Wars: The Force Awakens: 5-star: R2-D2 (free for all players!) and 5-star: Rey, Kylo Ren
· "Star Wars Day" Card Pack – 5-star card guaranteed with purchase of this card pack!
· New events: "Strike on Starkiller" — Fight with other players to defeat the Starkiller Base and earn special rewards, and Expanded Borders: "Starkiller Base" – Defeat Finn and Captain Phasma to earn their 4-star cards
· Gameplay-Enhancing Features: Additional formation slots, Class 14 added to Proving Grounds, Legions at War Rankings Data, "Hangar" and "Card Binder" items for purchase
Star Wars: Force Collection is a card battle game that takes place in the Star Wars universe. Players take command of more than 400 heroes, villains and vehicles, including Darth Vader and Luke Skywalker. Create your own deck of formidable battle formations and face off against rivals throughout the world in real-time Legion battles.
Star Wars: Force Collection is available now at the iTunes App Store for iPad®, iPhone® and iPod touch® and Google Play for Android™ devices. For more information, please visit http://www.starwars.com/games-apps/star-wars-force-collection.
Our friends from Fathead would like to offer you a first look at the new product launching in celebration of this highly anticipated day!
Fathead wall decals capture the force with stunning artwork in a moveable and reusable product. Made with a self-adhesive backing, these graphics make installation as easy as peel and stick and allow you to easily remove any decal and change its location. Plus with all of the additional decals you receive, you can create a whole Star Wars themed room!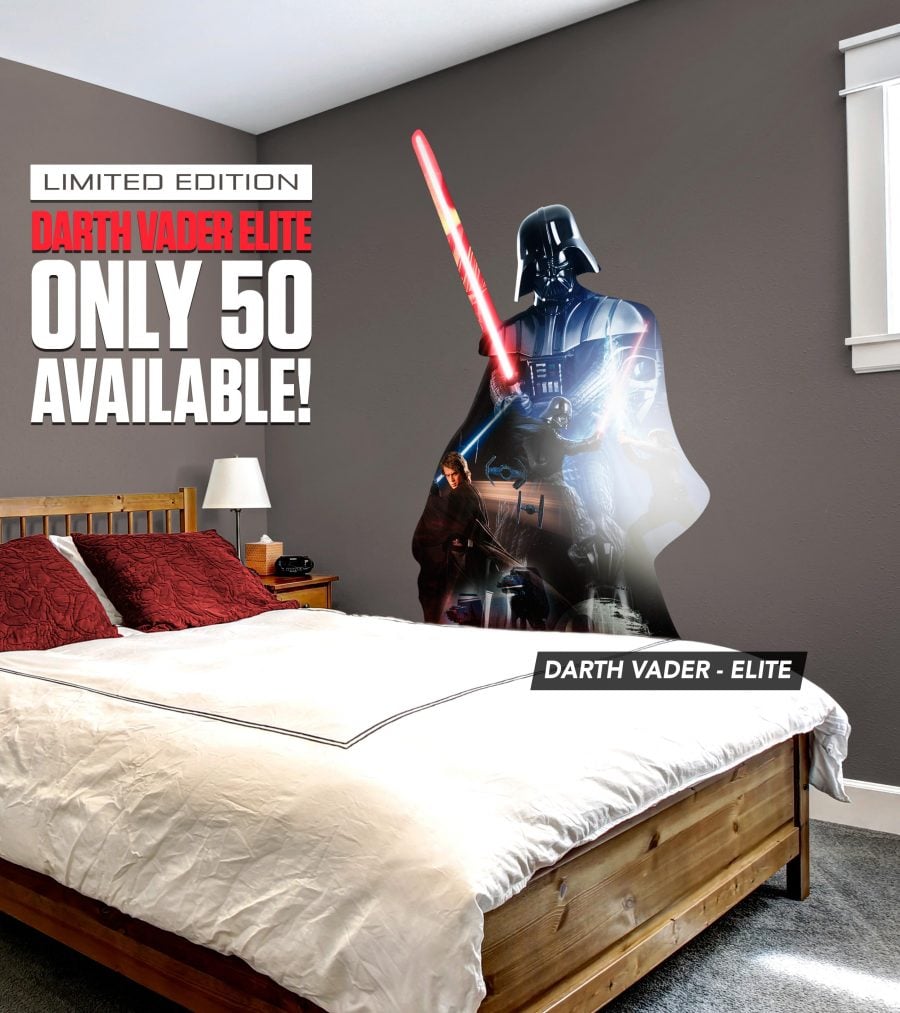 Check out the NEW Star Wars Fathead wall décor above just in time for Star Wars Day™! This is a LIMITED EDITION* Darth Vader – Elite Fathead, with only 50 units available. (*Limited quantity. Will not be reprinted.)
Find out more at: fathead.com/star-wars/may-4th/

For those of you who have been waiting to enjoy Marvel's Star Wars comics, Comixology has Star Wars Vol. 1, Darth Vader Vol. 1, Kanan Vol. 1, the Princess Leia mini-series, and Shattered Empire all for $4.99 USD each today only in celebration of May 4th. It's a good time to jump on board with the comics if you've been holding out. Each Volume contains 5 or six issues, so you're basically getting comics for a dollar. They also have a few Legends trades available at discount today.
Spencer's is going rogue! The North American mall destination for lifestyle and licensed fan gear has stolen the blueprints for the Death Star and used them to create their newest Star Wars-themed collection—right in time for May the 4th!
Featuring hats, tees, wallets, and more with the iconic symbol of the Galactic Empire, the new line is perfect for casual Fridays at the rebel base or aboard the universe's most feared battle station. In addition to the accessories, Spencer's is also introducing the Death Star Plasma Ball, so diehard fans can channel the Emperor's power without actually destroying anyone.
The Death Star collection hits SpencersOnline.com and all 680 retail locations in the U.S., Canada, Tatooine, Naboo, Coruscant, Alderaan, and Cloud City on May 2.
Star Wars: The Force Awakens will be available to rent starting today, right on schedule for May the 4th! In celebration of this, FandangoNOW has a new offer available: Rent Star Wars for only $4, from 5/4 through 5/9.