UPDATE! SWNN Giveaway: May the 4th Be With You With SwimWays' Line of Pool Toys!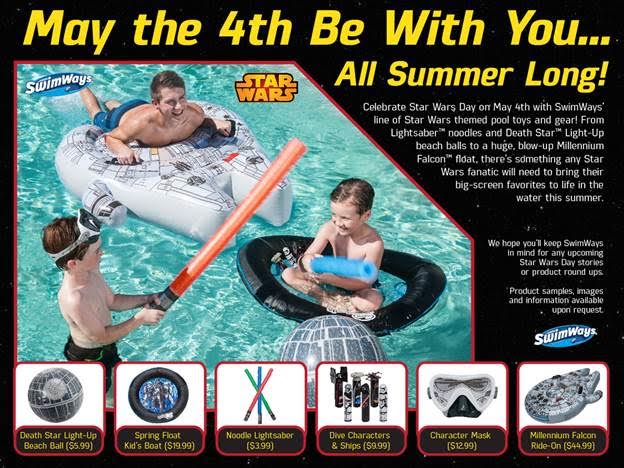 Celebrate Star Wars Day with SwimWays' line of Star Wars themed pool toys and gear! From Lightsaber noodles and Death Star Light-up beach balls to a huge, blow-up Millennium Falcon float. Answer a question and one of these could be yours…
Thanks to SwimWays, one of the following pool toys could be yours:
STAR WARS MILLENNIUM FALCON RIDE-ON
Blast through the pool just like Millennium Falcon co-pilots Han Solo and Chewbacca on the Star Wars Millennium Falcon Ride-On. This durable vinyl ride-on features 2 heavy-duty grab handles. Inflatable float is over 5 feet long! Actual inflated dimensions are 61 in. X 46 in. X 13 in. Available at Leslie's Pool Supply.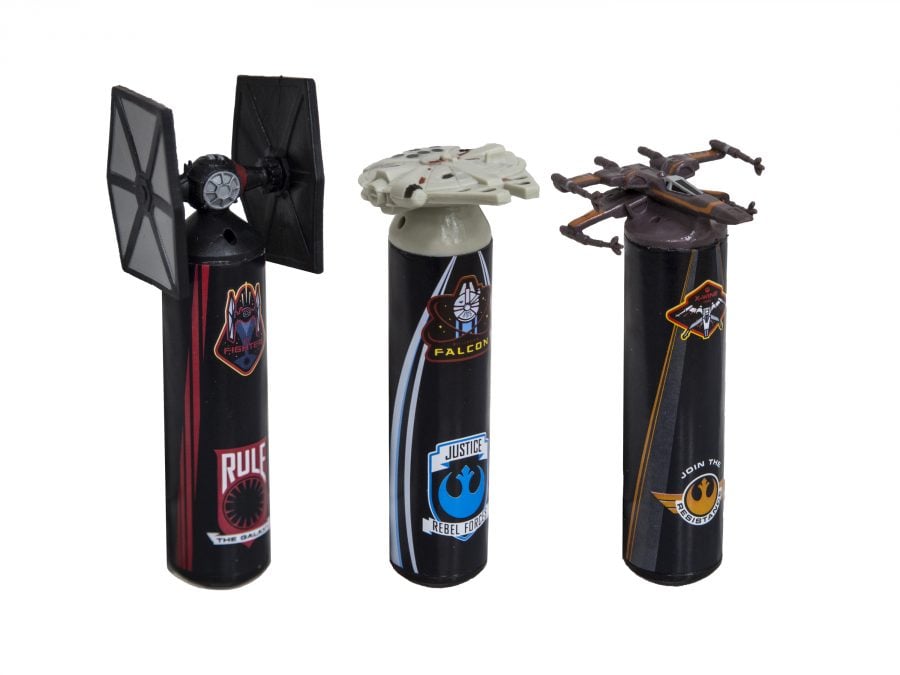 STAR WARS DIVE SHIPS
Star Wars Dive Ships from SwimWays are a collection of 3-D molded dive sticks featuring popular ships from the Star Wars movies! Great water toys for swim practice to encourage new swimmers or to play with out of the pool on a rainy day. This set of dive toys comes in the new Star Wars: The Force Awakens (Episode 7) packaging, making it a great gift for the Star Wars collector, too! Three ships in every pack, one each of Tie Fighter, Millennium Falcon and X-Wing Fighter. Available at Target, Toys"R"Us and Walmart.
STAR WARS LIGHT-UP BEACH BALL
There's no escape from the Galactic Empire when the Star Wars Death Star Light-Up Beach Ball from SwimWays invades your pool! This inflatable beach ball looks like the infamous spacecraft from the Star Wars films. Impact-activated LED lights inside create a cool nighttime effect and show off the details of the Death Star graphics. Grab a few for your next Star Wars themed party – your guests will love it! Also makes a fun gift for the Star Wars collector. Includes (non-replaceable) button cell batteries. Sold individually.
Important: This contest is only for US residents. All you have to do is to fill out the form below (if you're on a mobile device you will see a link to the form named "A Rafflecopter Giveaway"), and answer the question from it in our comments system. The e-mail you use to sign in the form is the e-mail that we will contact if you win the prize. So make sure to use a valid and active e-mail. Also if you win, you will have to point us to your comment. Good luck!
UPDATE!
The three winners have been randomly picked. You can see their names in the form above. Congrats!