Star Wars Battlefront: Spring Update Plans & Bespin Expansion Revealed.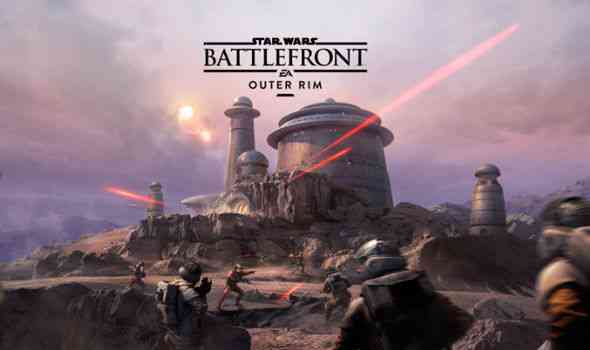 Star Wars Battlefront developer DICE have just unveiled a handful of details on what they have planned for Spring 2016 as far as free DLC and in-game bonuses go. In addition to these updates, a few major details regarding the forthcoming Bespin expansion (and the expansions that will follow) have been unveiled.
According to the official Star Wars Battlefront website, current plans for the game's new content in Spring include:
New In-Game Events – more double score weekends, community missions and Special Login Events are coming for players to earn more experience, credits and items.
New Hutt Contracts – Unlock powerful Star Cards like the Berserker Trait, Bacta Bomb and Ion Neutralizer.
More New Content – We also have a couple of surprises in store that we know our fans have been looking for, especially those who have been clamoring for ways to have more options to enjoy Star Wars Battlefront offline. More to come soon.
Specific for May the 4th – In celebration of Star Wars™ Day we have cool activities planned that we'll announce soon.
But that's not all. The post reveals that there will be four new maps and two new heroes in the Bespin expansion, and four more heroes added to the game in subsequent expansions after that.
This June, Season Pass holders will also receive our second digital expansion pack, Star Wars™ Battlefront™ Bespin. We're taking players in and around Cloud City, with four new maps for all of our most popular modes. You'll see AT-ATs in Cloud City, take to the skies in Fighter Squadron, and even spend time in a carbonite chamber. Of course, we're also adding more blasters and Star Cards, a new game mode, and two new iconic characters we're really excited about – Lando Calrissian and the cold-blooded bounty hunter, Dengar. Speaking of heroes, we know they have been one of the things you most like about the game; we're happy to confirm that there will be eight total heroes included in the Star Wars Battlefront Season Pass (which includes Greedo and Nien Nunb released with the Outer Rim pack) – two more each in both the Death Star expansion and our yet-to-be-revealed fourth expansion pack. More on the heroes to come this summer.
Stay tuned to Star Wars News Net: your Force for news for the latest and greatest updates about the Galaxy Far, Far Away.
Grant has been a fan of Star Wars for as long as he can remember, having seen every movie on the big screen. When he's not hard at work with his college studies, he keeps himself busy by reporting on all kinds of Star Wars news for SWNN and general movie news on the sister site, Movie News Net. He served as a frequent commentator on SWNN's The Resistance Broadcast.