Springfield Symphony Orchestra One of the First to Play John Williams' TheForceAwakens Score
The force is strong in the Springfield Symphony Orchestra. In May, the Orchestra will launch into hyperspace being one of the first to play new cinematic music from Star Wars: The Force Awakens. The concert will feature the score written by legendary Star Wars film composer John Williams.
Springfield Symphony Orchestra Music Director and Conductor Kevin Rhodes will lead the SSO in its "Season Grand Finale" concert on May 7. The finale will be getting the Force… as in music from the massive blockbuster Star Wars Episode VII: The Force Awakens. The Symphony announced Monday it will be one of the first orchestras to play John Williams' newest score in the world.
It's the Symphony's final concert of the year, said Symphony director Kyle Wiley Pickett, in a news release announcing the concert.
"I'm especially excited to announce that we will be playing the music from the new Star Wars film, 'The Force Awakens.' The music is hot off the presses and we are literally one of the first orchestras in the world to get to perform this new score for an audience."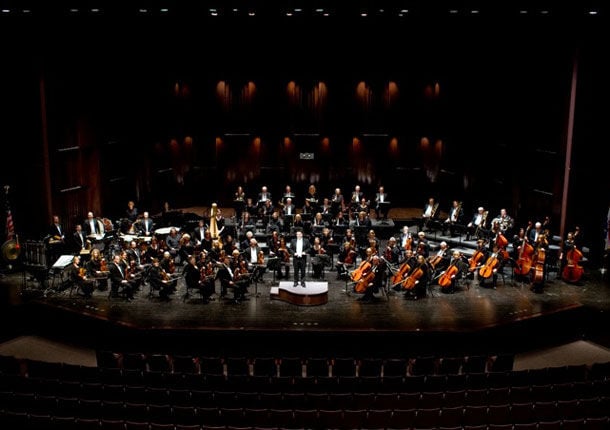 The Symphony Orchestra is known for playing scores from films like – "Born on the 4th of July," "Saving Private Ryan," and "JFK" – but they also showcase stirring theme Fantasy and adventures selections as well. Some of their selections range from the uplifting "Flying Theme" from "E.T." to the ominous "Jaws Suite." and the blockbusters "Jurassic Park," "Harry Potter," "Raiders of the Lost Ark" and "Superman." The rousing "Raiders March" is always received well by the crowd of old and young alike. However, the most popular music that grabs the most attention and ovations is from "Star Wars".
Conductor Kevin Rhodes noted that he was 12 years old when he got hooked on the two-record score of George Lucas' 1977 space opera.
"That's why I became a conductor," he told the crowd a crowd earlier this year season.
Recently, the Orchestra has brought down house with Star Wars music featuring the "The Forest Battle" (Concert Suite) from Star Wars: Return of the Jedi and "The Imperial March" or "Darth Vader's Theme" from Star Wars: The Empire Strikes Back.
What's your favorite music from 'The Force Awakens' and the previous Star Wars films?
Discuss it below or in The Cantina forum.
For more information check out the Springfield Symphony Website.
Source: Buffaloreflex, Masslive