Star Wars: The Force Awakens – "Traitor Trooper" Officially Named & Given Backstory.
The internet-famous "loyal Stormtrooper of sick spins" from Star Wars Episode VII: The Force Awakens – affectionately called "TR-8R" or "TR8-T0R" by fans – has been given an official name and a backstory (because why not). As it turns out, the Stormtrooper had a personal connection with FN-2187 (or "Finn", as we know him), and there's a good reason as to why he drops his blaster in favor of a stun baton.
From the official Star Wars website:
His name is FN-2199. But his friends call him "Nines." As detailed in Greg Rucka's excellent book Before the Awakening, Nines trained and served on a squad with Finn (then FN-2187) in the First Order. That explains why he seems just a little extra angry upon seeing Finn during the attack on Maz's Castle. You can see FN-2199 in the image below by Phil Noto from Before the Awakening — he's the trooper seated in the background with red hair. Who'd have thought?

There's a reason that Nines gets to use an awesome weapon (which is called a Z6 baton). He's riot control, and part of an elite squad that enforces order or squashes uprisings. While their weapons are non-lethal in theory, the Z6 can definitely cause harm or kill an opponent when used with brute force. Look, if a lightsaber can't cut it, you know it ain't good news.
The site also revealed that FN-2199's voice was provided by David Acord, who has been involved with sound editing for Attack Of The Clones, Revenge Of The Sith, and The Force Awakens, along with the television series The Clone Wars and Rebels. The actual stuntman, however, was Liang Yang, whose credits include Skyfall, World War Z, Edge Of Tomorrow, and Kingsman: The Secret Service. There's one more thing of note within the article itself, though…
Let's hope we haven't seen the last of Nines. Or TR-8R. Who wouldn't want to see round two…and all the memes it could inspire?
We're all rootin' for you to make a comeback for Episode VIII, FN-2199! Maybe you could even teach your boss – Captain Phasma – a thing or two about stamping out traitors. For now, however, here's a .GIF of Nines pulling off some sick spins for good measure.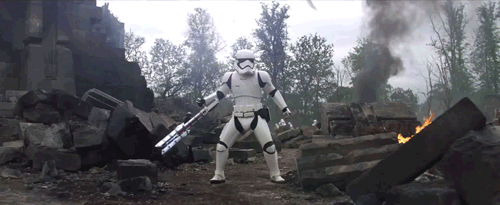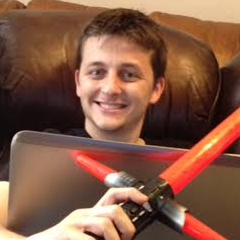 Grant has been a fan of Star Wars for as long as he can remember, having seen every movie on the big screen. When he's not hard at work with his college studies, he keeps himself busy by reporting on all kinds of Star Wars news for SWNN and general movie news on the sister site, Movie News Net. He served as a frequent commentator on SWNN's The Resistance Broadcast.