Listen To 13+ Minutes of Previously Unreleased Music From Disney's The Force Awakens Oscar Promo Album!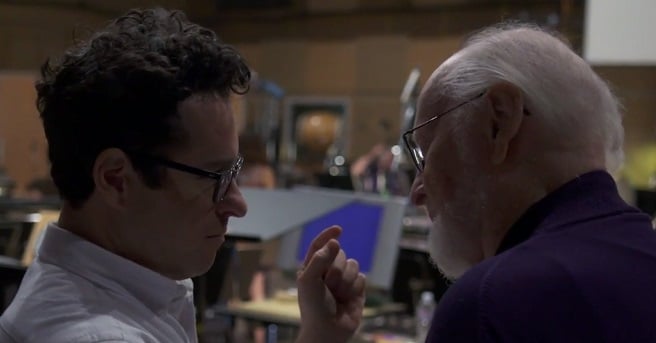 The John Williams Fan Network is reporting that copies of a promo "For your consideration" CD with The Force Awakens soundtrack have been distributed among members of the Academy of Motion Picture Arts and Science. This release features 13+ minutes of new previously unreleased music…
From JWFAN:
A promotional ('For Your Consideration') 68-minute album with over 13 minutes of music not included on the original soundtrack of Star Wars: The Force Awakens has been released on Disney's Awards website. The music is available in free streaming through the website, but can also be downloaded in MP3 format from individual track links (see below) – Visit this page in our forums for a complete cue list of the score, with details on the unreleased cues, chronological order of the OST, and how to create an expanded edition combining the OST and the FYC.
The site also shared the full track list and download links:
01 The Attack on the Jakku Village Part 1 (5:27)
02 The Attack on the Jakku Village Part 2 (1:53)
03 The Scavenger (1:52)
04 Lunchtime (1:12)
05 I Can Fly Anything (4:09)
06 Finn's Trek (1:35)
07 Follow Me and The Falcon (7:09)
08 The Rathtars (1:19)
09 Snoke (2:07)
10 You Got A Name? (1:32)
11 I'm No Hero (1:06)
12 The Starkiller (1:52)
13 Kylo Ren Arrives at the Battle (2:15)
14 The Resistance (1:35)
15 The Abduction (1:35)
16 Finn and Poe, United (2:01)
17 The Bombing Run (2:07)
18 On the Inside (2:54)
19 Torn Apart (4:24)
20 The Ways of the Force (3:58)
21 The Journey Home (2:18)
22 Farewell and The Trip (3:49)
23 The Jedi Steps and Finale (9:58)
TOTAL TIME – 1:08:07
Go to JWFAN for the direct links to the file downloads.