UPDATE 2! Star Wars: The Force Awakens Has $120.5 Million Friday, $68.7 Million Saturday, & $48.8 Million Sunday!
Star Wars Episode VII: The Force Awakens just keeps finding new records to break as the movie overcomes the single-day record set by Harry Potter And The Deathly Hallows – Part 2 (in addition bulldozing to that movie's record for largest late-night opening gross). Even better is that the movie has now set the record for the largest opening weekend in the United States with an amazing $238 million gross.
The Force Awakens has currently amassed over $120 million according to Box Office Mojo. The film is currently on track to make anywhere between $220-260 million on its opening weekend (or, optimistically, $270-310 million), which when combined with overseas grosses and keeping the cut theaters get in mind would greatly clear the movie's $200 million production budget. Should the movie get that far (and, let's face it, it probably will), it will beat the already-impressive $209 million record for biggest opening weekend that Jurassic World set this Summer. (Director Colin Trevorrow probably won't feel bummed out about Star Wars stealing his movie's thunder, given that he'll be directing Episode IX in a few years.)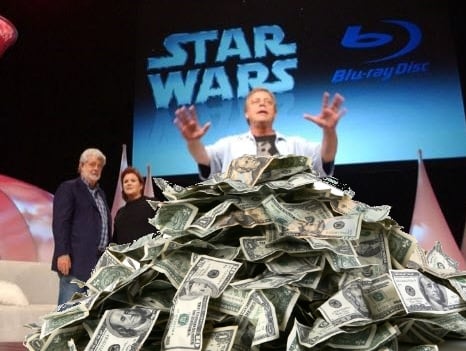 The money made from the first day alone sets it as the biggest December opening weekend of all time, greatly surpassing The Hobbit: An Unexpected Journey's $85 million opening. The film has also set a record for fastest time to reach $100 million in the United States – just under 21 hours. It's no slouch overseas, either – the movie is said to have made at least $129 million overseas in its first three days, and that's without the ever-important market of China. A few of the records that the movie has the potential to break include largest Saturday gross, largest Sunday gross, largest holiday season opening weekeend, largest opening weekend for a PG-13 film, and largest December opening weekend. Disney is still reportedly adding theaters to accommodate for the massive demand this movie is generating, so the future looks very bright for The Force Awakens.
UPDATE 1!
And now new reports are coming in from Deadline, stating that The Force Awakens has had an excellent Saturday with an estimated $65.5-68.7 million in ticket sales. If we were to count the $57 million gained from Thursday screenings as a separate day from the $120.5 million Friday that it's otherwise lumped into, then Friday's gross would be $63.5 million – meaning that there was actually a bit of a jump up in sales from Friday to Saturday. This estimate currently has the film set at approximately $186-189.2 million, leaving it about $20-23 million away from breaking the record set by Jurassic World earlier this year. The movie's projected opening weekend from this report is an absolutely staggering $238-244 million.
UPDATE 2!
Reports have come in supporting the $238 million estimate for the film's gross in the United States. (Note that as an estimate, the final numbers might be a little bit different than this.) Abroad, the movie scored $279 million, meaning the total for the debut was a $517 million haul. That leaves The Force Awakens with the largest domestic opening of all time, the second-largest worldwide opening of all time, and the third-largest international opening of all time. Other records that have been broken include the shortest amount of time for a film to make $200 million in the United States, highest per-average theater average ($57,568 per theater), and biggest IMAX debut of all time. The movie also had the best opening weekends of all time in the United Kingdom, Russia, Australia, Germany, Sweden, Norway, Finland, Austria, Denmark, Romania, Hungary, Bulgaria, Croatia, Ukraine, Iceland, Serbia, and New Zealand.
Stay on target with Star Wars News Net as we continue to cover TFA's incredible box office performance and more of the latest and greatest news stories regarding the Galaxy Far, Far Away.
Grant has been a fan of Star Wars for as long as he can remember, having seen every movie on the big screen. When he's not hard at work with his college studies, he keeps himself busy by reporting on all kinds of Star Wars news for SWNN and general movie news on the sister site, Movie News Net. He served as a frequent commentator on SWNN's The Resistance Broadcast.