New Image With Finn and an Illustration with Max von Sydow's Character from Star Wars: The Force Awakens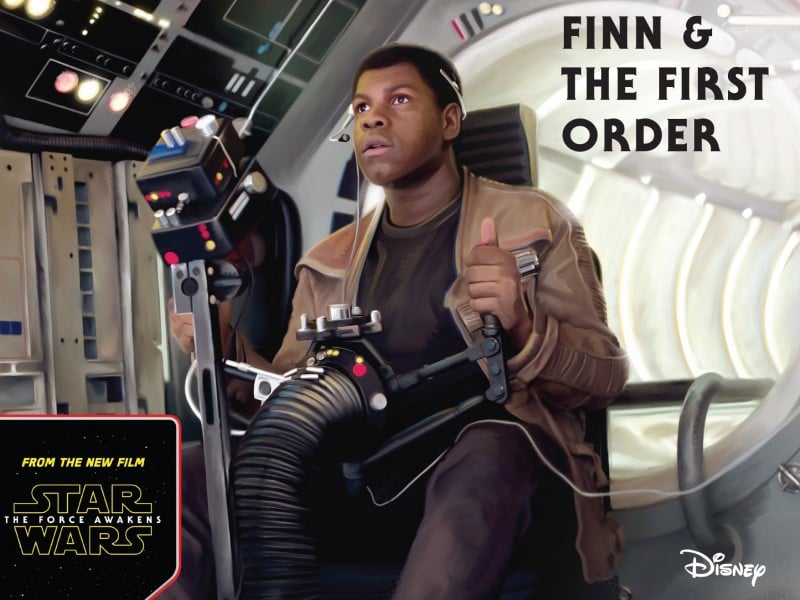 The guys from Jedi-Bibliothek.de got their hands on two new book covers from the Journey to Star Wars: The Force Awakens series, which reveal new image with Finn taking gun point in The Millennium Falcon, as well as what appears to be our first look (book illustration) at Max von Sydow's character in official promo material…
The first book with Finn on the cover is titled "Finn & The First Order" and is from the World of Reading series:
The more interesting cover is the one from yet another "Look $ Find" book, which showcases 4 illustrations depicting different sequences from the movie:
Top left is the outside of the Resistance Base that was shot at Greenham Common, featuring Han Solo and Chewbacca. Top right is the interior of the same base with Leia, Han, Finn, Ackbar and several other familiar faces. Bottom left is Maz Kanata's castle with the creatures we've seen from the pages of Vanity Fair. And in the bottom right you can see Poe Dameron and BB-8 speaking with an old man that looks exactly like Max von Sydow's character.
As you probably remember during our first podcast episode we showed you a sketch with Max von Sydow's character and how exactly he will appear in The Force Awakens (HERE).
From this illustration it seems that Poe is seeking a secret council with MvS's character during the First Order purge of the village.