SWNN Review: Marvel's Star Wars #10
Han and Leia on the run from the Empire. Luke in peril on the Smuggler's Moon. Chewie and Threepio to the rescue! And so the saga continues…
Well, it certainly has been a busy day for Marvel with the release of not one, not two, but four Star Wars related issues – one of them of course being the tenth issue of the titular series – a series that has been shaping up really nicely in recent issues, compared to its mediocre beginnings.
The issue begins with Han and Leia on board Sana's ship, the Volt Cobra, on the run from Imperials. After a lot of back and forth banter between the three, the trio are finally able to make the jump to hyperspace. Unfortunately, we still don't get full disclosure on the Sana and Han relationship, but we do get a little snippet about a supposed "marriage" that took place on Stenness.
It's pretty clear from the exchanges between Sana and Han, with her constant use of the word "husband" with a smirk on her face and his beligerent denial of the legitimacy of said union, that Han is not actually married to this woman. Hopefully in the next issue or so, we will finally be able to put this plot thread to rest as it is starting to become a little bit tiresome, even if it does add some fun tension between Han and Leia. They eventually receive a transmission from the Alliance about Luke being in trouble on Nar Shaddaa, and off they go to help their friend.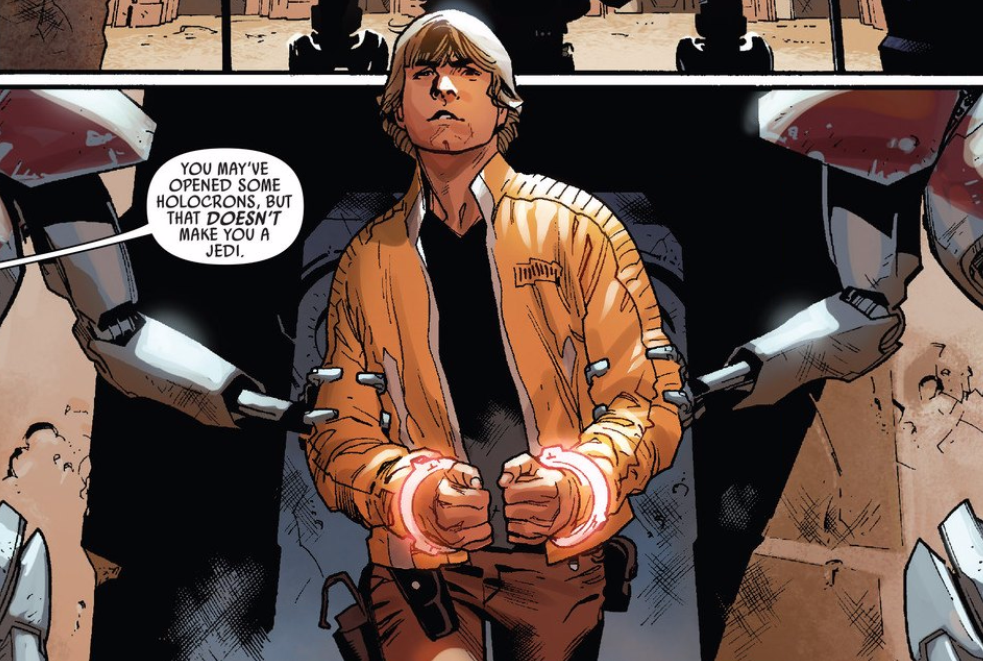 Meanwhile, on the Smuggler's Moon, we see Luke being escorted by Magnaguard droids into a coliseum type arena under the orders of Luke's captor Grakkus the Hutt, the gigantic Hutt with spider legs and connoisseur of Jedi artifacts we were introduced to in the last issue. Apparently, Grakkus has big plans to exploit Luke's gladitorial style death in his arena and expects big profit from those who want to witness the death of the last Jedi in person. Luke is introduced to the Gamemaster, a gladiator trainer of sorts, and we see a glimpse of the monster he will surely be pit against in the next issue.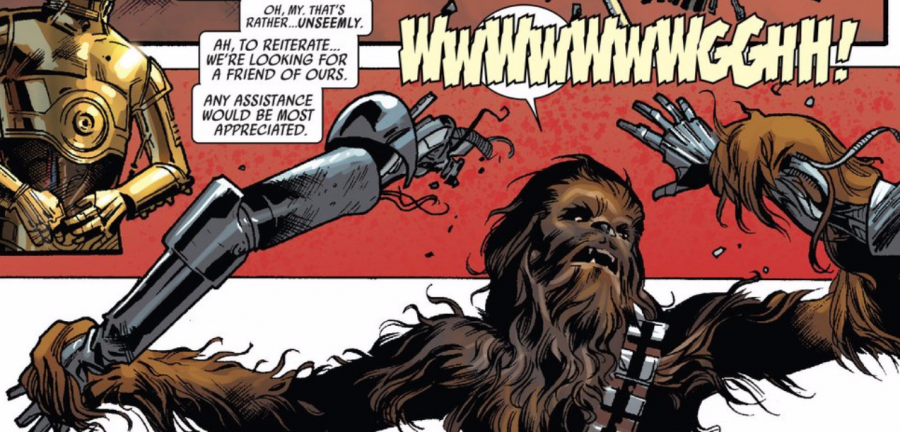 The issue also follows Chewbacca and C-3PO as they bring the Falcon to Nar Shaddaa to rescue Luke. After Chewbacca gets information about Luke's whereabouts from the local miscreants as only a Wookiee could, by of course – ripping people's arms out of their sockets – he sets out to find Luke at Grakkus' palace.
The issue ends in a cliffhanger of sorts with all of the main characters converging on the Smuggler's Moon and an interesting last couple of frames that reveal a new threat on the rise for the mighty Chewbacca. This issue was definitely a building block, a stepping stone, in the overall story.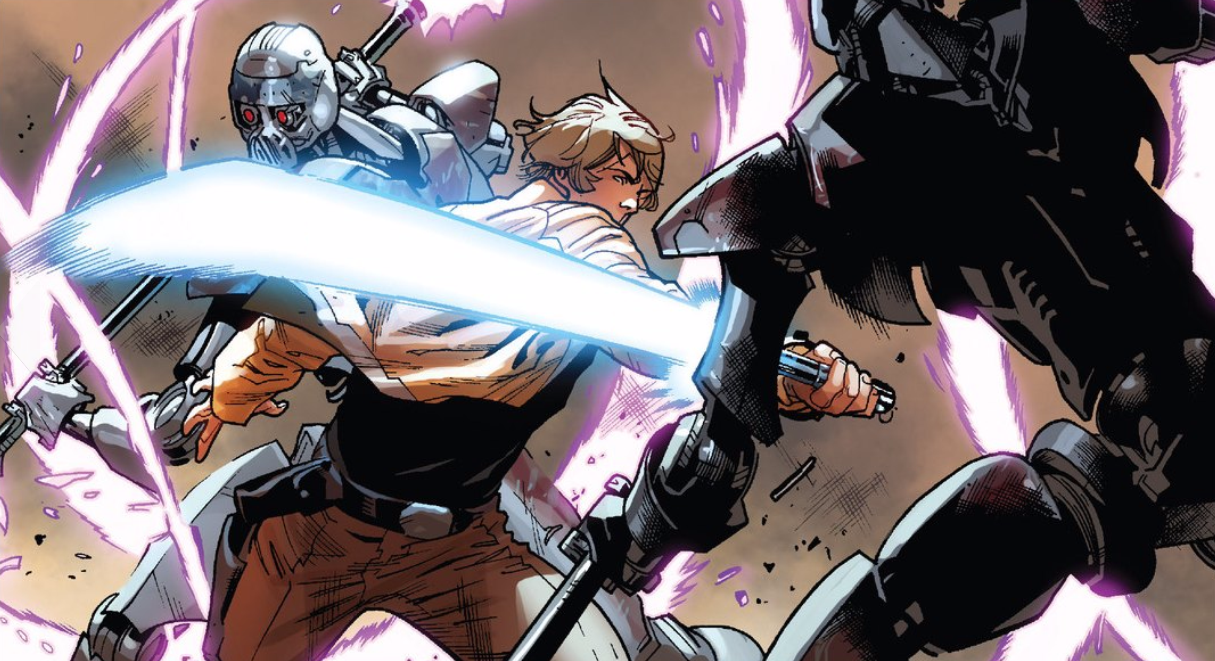 Although not much here to write home about, we do seem to have a nice little set up going on that I'm hoping will lead to an explosive second half of this arc. Even though this series got off to a slow start, it is definitely picking up steam, and with the second arc of the series nearing its climax, its a great time to check it out if you haven't already.
You can order a digital copy at Marvel.com or at Comixology.com, or visit the nearest comic book store.
Jordan Pate is Co-Lead Editor and Senior Writer for Star Wars News Net, of which he is also a member of the book and comic review team. He loves all things Star Wars, but when he's not spending time in the galaxy far far away, he might be found in our own galaxy hanging out in Gotham City or at 1407 Graymalkin Lane, Salem Center, NY.