New Remote Control BB-8 Replica From Sphero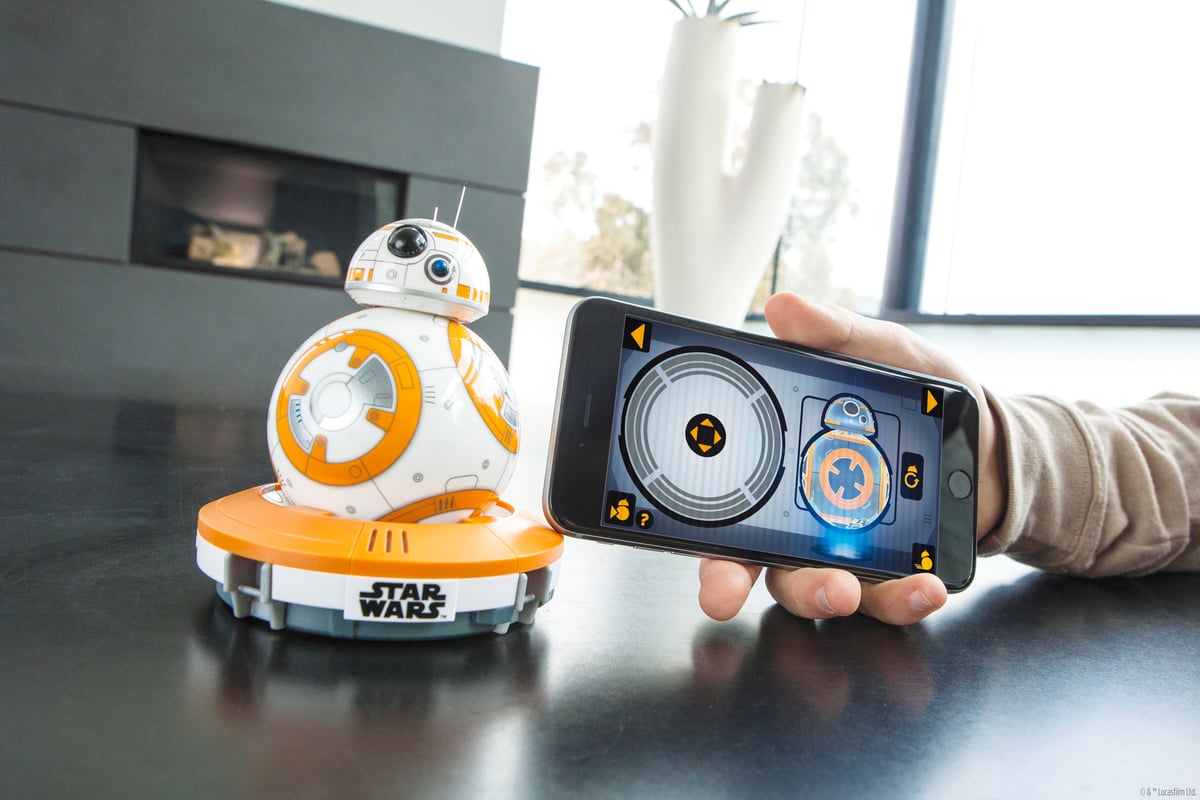 With Force Friday upon us and a veritable galaxy of new Star Wars: The Force Awakens toys being released, we wanted to highlight one of the most impressive ones of the lot—Sphero's app-enabled BB-8 replica. Sphero was kind enough to send us one to check out for ourselves, and we've got more details and a video of the little fellow in action waiting for you after the jump…
BB-8 is poised to become one of the newest stars from our favorite galaxy far, far away once The Force Awakens opens on December 18th. We've already caught a few glimpses of him, of course. The two short teasers for the film have featured him, and during the TFA panel at Star Wars Celebration this past April, Colorado-based Sphero made quite a splash as they debuted their full-sized remote-control version of BB-8, designed specifically for public appearances.
And now, Sphero has created an interactive miniature version of the rolling gyroscopic astromech that you can operate from your smartphone. Take a look for yourself:
As you can see in the video, Sphero has incorporated voice control into BB-8, as well as a number of built-in emotive reactions that reflect BB-8's personality in TFA. With most of the film still being kept a secret until its December release, the emotes included in the initial version of the BB-8 replica will be limited. However, Sphero expects to add new content once the movie is out.
Here's Sphero's official press release for the toy:
Meet BB-8™ – the spherical, loyal Astromech Droid™ of Resistance pilot Poe Dameron. The app-enabled BB-8 is as authentic to the Star Wars™ galaxy as it is technologically advanced. Set it to patrol and watch your Droid explore autonomously, make up your own adventure and guide BB-8 yourself, or create and view holographic recordings. BB-8 has something unlike any other robot – an adaptive personality that changes as you play. Based on your interactions, BB-8 will show a range of expressions and even perk up when you give voice commands. BB-8 is more than a toy – it's your companion.
With a suggested retail price of $150, Sphero's app-enabled BB-8 may be one of the pricier Star Wars toys of the Force Friday wave, but it'll also be a pretty tough one to resist. They've done a fantastic job in creating a working replica based on the same technology used in the full-size model that we saw at Celebration. And though we still don't know much about what BB-8 will be like in TFA, Sphero seems to have captured a lot of the personality of the little droid—no mean feat, considering that it's essentially a plastic ball topped with an astromech dome!
The little fellow is a lot of fun to send rolling around and exploring your home, and with the prospect of additional content being released for him once the film is in theaters, it will be interesting to see what else he'll be able to do as time goes on. (We're also looking forward to hearing about your experiences with BB-8 should you choose to pick up one of your own.)
The BB-8 App Enabled Droid by Sphero will be available starting Force Friday in the US at: Disney, Sphero.com, Apple, Brookstone, BedBath&Beyond, Best Buy, Marbles, Sprint, Amazon.