SW7N Review: Smuggler's Run, Moving Target, & The Weapon Of A Jedi Reviews.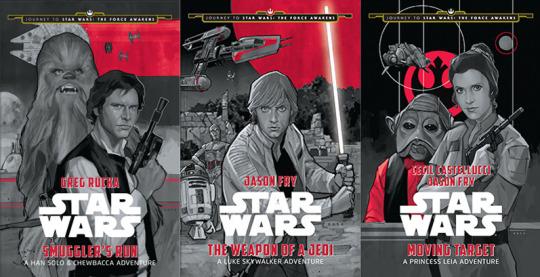 Pomojema here with a three-in-one review of the junior novels currently included in the Journey To The Force Awakens line – Smuggler's Run: A Han Solo & Chewbaca Adventure by Greg Rucka, Moving Target: A Princess Leia Adventure by Jason Fry and Cecil Castellucci, and The Weapon Of A Jedi: A Luke Skywalker Adventure by Jason Fry.
I will start off by saying that if you want to learn the most about what the setting for the Sequel Trilogy is going to be like, the prologue and epilogue sections of these three novellas will probably be the most enlightening out of all of the Journey To The Force Awakens books. While prologue/epilogue chapters are all pretty brief, they manage to say a lot about the Resistance and the criminal underworld – which is something that Lost Stars, Aftermath, and Shattered Empire only hint at, since they are very distant prequels to the new movie. These three books form a spiritual trilogy in and of themselves, and that's why I felt as though it was worth discussing them collectively as opposed to individually. In addition, all of these are fairly quick reads, so I thought that it would be best to cover them each quickly as opposed to going too in-depth. As a whole, considering that these books are targeted at kids in particular, I was surprised at the level of detail and depth that was tucked into these novellas – namely, the space battles, which bring up quite a few interesting aeronautical terms into the equation.
Up first is the Han & Chewie novella – Smuggler's Run. This is a pretty self-contained, swashbuckling, space-faring adventure – the kind of thing you'd expect from a story about the two Millennium Falcon pilots. The narrative itself, which is split between the two key characters and Alecia Beck, an interesting, calculating villainess introduced in the novel. It's also really neat how the frame story ties into the ending – I won't spoil it, of course, but the result is that everything snaps in nicely into place when everything comes together. A downside to the story is that it doesn't really tell us anything new about Han and Chewie as characters – besides briefly alluding to the likely event of the re-canonization of their EU backstories – but it makes up for that by being a bliss to read for any fan of the pair. From start to finish, the book is a page-turner, and has the best pacing out of all three novellas.
Next is the Leia novella – Moving Target. This one was unexpectedly my favorite – it had a heavy emphasis on character development and how to live with hard decisions, and it's story about sacrifice and questionable morality, which it handles well. Leia is shown as someone who really doesn't like the fact that people have to die for her while she is forced by her superiors to do nothing – a conflict of quiet desperation and of personal courage. In a sense, I get the feeling that this book will come to encompass what could be the thematic core of the Sequel Trilogy as a whole. The book sets up Leia as a tactician first and and a warrior second, which I think made for a more interesting story than the standard "hero comes in and guns down the bad guys" type of narrative that Star Wars is known to have. The novel easily had the best ensemble of supporting characters – including a surprisingly snide Nien Nunb. Although this novella doesn't really promise a continuation of the narrative, I would certainly hope that there is some kind of spiritual sequel to this book.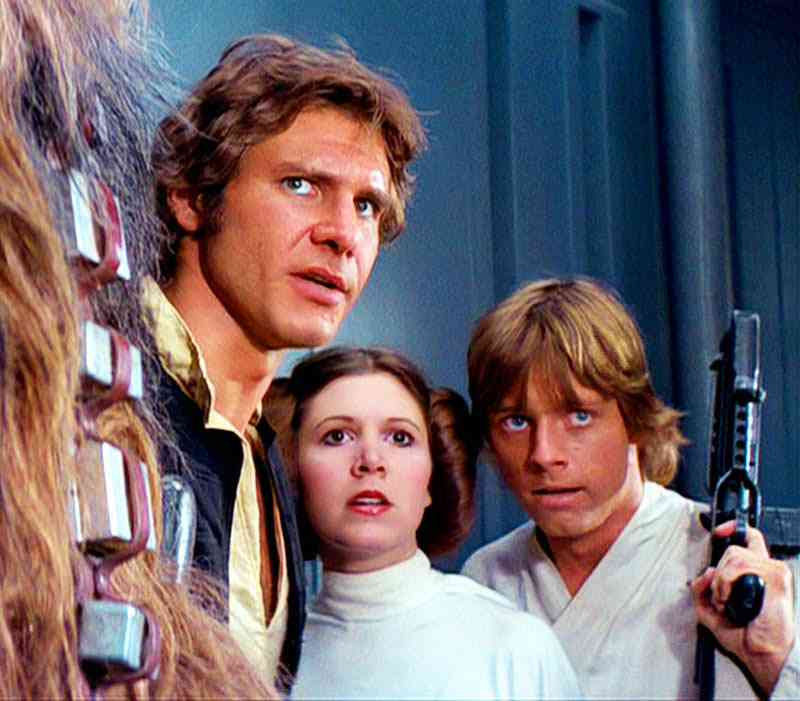 Last on our list is the Luke novella – The Weapon Of A Jedi. In terms of what to compare it to, I would say that this felt like Heir To The Jedi Lite – many of the same beats are even brought up. Sadly, the actual Jedi training featured in the story was fairly dull by comparison by the story's own limitations (since Luke only learns telepathy over the course of Heir To The Jedi, which takes place months afterward). While this book was my least favorite to read (and I liked Heir To The Jedi quite a bit), I will say that I felt as though it was the most enlightening out of the three – even if Luke himself does not appear in the prologue/epilogue, it places a lot of emphasis on his lightsaber and its legacy. It says a lot about how the writers – or rather, the Lucasfilm Story Group overseeing everything – are treating the Force itself, which is the key to pretty much everything in Star Wars. There's even a little nod to what could very well be the Knights Of Ren tucked in there, if you know where to look. Sarco Plank's implementation and subsequent characterization was interesting to see, and I can only hope that he is included somewhat prominently in Act One (or possibly Act Two) of The Force Awakens.
In short, while the three narratives aren't exactly groundbreaking, they're all fun reads that have interesting little elements teasing what we'll see from the future of this amazing franchise. Each book seems to hint at potential continuations of these stories, and I hope that they are followed up on in some capacity – perhaps in Journey To Episode VIII, presuming that that's going to be a thing. All three books are available for purchase right now. In addition, Aftermath, Lost Stars, and the first issue of Shattered Empire are also on shelves right now, so it's as good a time as any to begin the Journey To The Force Awakens.
Grant has been a fan of Star Wars for as long as he can remember, having seen every movie on the big screen. When he's not hard at work with his college studies, he keeps himself busy by reporting on all kinds of Star Wars news for SWNN and general movie news on the sister site, Movie News Net. He served as a frequent commentator on SWNN's The Resistance Broadcast.