UPDATE! It's a Wrap on the Episode VIII Filming on Skellig Michael. Rian Johnson Thanks the Locals.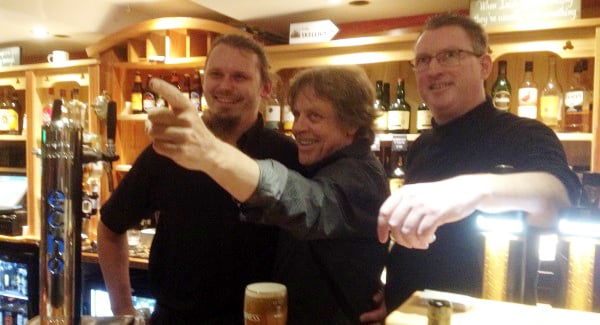 There is a very cool article posted by IrishExaminer, where you can see Mark Hamill pouring a pint in a local pub. There is also a report by Kerry's Eye, that suggests Episode VIII wraps filming today. Read on for the details…
First here's Kerry's Eye report:
A veil of secrecy surrounds the filming, but amongst the Hollywood names arriving in Kerry was British actress Daisy Ridley, who plays the lead role in the new film and the Star Wars film to be released in December.
She was spotted descending from the passenger helicopter at Con O'Shea's on Valentia Island on Tuesday evening at 7pm.

According to local sources, it is expected that filming will be finished on Skellig Michael today (Thursday), September 17th.
So it appears that they will have another day on the island and filming will probably wrap on Thursday (today),  September 17th.
In another report, the IrishExaminer has a very cool story about Mark Hamill visiting one of the local pubs:
Have you ever heard the old joke about the 'Jedi who walked into a bar'? Well that was certainly no joke last night as Luke Sykwalker stopped off in a pub in Co Kerry to lend a hand behind the bar.

"There was a great atmosphere in the bar last night as Luke Skywalker got behind the bar to give the lads a hand pouring Guiness," Steve Lynott  said.
"He was very generous with his time. Despite getting off the shoot late in the day, he stood for pictures and signed autographs for children and still had to get up early this morning for more filming."
In a tiny pub in Portmagee…. And it's only Luke Skywalker pic.twitter.com/eNwBehHOp1

— Colm Flynn (@ColmFlynn1) September 16, 2015
This story is actually very interesting. First I thought Mark shaved his beard, because he finished his scenes for the shoot. But the report says that he will have to wake up early in the next day for more filming. This could probably mean that we will see Luke on Skellig with and without beard. I really doubt that he will wake up early in the morning, and go through all the troubles to get to the island, and not shoot anything at all.    
Now the big question is, when did Luke shave his beard? 🙂    
The actor was spotted in June growing his now famous contractually obligated beard. We all thought it was for the Episode VIII Skellig Michael shoot., but maybe he did that for some pick up shots for TFA that took place in the last 3 months. The question is, did Mark arrive on the island with or without the beard.          
POTENTIAL SPOILERS AHEAD
Now I want to point you out to an article I posted back in November 2014 (HERE).    
Back then, a very credible source told us, despite the fact that the wrap party for TFA already took place, filming for the movie hasn't ended, and Mark Hamill was one of the actors who were at Pinewood during that time. And Hamill shared a photo with his beard gone just before the party, meaning that he was at Pinewood without the beard when the final days of filming took place.    
By that time I speculated that this means we will see Luke Skywalker in TFA with and without the beard. This would definitely explain why the actor is filming on Skellig now, cleanly shaven.   There are really lots of possibilities, and it's exciting how we can't have a straight answer for almost everything about the movie. The mystery box is working with full power. Great job! December 18th can't come quick enough.          
Special thanks to Terence Mulvey for the heads up.        
UPDATE!      
The Episode VIII filming on Skellig Michael is now officially wrapped. Here are director Rian Johnson's and Mark Hamill's tweets to the locals:
Huge heartfelt thanks to all the kind folks in gorgeous County Kerry for making us feel so warmly welcome. (5 adjective tweet!) — Rian Johnson (@rianjohnson) September 17, 2015
Enjoying? Ireland is simply heaven on earth! The people here treat you like family. https://t.co/ablGHoMmjr

— Mark Hamill (@HamillHimself) September 17, 2015
The Episode VIII filming will most likely continue early next year, after The Force Awakens hits theaters.