Daisy Ridley and John Boyega's Accents in Star Wars: The Force Awakens.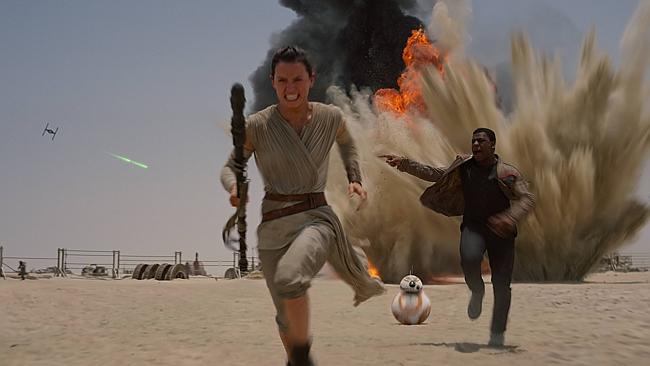 A while ago, there was a bit of leaked raw Star Wars Episode VII: The Force Awakens footage briefly showing Rey and Finn on the run from the First Order during the marketplace attack scene shown in the second teaser – both featuring the voices of their characters. For those that missed the leak, there is now official confirmation from a crew member of the movie of what accents these characters are going to use – and, in an odd way, the accents seem tell us slightly more about the story of the movie than one would think.
Andrew Jack, a dialect coach, has The Force Awakens listed as one of the movies he worked on through his official website. He supplied a degree of help on helping the cast pronounce certain alien words and to help them speak in the various alien languages created for the Star Wars Universe, but more importantly, his credit primarily concerns two cast members – Daisy Ridley and John Boyega, both of whom are British. (Ridley is also credited before Boyega; make of that what you will.) While Boyega has been known to speak in an American accent (based on information gleaned from Force Friday) before its more official listing on the site, Ridley's accent is listed is listed as "RP" – which, in layman's terms, is a posh accent.
Ridley being asked to perform with a specific British accent in mind as opposed to speaking with her natural accent is very likely done for a deliberate purpose. Canonically, the posh accent is called a "Coruscanti accent" within the Star Wars setting, which is used by several high-ranking Imperials, by people living in the "Galactic Core", and by other characters in high places (such as Mon Mothma and – briefly – Leia Organa). So with that in mind, there are a couple possibilities for speculation based on the implication of this detail.
Finn is not from a Core World. While the First Order is presumably stationed there, it's likely that their influence expands beyond one specific region – which would explain why the Resistance is prominent. It would also seem likely that the Fire Order "hires" conscripts from other worlds.
Jakku is a planet where the Coruscanti accent is inexplicably used by a significant portion of the planet's populace. While Jakku itself lies in the Outer Rim, that doesn't mean that people living in it couldn't use the accent. Rey might have picked up the accent after living on the planet for an extended period of time.
Rey may not be from Jakku. Conversely, another explanation is that Rey has not lived on Jakku for her entire life up until the events of The Force Awakens, and that she migrated from another planet where the accent was prominently used.
Rey potentially came from an upper-class background, but she became a scavenger somewhere along the way. Presuming her parents – or adoptive parents – aren't Han, Luke, or Leia, it's possible that she could have been raised by people who used the accent. These hypothetical people most likely died between Rey's childhood and the present (and we all know, Disney loves using orphans in their stories).
Hopefully, we'll get to hear Finn and Rey speak in a new batch of footage for the film, which should (hopefully) arrive within the next three or four weeks. Thanks to user Eve Jacques from our comments system for the tip about Andrew Jack's website.
Grant has been a fan of Star Wars for as long as he can remember, having seen every movie on the big screen. When he's not hard at work with his college studies, he keeps himself busy by reporting on all kinds of Star Wars news for SWNN and general movie news on the sister site, Movie News Net. He served as a frequent commentator on SWNN's The Resistance Broadcast.