One of the largest toy chains in America and the world has just unveiled their plans for Force Friday. Click ahead to read a summary of what they have planned.
An excerpt of the press release reads as follows:
TOYS"R"US® TO LAUNCH NEW STAR WARS™ SAGA PRODUCTS WITH MIDNIGHT OPENING EVENTS WORLDWIDE

The Next Chapter of the Legendary Franchise Begins at Toys"R"Us Stores Across the Globe on Force Friday, September 4 at 12:01am as Fans Get First Access to New Toys, Exclusive Giveaways and More

Company's International Flagship Store in Times Square to Host Historic Star Wars Toy Exhibition and Ultimate Midnight Opening Celebration

"Since the introduction of the first Star Wars toy in 1977, Toys"R"Us has served as the ultimate destination for Star Wars playthings, providing millions of kids and collectors worldwide with their most beloved memorabilia," said Richard Barry, Executive Vice President, Global Chief Merchandising Officer, Toys"R"Us, Inc. "Since then, Star Wars has become a time-honored franchise with loyal fan interest, making it a perennial, top-selling licensed property. With the upcoming introduction of the new Star Wars toy line, we're excited to welcome the next generation of fans into our stores around the world with exclusive products, special events, feature shops and giveaways."

With operations in 38 countries, Toys"R"Us is leveraging its global footprint and position as the toy authority to provide an unprecedented Star Wars experience worldwide. On Force Friday, September 4, Toys"R"Us locations in Australia, Canada, China, France, Germany, Japan, Poland, Portugal, Spain and the U.K, will open at 12:01am to welcome eager shoppers. The first customers to line up for the big product debut will receive Star Wars giveaways, including an exclusive poster, as well as the chance to be among the first to purchase exclusive Star Wars merchandise in dedicated front-of-store feature shops.
The main pieces of information covered by the press release include the following:
An exhibition of Star Wars toys throughout the years in the flagship store in Times Square; the event at the location – called Destination: Star Wars – will also have special activities for kids well before midnight.
Exclusive posters for people who arrive on a first-come, first-serve basis.
Kids and their families attending may also receive special giveaway items.
Pre-orders for Star Wars Battlefront and Disney Infinity 3.0 will now be available.
These events are expected to be packed, so arriving in advance is probably paramount if you plan on getting a lot of toys. I still think it's impressive that Disney, Lucasfilm, and the various toy companies have managed to keep absolutely quiet about these for so long! It's likely that they'll fully unveil the toys at D23 in a little over a week – and with the event occurring in a month, the wait is nearly over.
Stay tuned to Star Wars 7 News for more information on The Force Awakens and all things Star Wars as we approach the release of the film.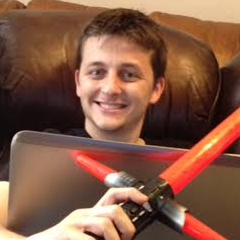 Grant has been a fan of Star Wars for as long as he can remember, having seen every movie on the big screen. When he's not hard at work with his college studies, he keeps himself busy by reporting on all kinds of Star Wars news for SWNN and general movie news on the sister site, Movie News Net. He served as a frequent commentator on SWNN's The Resistance Broadcast.