UPDATE! "There's Been a Merchandise Awakening. Have You Felt It?"
Force Friday is only less than a month away, and many stores have already started preparing for the highly anticipated event, when the new Star Wars merchandise will be unleashed on the fans. This has resulted in multiple leaks with some rather curious items. Read on to check them out…
First let's start with an interesting document that Cantina member WallyWorld shared with us. It's the merchandising schedule that Wal Mart stores will be required to follow over the next four months leading up to TFA's release in December: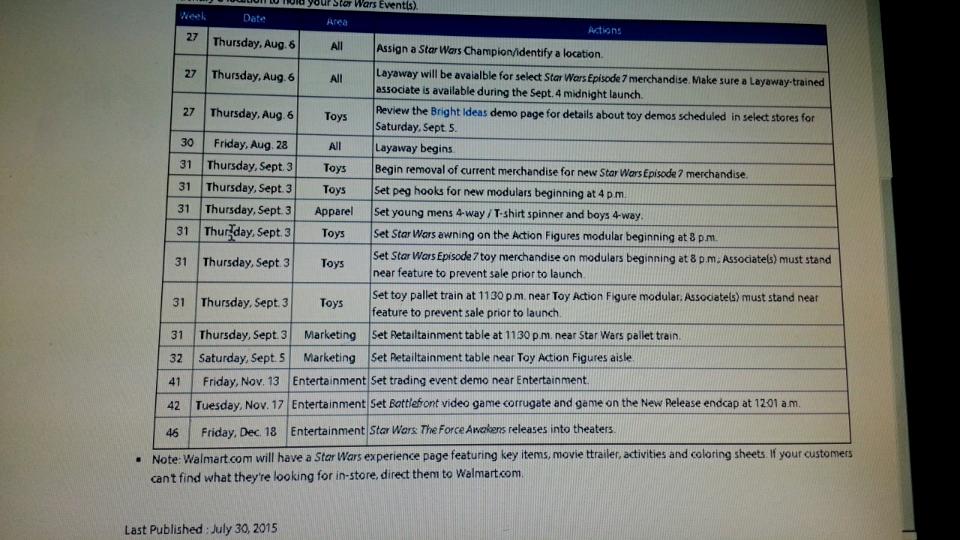 Also,  here are some confidential Wal-Mart plan-o-gram sheets, uncovered by our friends at Yakface:
There are some interesting confirmations revealed on the pages, especially the pegs allotted for 3.75″ Black Series figures for The Force Awakens. Click on through for a closer look at space dedicated to figures, vehicles, Hot Wheels, role play, Micro Machines and more.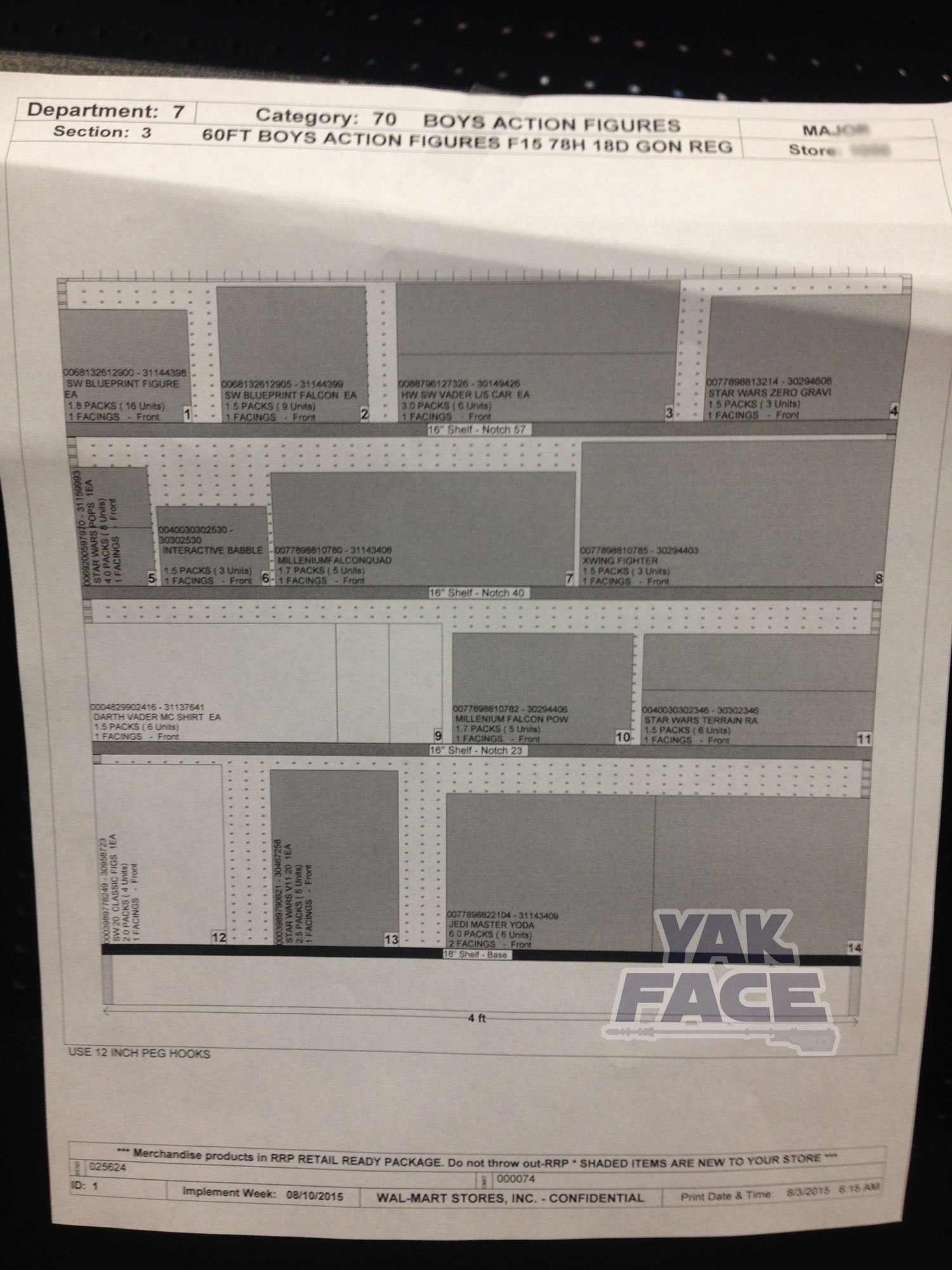 And now for something really cool. Here's an unexpected update from Rebelscum.com. Apparently, a fellow Star Wars fan up in British Columbia found and purchased a TFA Micromachines set from Toys R Us. Why it was already put out for sale, the Force only knows, but… well, take a look!
A lightsaber with a secret note compartment:
Here is a clear photo of the reverse side of the Millennium Falcon Micromachine package. Note that, while the set itself includes only the micro-Falcon and the First Order Flametrooper, the photo also shows additional figures.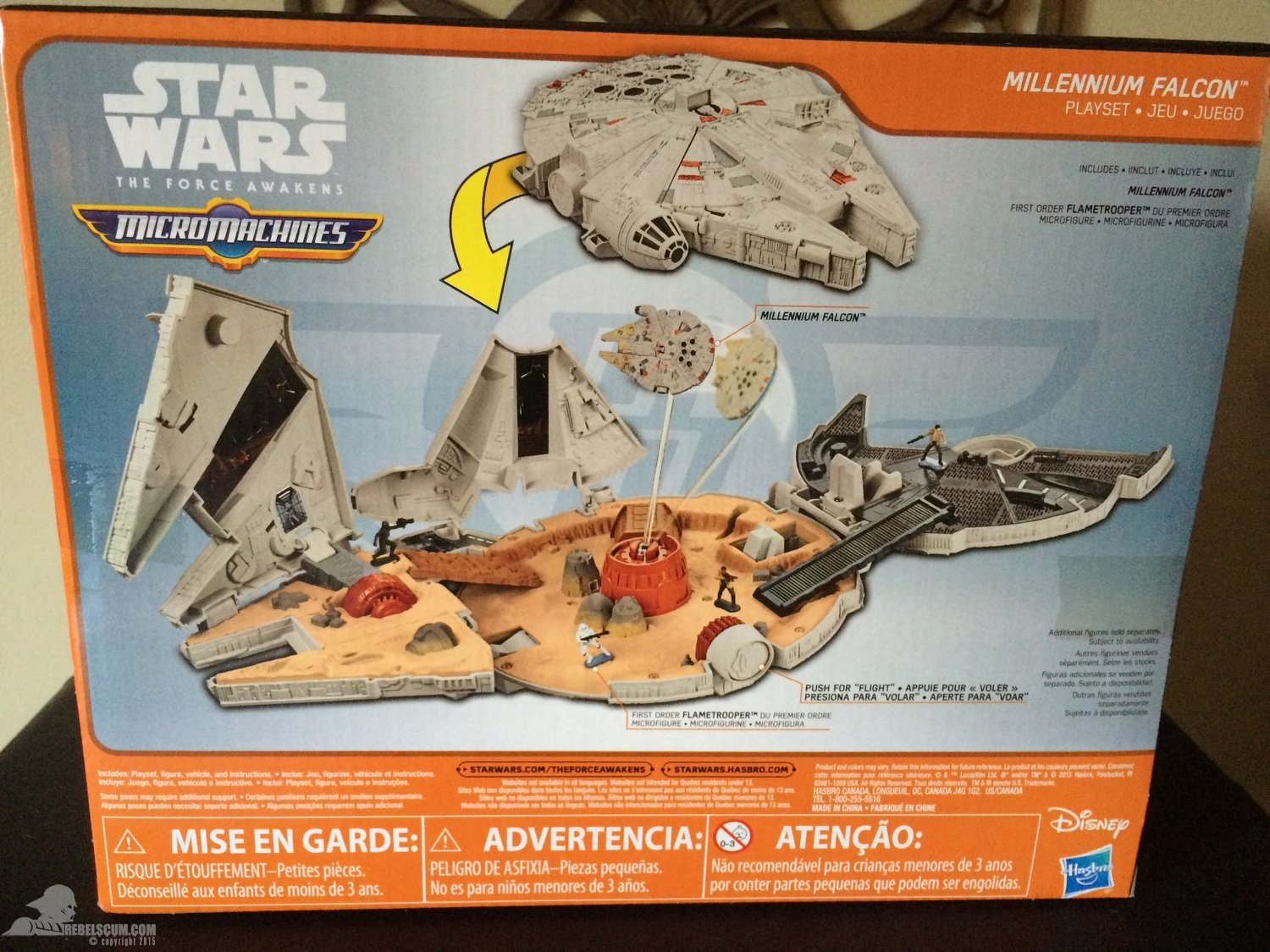 That looks like Finn to the right of the Flametrooper, and the dark colored figure with the blaster at left appears to be a TIE pilot or maybe other First Order soldier. Then at the far right, is that Poe Dameron, perhaps?
One of the photos in the Rebelscum.com report shows two additional Micromachine sets. First, we have a Stormtrooper set:
Note that the Stormtrooper set comes with what appears to be a First Order landing craft, and that the figure appears to be the same one seen on the far right side of the photo of the Millennium Falcon set shown above.
Then there's this great-looking First Order Star Destroyer set: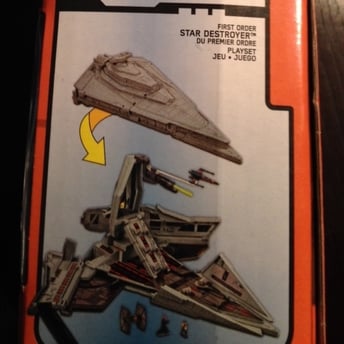 This shows us a different angle of the Star Destroyer seen in the second TFA trailer. Also note that this set comes with two micro-ships (a TIE fighter and the black X-wing that we saw in the aerial photos of the Greenham Common set last year) as well as two figures (one which looks very similar to the Finn figure seen above, and another which looks like Kylo Ren wielding his lightsaber.)
Next stop is a pair of displays from Meijer, preparing shoppers for September 4th (via JediTemplarArchives):
There's also a new Star Wars: The Force Awakens Monopoly set coming on September 4th. We can expect lots of new locations to be revealed by this set (via JediNews):
Our forum member @venamis got some photos with really cool looking TFA watches: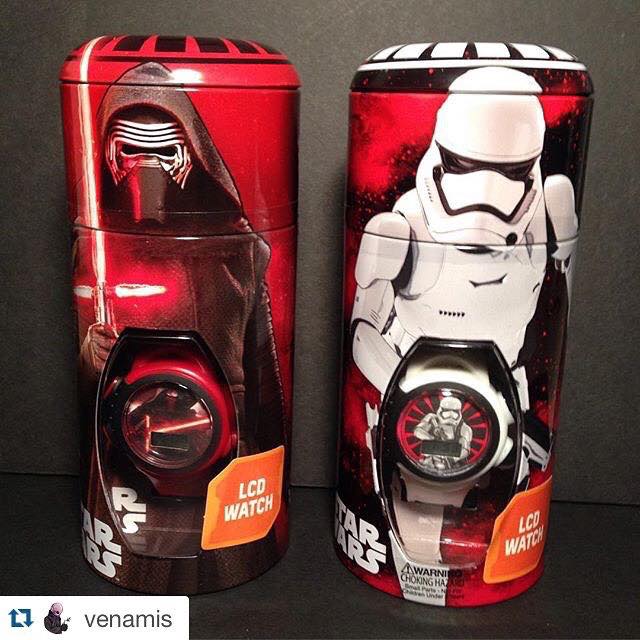 And finally, here are some video games merch listings (via reddit):
I am sure there will be more leaks in the coming days and weeks. Force Friday can't come quickly enough!
UPDATE!
Color N Sticker Activities:
Playing cards with Kylo Ren "the commander of the First Order, whose temper is as fiery as his unconventional lightsaber". Keep in mind that these were not purchased from a store, so they could be fake, but they look cool:
#starwars #TheForceAwakens playing cards purchased pic.twitter.com/Mpbs8twfz7

— Andrew R (@Empireoffett) August 8, 2015
Guess these are fake. Took all the time to make these and printing them out and making a big scam online pic.twitter.com/5l91e2K262 — Andrew R (@Empireoffett) August 8, 2015
Some really interesting bits posted a few days ago by JediTemplarArchives:
Micro Machines are making a huge comeback in The Force Awakens line. There will be LOTS. Like more than 50 individual pieces in this collection.
Hero Mashers will be a huge part of The Force Awakens line. There will be LOTS as well.
The rumored Jungle/Space/Snow/Desert/Jungle assortments you have heard rumored for a while now will each have two waves per theme. These will definitely be all 5POA figures.

Of particular note, there is an EPISODE VII Darth Vader 3.75" 5POA figure.

The Black Series 6" – the big news for TBS6 is that Hasbro is moving from 4 figure case assortments to 6 figure case assortments and all figures, right now, they fall under one product/assortment number. This means that The Force Awakens line will eventually be mixed with Original and Prequel Trilogy figures