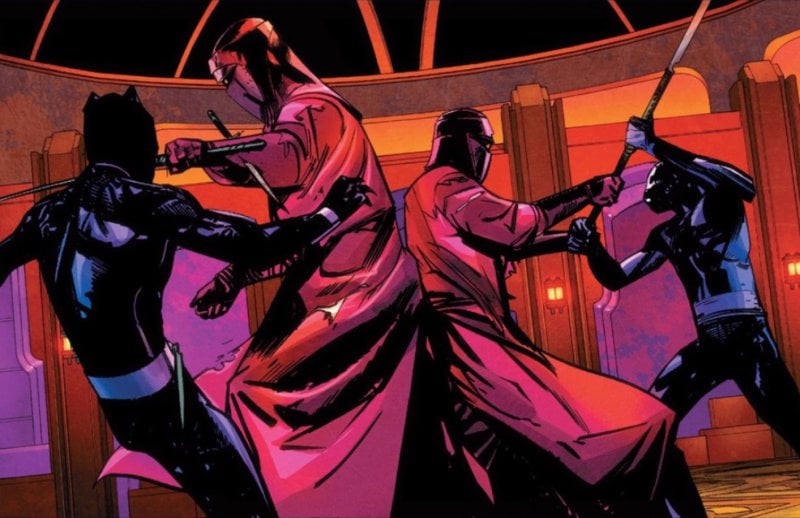 This week brings us an interesting, to say the least, addition to the Lando series. It looks like this series is going to have bigger implications than Lando entering a Gambler's Anonymous program or Lobot's actually speaking. Sith artifacts, you ask? A look under the hood of those Crimson Imperial Guards? Why yes and yes! Let's get started.
The opening picks up a little bit after we saw Lobot pierced by a surprise Imperial Guard's staff. The cyborg assistant to Lando is facing a crisis of his body being in death and the mechanical implant taking over. Luckily, Sheev kept a Bacta-tank on hand in his little ship, so Lando and his little warthog-esque colleague are able to dump Lobot in there to keep him stable.
So what's going on with the Imperial Guards? Well, the androgynous twins Lando hired are dealing with them. The closer look we get at them reminds me of one of my favorite Marvel characters, Black Panther. I won't spoil who wins the fight, but some red hoods come off and we do get a look at the faces behind the masks.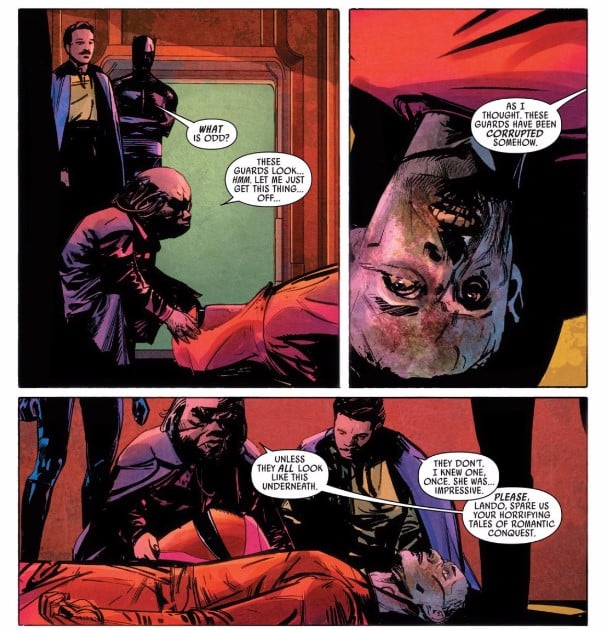 Lando and his warthog friend spend a few frames discussing the backstory of the Imperial Guards. As I am apt to frequently point out, this is the new canon, and I believe it is the first time in the canon the origins of these guards are pointed out. Not shockingly, they are often plucked from the elite Imperial troops, and Sheev does not discriminate in gender, as Lando points out he was "familiar" with a female guard.
What were they protecting? A Sith artifact. Despite the implications of this, as the warthog fellow points out Emperor Palpatine is going to be desperate to get this ship and artifact back; Lando is only interested in the monetary value of said artifact. From what I can tell, it's a helmet or part of some armor. Please sound off if you below or in the comments if you know exactly what this is and/or who it belongs to. Regardless who it is, it looks like it may be speaking up for itself by the next issue.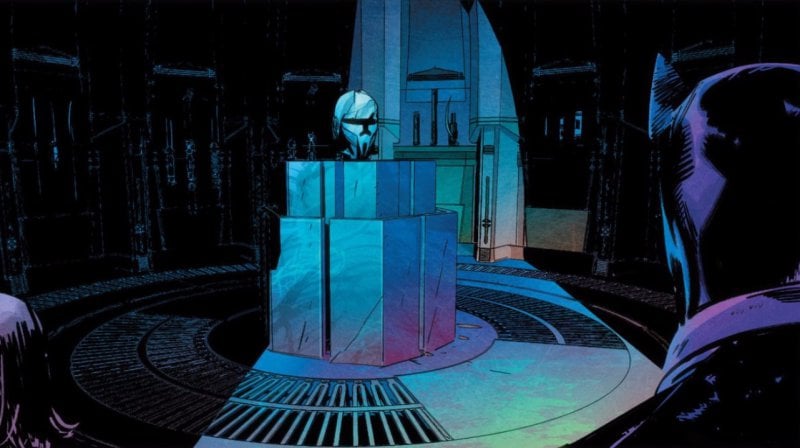 This series is a lot of fun. I'm loving it. If you have been following along so far there is no reason to stop now. If you are holding off I urge you to dive right in as this series gets better with each issue. The writing and artwork are keeping things at a consistent pace. Get out there and get it!
You can order a digital copy at Marvel.com or at Comixology.com, or visit the nearest comic book store.
Kyle Larson lives in Portland, Oregon. When he's not running trails, he's reading and writing.