Toy Catalogue Teases New Star Wars: The Force Awakens Figures?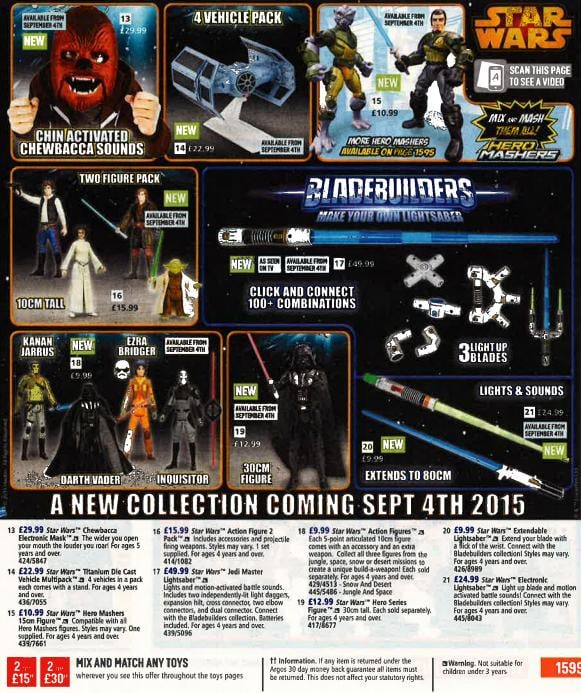 Argos toy catalogue just recently came out with a new issue featuring a Star Wars section (shown above). While the catalogue doesn't visually tease figures from The Force Awakens, there are a few interesting details hidden in the fine print, including details about the locations shown in the movie…
From Das Weally Cool!:
ITEM 18. A stock photo of the Rebels figures, BUT they say NEW next to them? I then read the description:

"Star Wars Action Figures" (Notice nothing about Rebels!)

"..10cm figure comes with an accessory and an extra weapon. Collect all three figures from the jungle, space, snow or desert missions to create a unique build-a-weapon!"

It goes on with the codes for the packs:

"429/4513 – Snow And Desert
445/5486 – Jungle And Space"

These are NOT Rebels figures, pretty sure they are The Force Awakens! Build-a-weapon?!? AWESOME!!!!
It should be noted that Darth Vader's design is based on his appearance in the OT (and the PT) rather than the design seen in Star Wars Rebels. He is the odd one out in that image, where he's surrounded by Rebels characters. Since he already has a Rebels toy in the works – one that was revealed alongside the Rebels-era Ahsoka Tano figure – it's unlikely that this is a placeholder. For me, that's a good sign that we're not just seeing things.
As we know from the trailers, the four major locales mentioned above – Space, Desert, Jungle, and Snow – are all environments represented in The Force Awakens. As anyone who has watched Rebels can tell you, almost all of the show has taken place on the grassland planet of Lothal so far (with some space battles thrown in for good measure). So it seems likely that, with September's Force Friday on the horizon, a reveal of what the toys for The Force Awakens look like should be coming our way not too long from now. Maybe we'll see the toys up-close at D23.
Grant has been a fan of Star Wars for as long as he can remember, having seen every movie on the big screen. When he's not hard at work with his college studies, he keeps himself busy by reporting on all kinds of Star Wars news for SWNN and general movie news on the sister site, Movie News Net. He served as a frequent commentator on SWNN's The Resistance Broadcast.