Daniel Craig Is Not Playing a Stormtrooper in The Force Awakens… (Or Is He?)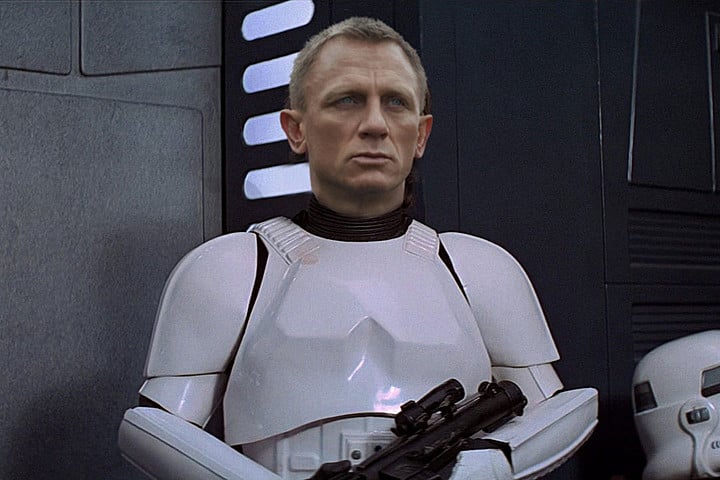 As you probably remember, during the filming of The Force Awakens, a rumor appeared that Daniel Craig will make a cameo in the movie. Back then we were told that this is not true and Craig's presence at Pinewood was simply because of the overlapping schedules between his latest Bond movie and TFA. That's why we never reported this story. Later, a statement by Simon Pegg made things more complicated…
Recently in an interview with IrishExaminer, actor Simon Pegg (also believed to have a cameo in the movie), revealed that Daniel Craig will play a Stormtrooper in The Force Awakens. Later Pegg clarified that he was just speculating based on the rumors about Craig (HERE).
Now in an interview with EntertainmentWeekly, Daniel Craig himself shot down the stormtrooper rumor:
The James Bond star made clear he finds the idea of making a cameo in the sci-if blockbuster preposterous. "Why would I ever bother doing something like that?" Craig tells EW. "F—ing hell! Pffft. Play an extra in another movie?"
Craig vigorously denies ever putting on the galactic empire's notorious white helmet. "Talk to Simon Pegg. He obviously knows way more than I do," says Craig. "He's just jealous because he's not in Star Wars. He's got some issue with J.J. I don't know what the f— it is. You need to talk to Simon about it."
It's interesting that Craig thinks, that Simon Pegg is not in the movie. There were numerous reports about Pegg having a cameo in TFA. He was spotted during the filming at Abu Dhabi, and also he attended The Force Awakens wrap party together with the rest of  cast.
But could this be a joke, or a game between the British actors, including Benedict Cumberbatch. It's actually a pretty funny situation if you look back at the exchanges between those 3 actors:
Benedict Cumberbatch was rumored to appear in TFA, he denies but says Simon Pegg is in. Pegg denies. For that story click HERE.
Pegg says Daniel Craig is in TFA and that Benedict Cumberbatch is not. For that story click HERE.
Daniel Craig denies his involvement with TFA and says Simon Pegg is also not in TFA.
Pretty confusing right? Actually I won't be surprised if all of them appear in the movie one way or another after all.